Starting a company is no easy feat in Indonesia. Growing a startup is even harder. Founders need to be swift to pivot their business if their core idea is no longer viable.
This flexibility is one of the reasons why Indonesia's tech behemoth Gojek has managed to survive in the cutthroat ride-hailing and e-payments industries and become the country's first decacorn. Many have attributed the company's success to the combination of a splashy subsidy program during its early years and split business lines that serve and retain its huge customer base.
Gojek began in 2010 as a humble ojek (taxi bike) ride-hailing call center, with only 20 drivers in tow. Its business didn't take off until 2014, when Uber and Grab (at that time called GrabTaxi) introduced on-demand, ride-hailing services to Indonesians. Seeing the huge potential embodied in Gojek, investors came knocking on company co-founder Nadiem Makarim's door, offering capital to elevate his company to the next level. In late 2014, the company secured USD 2 million in a Series A round, leading to the launch of Gojek's app in 2015.
In its first phase, Gojek had four services: the ride-hailing feature GoRide, which was the company's backbone; the delivery service GoSend; grocery service GoMart; and food delivery service GoFood. Unlike Uber and GrabTaxi, whose business models focused solely on transportation, Gojek's early attempt to tackle multiple industries in one app was met with skepticism.
Nonetheless, the company persevered, adding more features to the app as its business developed. In 2016, Gojek launched its e-wallet service GoPay, stepping into Indonesia's highly fragmented fintech sector. Since then, the firm kept adding new verticals to its lineup. Now, the company has 18 sub-units on its app and is in a race with Grab to formulate Southeast Asia's first super app.

Segue into food and finance
Even though Gojek's ride-hailing service performed strongly in the beginning, and still garners significant interest from investors, profits are slim or even nonexistent. Giants such as Uber and Lyft still report enormous losses each quarter. It's hard for startups relying solely on transportation services to survive unless they have ample cash to burn. Profitability is always a distant goal.
Makarim understood this problem since Gojek found popularity in Indonesia, so he laid the groundwork for other on-demand services early on, giving his company multiple legs to stand on. As a comparison, it took Uber around four years to add new verticals, while Grab only began adding new business lines in 2018. Gojek's early diversification is paying off.
Now, Gojek's transportation service is no longer its main profit generator. According to a press release published in February 2019, Gojek pulled in USD 9 billion in gross transaction value (GTV); feeding into that amount, GoPay drew USD 6.3 billion, while GoFood channeled USD 2 billion. Gojek's current co-CEO Kevin Aluwi said that the company will focus on these two lines of business, especially after the demand for shared rides slumped due to the COVID-19 pandemic.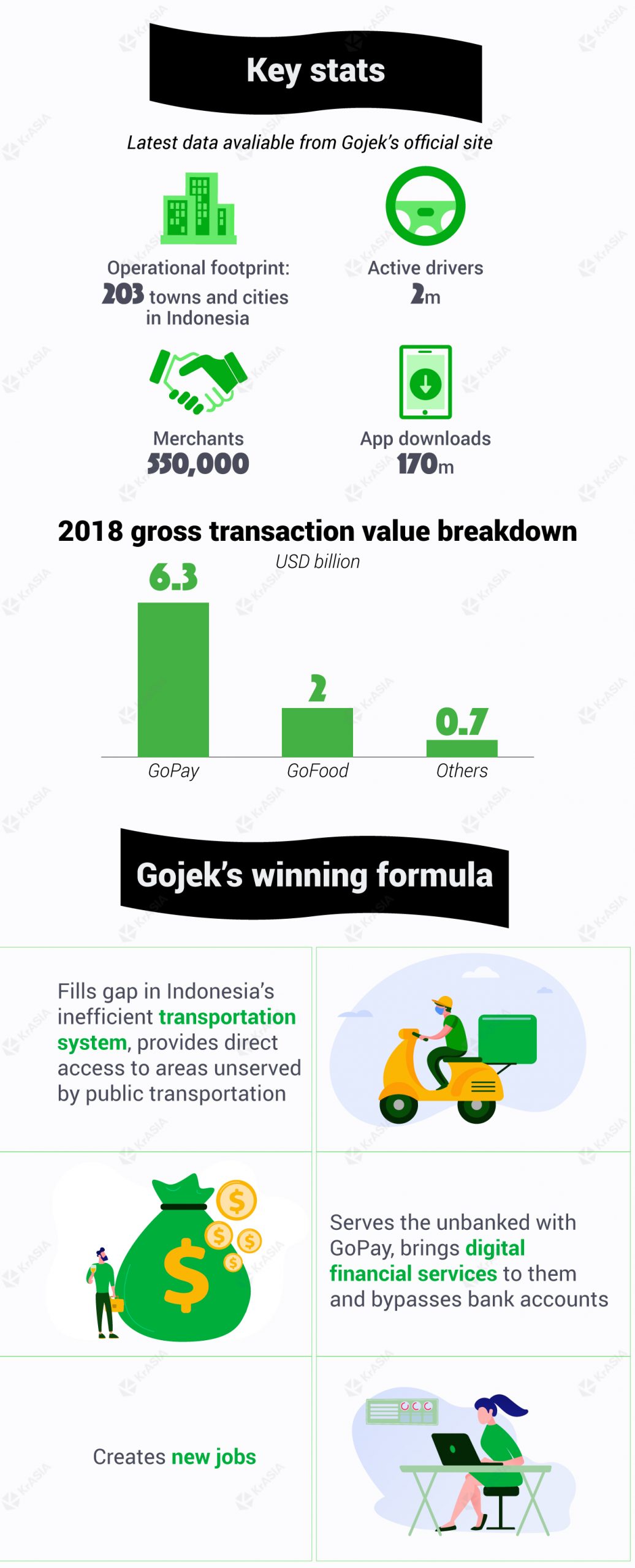 In four years, according to Aluwi, GoFood has shown solid growth. There are 15 million menus from around 500,000 merchants available for customers to choose from, and order numbers are now 30 times that of 2015. The company expects GoFood's order volume to double in 2020. According to a 2019 survey of Indonesia's food delivery landscape by Nielsen, GoFood came out as the most preferred app in the country.
As for GoPay, the fintech platform is undoubtedly one of the most used payment apps in Indonesia, though it faces tight competition from other big players, such as Ovo and Dana. Based on a survey conducted by M2insights, Gojek had 62% user penetration in the second quarter of 2019, compared to Ovo's 57% and Dana's 48%. Indonesia's digital financial services still have space to grow, and GoPay is rising up to the challenge.
In 2019, GoPay formed a partnership with mutual fund platform Bibit, enabling users to invest via the platform. And in May this year, Gojek launched the sharia-compliant gold investment service GoInvestasi in partnership with investment app Pluang.
The company also invested in insurtech company PasarPolis, leading to a tie-up between the two, enabling GoPay users to purchase travel, health, vehicle, and property insurance offered by PasarPolis. In April, Gojek acquired point-of-sale system provider Moka to expand its business-to-business (B2B) network. Moka is used by more than 35,000 restaurants, retail outlets, and coffee shops in more than 100 Indonesian cities.

What's next?
Even though Gojek is a startup giant in Indonesia, it isn't immune from the economic slowdown brought on by COVID-19. On June 23, the company closed its GoLife line, which included the popular on-call massage and cleaning services. It also cut 9% of its workforce, mostly from the GoLife division.
In an e-mail to Gojek's employees, Aluwi cited current economic conditions and shifts in the attitude among customers as the reasons behind this move. However, GoLife was the company's weakest link. Even before GoLife was terminated, Gojek had trimmed features from this line, such as GoLaundry and GoDaily.

Aluwi also used the occasion to explain Gojek's next move: strengthen the company's three core businesses—ride-hailing, food delivery, and financial services.
Furthermore, with the latest investment from Facebook and PayPal, which resulted in an agreement to integrate PayPal into GoPay, the company now has access to the network's 25 million merchants worldwide. This investment also gave GoPay an opportunity to partner with Facebook as the social media juggernaut enters Southeast Asia's digital payment service sector.
Its on-demand video platform GoPlay also shows a promising future, pulling off an independent funding round less than a year after its launch. Through GoPlay, Gojek is ready to carve a path in the dense entertainment sector of Indonesia, fueled by cash from Chinese venture capital firm ZWC Partners.
Gojek is also putting more attention into its international foray. Earlier this month, the company's head of international Andrew Lee told Nikkei Asian Review that it will unify their apps in Thailand and Vietnam under the name Gojek, forgoing the GET and GoViet branding. This unification will unify the user pools in these countries—much like how Grab manages its footprint in a singular app.
With more focused business verticals and partnerships with global giants, perhaps the Indonesian decacorn has a much clearer path to profitability than ever before.