Pang Xue Kai saw an opportunity for crypto in Indonesia in 2017. The inspiration came from South Korea, as he noticed how Bitcoins were traded on Korean exchanges at higher prices compared to global exchanges, something known as the kimchi premium.
South Korea's kimchi premium, where cryptocurrencies cost more than elsewhere, was likely the result of the country's early adoption of bitcoin trading, in part motivated by the local interest in technology and gambling. This spurred a major demand for cryptocurrencies in South Korea compared to other countries, which led to higher prices. A report by the University of Calgary found that the kimchi premium averaged about 4.8% between early 2016 to 2018, with peaks as high as 55%.
"I saw a similar trend happening in Indonesia that local crypto enthusiasts called rendang premium," Kai told KrASIA. Rendang is a rich and tender coconut beef stew recipe that is popular in Indonesia.
Just as Indonesia's crypto market was flourishing back then in Indonesia, Kai, together with co-founder Teguh Kurniawan Harmanda, decided in 2018 to launch Tokocrypto with the goal of providing lower exchange prices to investors interested in crypto. "I started to trade crypto in 2015. After earning some profits from trading, the next step for me was to figure out how to better utilize these profits," Kai explained.
With about 180 million unbanked people in Indonesia, Kai believes that crypto and blockchain technology could potentially leapfrog the country's financial system. Over the past few years, the cryptocurrency market has been growing exponentially in Indonesia—the number of crypto traders reached 7.4 million in July 2021, almost doubling from last year's reported 4 million traders, according to the Indonesian Ministry of Trade.
Kai's startup might have influenced the quick expansion of crypto trading in the country. In 2019, Tokocrypto became the first regulated cryptocurrency exchange in Indonesia after receiving a license from Indonesia's Commodity Futures Trading Regulatory Agency, or Bappebti. A year later, Tokocrypto received an undisclosed investment from global cryptocurrency exchange Binance, and in 2020, the firm introduced Tokocrypto 2.0, an upgraded cryptocurrency exchange powered by Binance Cloud.
Users on Tokocrypto can trade up to 37 cryptocurrencies, including Bitcoin, Ethereum, and Dogecoin, at a trading fee of 0.1 % on the transaction value. Tokocrypto provides investors with a rupiah-based stablecoin in the form of Binance IDR (BIDR) that users can trade directly against Bitcoin, Binance Coin, Binance USD, Tether, and Ether. The minimum fiat deposit to start trading is IDR 50,000 (USD 3.50).
According to Kai, the platform currently averages a daily trading volume of USD 70 million, while the app serves over 100,000 weekly active traders. "Our customer base comprises mostly cryptocurrency traders, decentralized finance (DeFi) investors, and non-fungible token (NFT) enthusiasts," said Kai.
About 66% of investors on Tokocrypto are aged between 18 and 34 years old, Kai said. "They have a higher degree of risk tolerance compared to the older population who tend to be more risk-averse.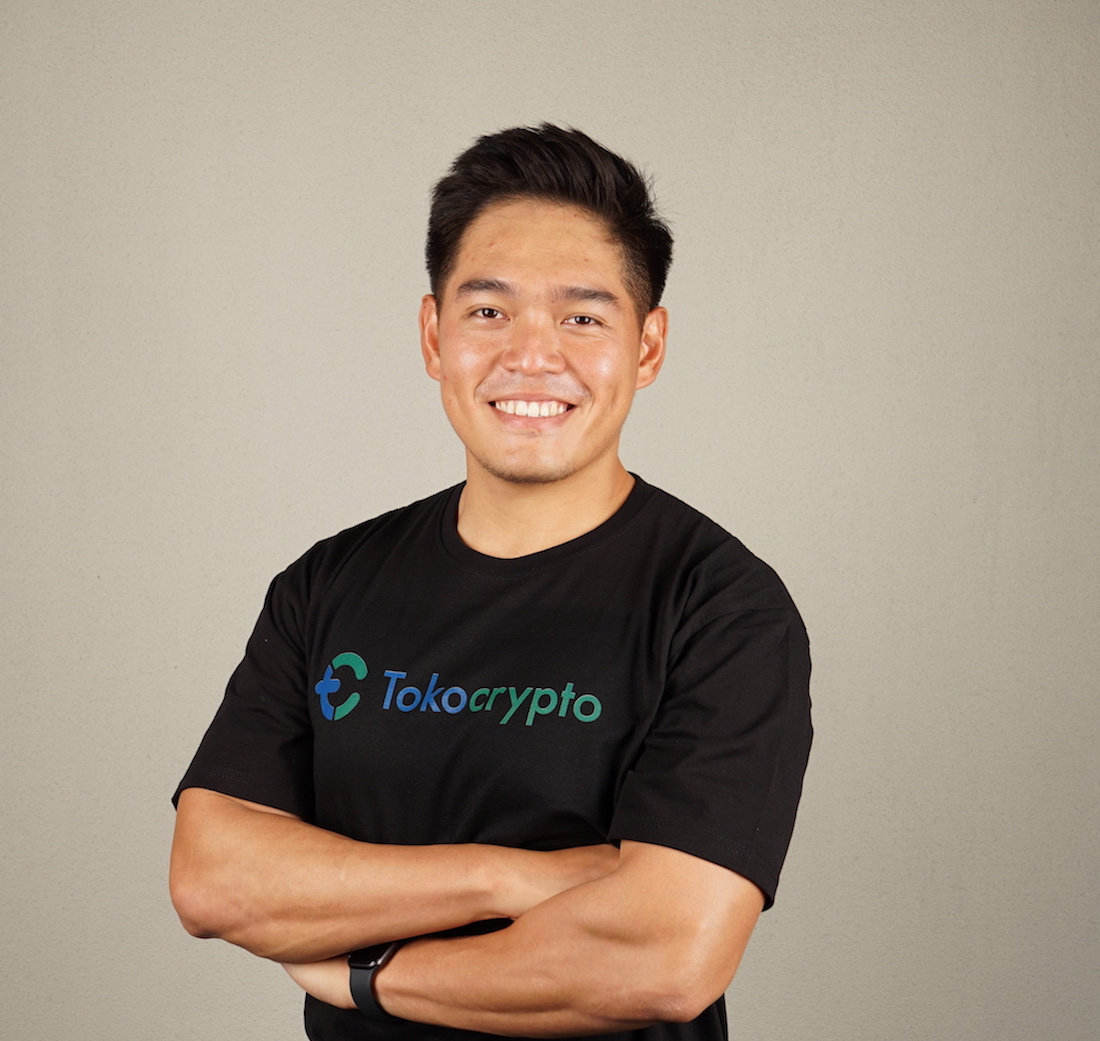 Expansion into other crypto segments
In April 2021, the startup launched a new cryptocurrency named Toko Token (TKO) on top of the Binance Launchpad. Promoted as Indonesia's first virtual currency project, TKO has a total supply of 500 million coins and enables high-speed transactions at low fees. The coin saw a strong market demand as its price of USD 0.10 per token shot up by 3,000% in about 30 minutes after its launch. The token currently trades at USD 1.64 per coin.
The coin offers a hybrid currency model with elements of both centralized finance (CeFi) and DeFi, according to Tokokrypto. Investors can use TKO in deposit and savings programs powered by Tokokrypto, while the coin can also be integrated into third-party platforms for yield farming or staking. For instance, Tokocrypto has partnered with crypto farming platform Moonfarm, providing users with an additional platform where they can stake their TKOs.
The company has also tapped into the NFT market by launching Indonesia's first multi-category NFT marketplace, TokoMall, officially presented in August after a one-month pre-launch campaign. The platform already has 1,403 merchants, 7,953 collectors, and 1,391 artworks. Since its launch, 176 NFTs have been sold on TokoMall.
"Indonesia's creative economy is the third-largest in the world in terms of its contribution to the national gross domestic product. Therefore, NFTs can serve as the technological platform through which the government and the private sector can work together to digitize Indonesia's rich and diverse culture," said Kai.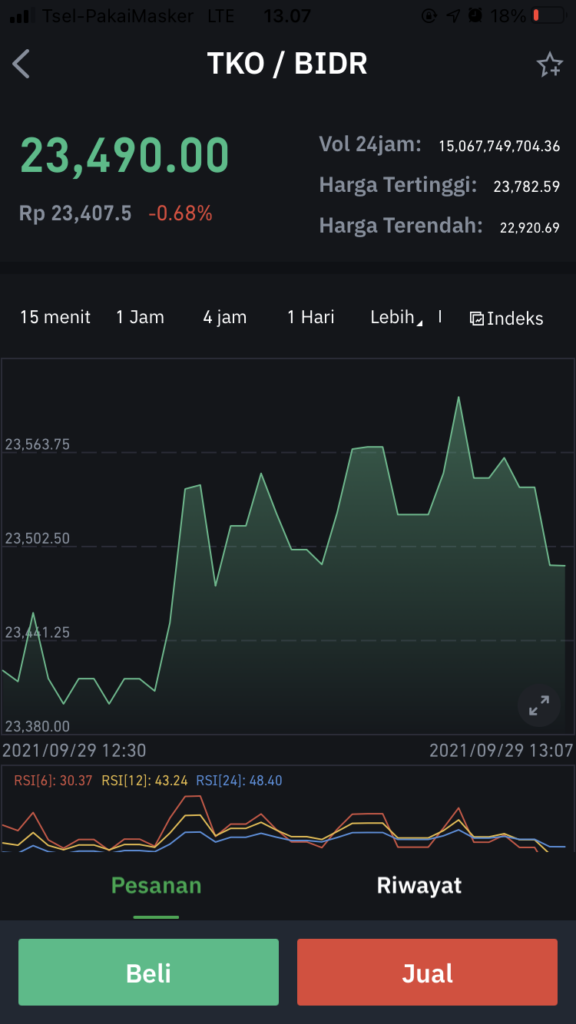 Eying the public market
Despite its popularity, the crypto space presents high risks due to the extreme volatility of most digital coins. Tokocrypto's investor Binance is currently facing various problems after a major outage in May, which caused hundreds of traders to lose money. Many customers have also filed a class-action suit against the company.
Responding to this matter, Kai emphasized the importance of complying with regulations. "We have been well regulated since the beginning, and we're ready to comply with any new regulatory requirements in the future. Crypto is here to stay, and we're building a long-term sustainable company. Along with other industry players, we're making sure that this industry is legitimate," he said.
Tokocrypto is seeking to go public on the Indonesian Stock Exchange in the next two to three years. If the plan succeeds, the startup will be the first blockchain platform to list on the domestic stock market.
"An IPO would enable us to provide better quality and more comprehensive crypto-related services for our users. We are looking at a time frame of two to three years, although this is not set in stone because 'change is the only constant,' and the crypto domain is changing before our eyes," Kai said.
The company is also working on new projects. It recently introduced Toko Launchpad, a platform where creators of distributed ledger technology projects can approach crypto investors in Indonesia to seek funding for their projects. Tokocrypto also runs blockchain project incubators such as the Toko Incubator and the Tokocrypto Sembrani Blockchain Accelerator in partnership with venture capital firm BRI Ventures.
Tokocrypto also plans to launch a physical space named T-Hub in Bali by the end of 2021. The hub will allow crypto enthusiasts to connect to share their knowledge and expertise, Kai said, without revealing additional details.
"We're constantly looking to develop new products. By the fourth quarter of 2022, we hope Tokocrypto will have a holistic umbrella of CeFi and DeFi products backed by Tokocrypto's ecosystem. I believe crypto will continue to be a popular investment instrument among today's youth."