The bike-sharing market in Singapore has been harsh. At the peak of the bike-sharing fever, there were up to 200,000 bikes available for use in Singapore.
Chinese firms Ofo and Mobike were the first to introduce bike-sharing to Singapore in 2017. Along the way, local companies like Obike and SG Bike joined. There were also AnyWheels, Moov, GrabCycle, and Qiqi Zhixiang, which ultimately never launched.
Fast-forward to 2019, Ofo and Obike have left the market due to unsustainable business models and inability to meet Singapore's licensing requirements. Mobike announced its exit to focus on the China market, and GrabCycle has surrendered its sandbox licence to focus on shared electric scooters.
Currently, there are only three main players left, all of them local companies: SG Bike, AnyWheels, and Moov.
In August, SG Bike announced that it has inked a SGD 2.54 million (USD 1.83 million) agreement with Mobike to take over the latter's license to operate in Singapore, marking the end of Mobike's journey in the city-state. SG Bike received in-principal approval for this transaction from LTA in September. It is now the dominant player in Singapore with a fleet of 28,000 vehicles out of a total pool of 39,000. Moov and AnyWheel operate 1,000 and 10,000 bicycles respectively.
Following the in-principle approval from LTA, KrASIA caught up with two of the three co-founders of SG Bike, Sean Tay and Benjamin Oh to understand more about their perception of the bike-sharing landscape in Singapore.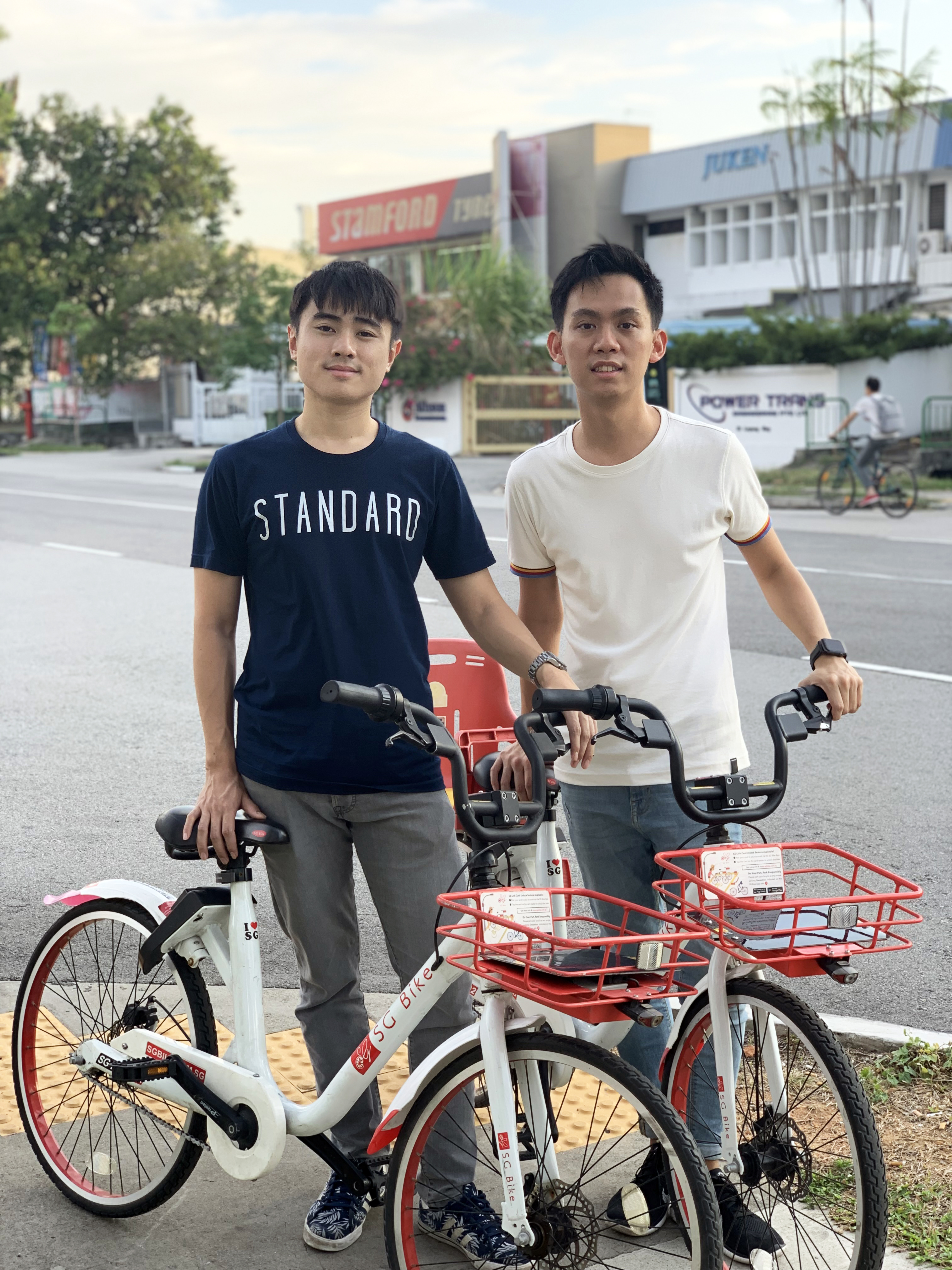 KrASIA (Kr): How did SG Bike come about?
Sean Tay (ST): Actually we've been around for quite some time albeit a small player compared to others. I first got my foot in back in 2016 when LTA released a tender for a bike-sharing project for Jurong Lake District. Back then I was helping another company to bid for the tender.
During that time, I went to China to find manufacturers for potential partnership and that was the first time I saw Mobike in Shanghai. Mobike with its dockless system was already very popular in China and I was very interested in the technology. I wanted to pitch the idea to LTA for the 2016 project but we felt that it wasn't exactly what LTA wanted at that point.
When LTA called off the project in 2017 with the entry of Ofo and Mobike, I decided to develop my own product, together with Benjamin (Oh) and David (Lim). We spent less than eight months to churn out out first fleet of 400 dockless SG Bikes in August 2017. So when this whole bike-sharing fever started, we were already having some stake in this game although a very small one.
Kr: What was the greatest challenge you faced? 
ST: When we first started in 2017, our main challenge was having to compete with international players who were a lot bigger than us. At our peak, we had only 3,000 bikes but Obike had at least 60,000 and Ofo was rumoured to have around 100,000. We struggled a lot as the difference was too stark and we were simply not in their league.
Naturally because of their size, these companies could offer bikes at a very low price. The price war was very fierce. In 2017, Mobike was selling their pass at SGD 5 for six months, Ofo's package was approximately 25 cents per month and Obike's price was also in that range. On the other end, we were selling our package at SGD 5 per month and SGD 10 for three months. That was really the main challenge we faced since we were founded, all the way up to 2018.
Kr: As such a small player, what strategy did SG Bike employ to survive in the cutthroat market? 
ST: First of all, we target places that can quickly bring us revenue.
Benjamin Oh (BO): We had very limited bicycles, we couldn't go island wide right from the start. We launched in Bukit Panjang because the town was very strategic. It is not very big and it takes only about 30 minutes on bike to get from the Mass Rapid Transport (MRT) station to the end of the town. Its size made it very relevant for bike-sharing since the goal of bike-sharing is to bridge the first and last-mile gap.
ST: After we consolidated our presence in Bukit Panjang, we expanded up north and from there eastwards to East Coast Park (ECP) in December 2017. Today we are probably the most active bike-sharing operator at East Coast Park. Naturally because we were in the east, we expanded to nearby towns like Tampines. That was how we chose what places we expand to.
Kr: You mentioned that you are the most active bike-sharing operator at ECP. Can you tell us a bit more? 
BO: Yes. We offer very special bikes to users at ECP as we understand that people there use bikes for leisure purposes so we designed our bikes to cater to their needs. For instance, we offer bicycles with child seat attachment for parents who want to bike with their young child.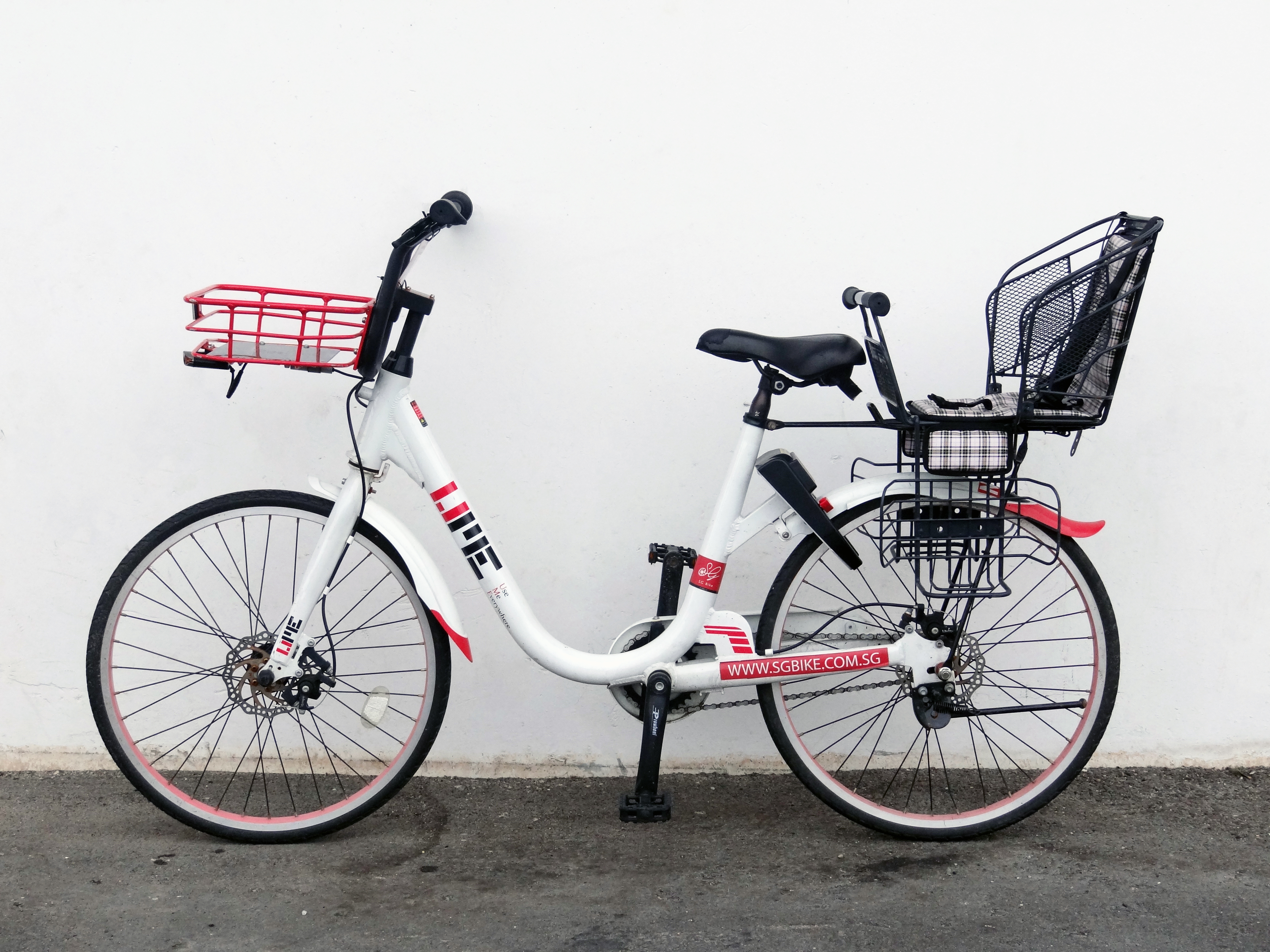 We also offer vehicles with a pet basket so people could bring their furry animals along.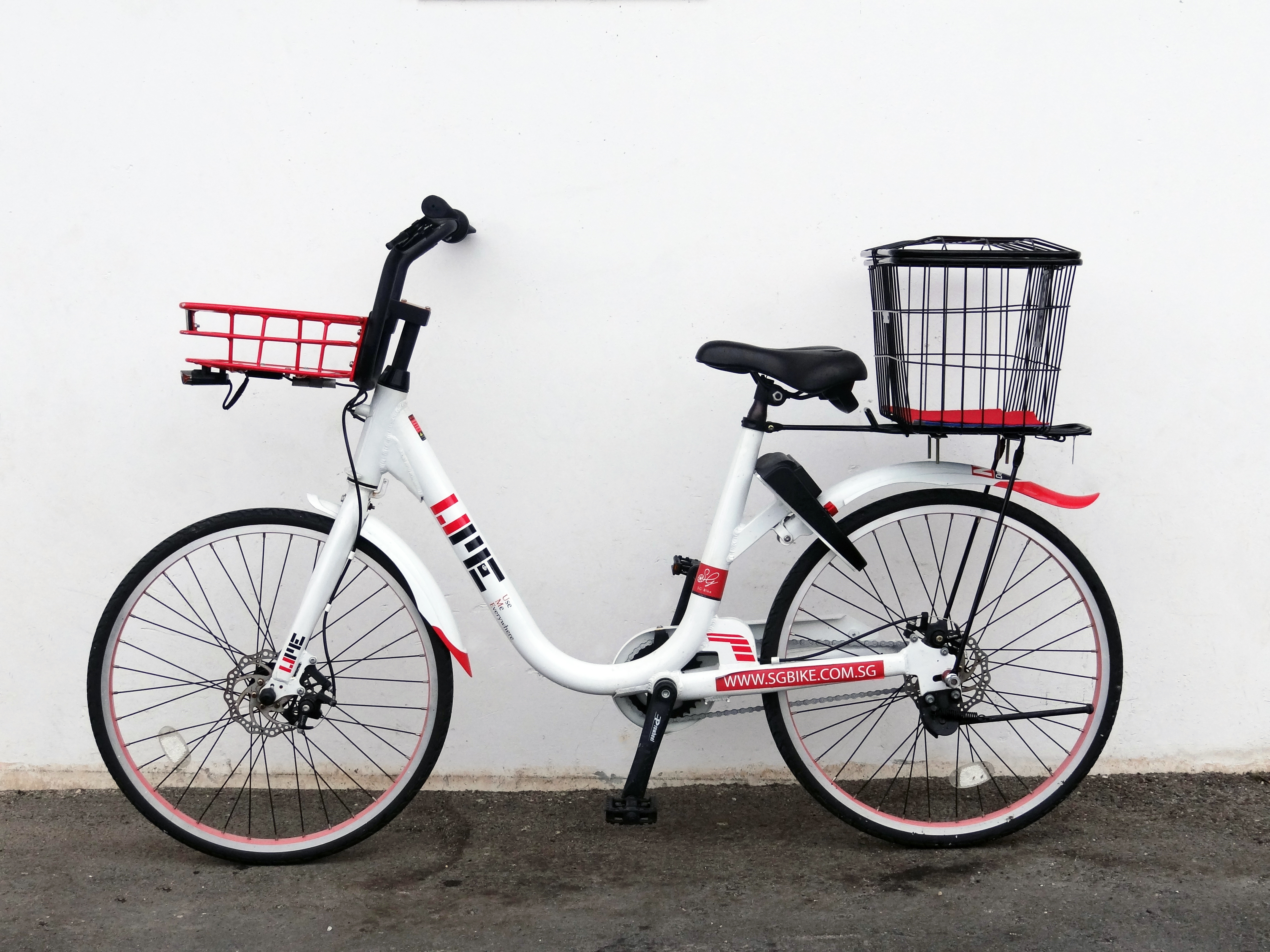 I believe we are the only bike-sharing operator in Singapore to offer these variations of bicycles which is why we are very popular at ECP.
Kr: What about the normal bikes? How has SG Bike innovated to remain popular amongst users? 
ST: Our bike is the lightest in the market, weighing about 16.5kg. The next lightest was perhaps Ofo weighing around 19.5kg. The heaviest was Obike, weighing 23kg. We believe that the weight makes a huge difference as our light-weight model is more comfortable and convenient.
BO: Also, when we first started, our bikes could be unlocked with EZ-link card (a Singaporean stored value card that can be used for a variety of cashless transactions) but we stopped innovating into that because of the licensing requirements–users now need to scan a QR code to end the trip and you can't do that with a physical card. In the near future, we are looking to bring this feature back so our users can enjoy even greater convenience.
Kr: We talked about challenges. What about SG Bike's greatest milestone? 
ST: It has to be the deal with Mobike. The deal is very meaningful to SG Bike.
One of Meituan's biggest criteria (Meituan is Mobike's parent company) was for the operator to be sufficiently experienced to be able to tactically manage the bike-sharing service and has the ability integrate the technologies they have. Meituan wouldn't want to transfer its licence to a company, even if it is a deep-pocked multinational corporation who has no experience in the bike-sharing market. In that sense, I am very proud of the team of being able to convince Meituan that we can do it. It is also certainly a testament of our hard work and experience to convince LTA to approve the transfer of a fleet that is almost 10 times our current size to us. I am very touched and I really think this is an achievement for us.
Kr: So what is the current status of the deal with Mobike? 
BO: LTA has already granted us in-principal approval on September 13 and we are working on integrating Meituan's tech with ours before we can officially make it black and white that we have the licence. Our priority is to smoothen out the backend technologies like ensuring users can unlock all bikes (Mobike's and SG Bike's) with SG Bike's app as well as to allow Mobike users to transfer any existing balances to SG Bike's account so there would not be disruption to the service. I can't give you an exact timeline but we are looking to complete the integration within the next few weeks.
Kr: Some people are skeptical about bike-sharing in Singapore due to the hot climate. What do you think? 
BO: Actually you really need to look into when people use bicycles. For instance, there are more people using our bicycles at evening time. Unfortunately we can't share too much of these information with you but what we can reveal is that while weather is a consideration, it is not the only deciding factor that affects bike usage in Singapore. For instance when you go to ECP on a hot sunny afternoon, you see people cycling. At SG Bike we mould our strategy around various factors and user behaviours, which is why we offer special bikes at ECP.
Kr: How relevant is bike-sharing in Singapore on the whole? 
ST: LTA released a master plan for 2040 with the tagline "Walk, Cycle, and Ride". While the "Cycle" does not refer specifically to bike-sharing, SG Bike sees this as an opportunity to promote bike-sharing. As people leave their cars and start to pick up the bikes, the bicycle culture will kick in and bike-sharing will enjoy the spillover effects.
At the same time, you see the government building more dedicated cycling paths and infrastructures all over the country. There have also been a lot of top-down initiatives like the safe-riding program to engage the public. The program teaches the public good cycling etiquette and how to read different signs. With all these initiatives lining up in parallel, you can tell that the government is really pushing to promote cycling.
In fact, LTA's interest in promoting bike-sharing is evident when you look at our deal with Mobike. When Mobike announced its intention to leave the market, it said it was working with LTA to transfer its licence. From our standpoint, LTA most likely agreed to facilitate the exit and transfer because it would have been a huge pity given that the bikes are fully working and in good conditions. So the fact that LTA actually approached us (and other players) shows that it is keen on keeping the bike-sharing market in Singapore alive.
Kr: But people can always choose to buy a bike right? 
ST: Sure, people always have the option to buy a bike but as bike-sharing operator, we provide a solution to those who don't want to go through the hassle of owning and maintaining a bike. So although bike-sharing might seem like it is "dying down", we believe bike-sharing is very relevant now and in the future to come.
Kr: Last question. Do you think the bike-sharing market is affected by the rising popularity of "personal mobility devices" such as e-scooters? 
BO: We are not too concerned with that as we believe the two markets are unique in their own ways and there is little overlap. For instance, people who use PMDs might not want to cycle and vice versa so it really depends on the use case. Some people might choose to cycle because there is greater control over speed. PMDs are more popular in the delivery space because the users need to be on the vehicle for a longer period of time and it can be tiring to cycle. Of course there is the price factor.
We believe PMDs and bicycles can co-exist, which is why SG Bike is currently working with a PMD company to introduce them onto our platform. In the near future, we are looking to offer not just bike-sharing but also PMD-sharing to our users.