China, with the world's largest elderly population of more than 200 million by last year-end, is a gigantic market for a wide range of Healthcare industry players to thrive in.
However, when it comes to the global market share of innovative drugs first launch, China accounts for a lacklustre 2.5 per cent, comparing to the 56.3 per cent of the U.S. or Japan's 12.6 per cent, according to a Deloitte report on China's pharmaceutical sector.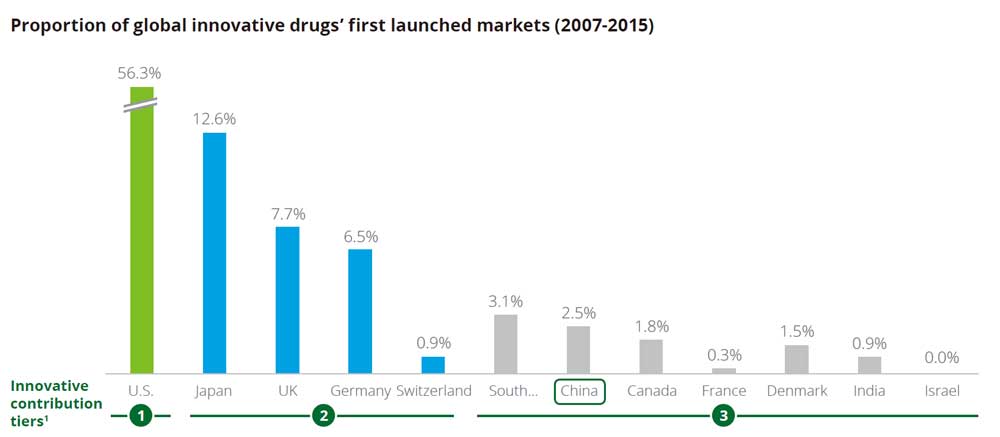 Having said that, the dull statistical number also poses great opportunities lying ahead, representing a massive market that Chinese drug firms, especially startups, can no longer ignore.
Status quo
Speaking of the driving forces of innovative new drug R&D in China, usually, there are three:
1) traditional pharmaceutical companies which produce mainly antibiotics with steady revenue sources

2) matured companies with an intention to transform their businesses and invest in new drugs R&D, as well as

3) Pharmaceutical startups engaging in innovative drugs R&D.
However, the truth is, since traditional pharmaceuticals usually see stable revenues with existing products like antibiotics, they do not typically have the impetus to invest big amounts in researching new drugs which takes many years to yield returns, if successful.
For instance, while R&D spending by local Chinese pharmaceuticals has increased over a 10-year period, according to a Brookings Institution report, growing more than 4,400% at US$7.2 billion as of 2016, this is still a small fraction compared to the combined total of US$156.7 billion spent on overall health R&D globally.
The global top ten pharmaceutical companies' spent, according to a report by Tufts Center for the Study of Drug Development, an average of 17.8 per cent of sales on R&D in 2013, or around US$60.4 billion; while for the Chinese top ten, the number was a mere 1 per cent, or $ 300 million.
Promising prospect
The gloomy situation has been improving over the past years.
What deters pharmaceutical investments in China in the past, could be attributed to several factors, including the sheer amount of capital new drugs R&D entails, a longer-than-desired ROI window, as well as limited exit options for investors.
In recent years, many of the limitations have either changed or are set to change, for instance, policy and regulation-wise, Beijing is shortening the registration and approval process for new drugs; as to exit options, HKEX also cleared the ways to allow pre-revenue biotech companies to get listed under the new Biotech chapter should the companies' minimum expected market cap exceeds HKD 1.5 billion, adding a new option for money-losing biomedical startups to raise public funding in addition to the U.S. stock markets.
One example of such Chinese pharmaceutical companies, is US-listed Zai Lab. Founded in 2013, this Shanghai-based drug company started trading on Nasdaq in September 2017 without zero revenue in product sales and a growing research and development (R&D) expenditure.
Now the number of less traditional pharma companies, including those are mature but have the vision and willingness to invest in new drug research and development, are growing. One example is Hengrui, which has what it takes to become the next Roche, said Bloomberg. In 2017, Hengrui spent US$287 million on R&D, a 48 per cent increase compared to 2016. Its spending in R&D also accounts for 10% of its revenue, reported 36Kr, our parent company. Often looked at for its specialisation in oncology, more than 40% of its revenue can be attributed to cancer-fighting drugs.
A good example of such young upstarts, is CStone Pharma, a drug company founded in 2016 with more than 10 assets in its portfolio, of which four are in clinical stages, according to a press release.
In May this year, CStone announced that it has raised US$260 million in a Series B round, led by Singaporean sovereign wealth fund GIC, to focus on its work in oncology.
Opportunities
In general, in China market, pharmaceutical startups with below characteristics, are believed by investors to be promising:
1) team includes one or more recruit(s) from the Thousand Talents Program

2) partnership with important government-supported programs

3) pass IND (investigational new drug) application within 3 years

4) secured multiple rounds of financing
As we said earlier, China has the world's largest elderly population, suggesting a huge market for a wide range of medical services to attend to.
Investors looking to participate in this upcoming wave of drug innovation, in addition to keeping in mind the above four principles, should also take into account how severe the disease groups the pharmaceutical startups target, whether the national health insurance would be willing to pay for usage of the drug, among other important details about the drug and its target customers.
Editor: Ben Jiang