These are challenging times for Wahyu Muliady, the founder and CEO of Ameera. He is finding it tough to raise new funds and approach new investors to invest in his seed-stage startup.
Muliady established Ameera, a company providing point-of-sale (POS) software for micro- and small-medium enterprises, in 2018. The software helps users integrate transactions, finance, inventory, and operational reports.
He received early funding from an angel investor the same year the company was founded. Muliady used most of the funds for technology development and the rest on the sales division. Around 950 clients from mom and pop stores and food and beverage merchants have to date came onboard.
However, the company is still burning cash to gain more customers or clients. It is attempting to catch up with other existing POS software providers such as Moka, which has around 20,000 clients. He believes Ameera can race to match  Moka, by having 30,000 clients next year. From his calculations, the company needs to raise at least USD 2 million in funding from new investors.
To Muliady, everything he needs for the sprint is almost ready. His startup has the technology and experience from the first two years of operating. The market for Ameera is out there and still growing. So there is only one—yet the most imperative—thing pending: the new financing to buttress up his ambition.
The clock is ticking. The existing funding is only enough to finance the company until the end of 2020. Hence, Muliady has knocked on door after door, approaching potential investors and venture capitalists since the end of 2018. However, no new investors have offered to invest in Ameera.
"I spoke with some investors, but they offered too low valuations. I approached 500 Startups, which was recommended by my friend, but we have never had any further discussions. I realized that getting investors is difficult, perhaps because my startup is not a first mover or originated from a fresh idea. Another reason is that I don't have many connections with investors," Muliady told KrASIA on the sidelines of a Block71 event in Jakarta.
Not all startups are alike
On the one hand, Muliady has to race with other startup founders who are getting millions of dollars in funding. On the other hand, many investors have changed their old mantra from concentrating on growth to focusing on businesses with healthy fundamentals instead.
Marshall Utoyo, co-founder and chief design officer at Fabelio, an online furniture store, has a different experience when raising new funds for his company. He is very optimistic about interest from investors.
"We actually see that the investor interest has shifted post-WeWork era. Investors now look for a business with good fundamentals when it comes to startups, such as the gross margin and the sustainability of the business. Our business is very healthy, and still can attract many investors," Utoyo said.
Alexander Rusli, an active investor in 12 startup firms and also a chairman at Iflix Indonesia, said that investors are getting more selective and careful in allocating their money to startups nowadays. They prefer to save their cash if there are no good deals, especially when it comes to early stage investments.
"It is a cyclical period. When the global economy is tough, people prefer to conserve cash. However, this is not the first time. It happened a few years ago. At some point, we know the show must go on, digitization must happen," Rusli told KrASIA in a recent interview.
WeWork's failed initial public offering and the unprofitable businesses of ride-hailing giants Uber and Lfyt have disenchanted investors, causing them to not invest in 'burning cash' businesses; instead, they are turning their heads to businesses with good fundamentals.
"Investors will press for better valuations and more assurance [from startups], mainly they will be very careful with startups who don't display a path to profitability. However, it will be a different story for unicorns and decacorns, the investors have more flexibility with them," he added.
Joshua Agusta, a director at Mandiri Capital Indonesia agreed that it is difficult to raise money, especially for Southeast Asian early stage startups after the WeWork fiasco, because investors are increasingly paying more attention to revenue growth and paths to profitability, thanks to companies like Uber and Lyft that are still booking losses even after they went public.
Uber's net loss widened to USD 1.16 billion in the quarter ended September 30, 2019, from USD 986 million a year earlier. Meanwhile, fellow ride-hailing firm Lyft Inc. posted a USD 463.5 million net loss for the third quarter of 2019, an increase from USD 249.2 million in the same period last year.
However, he foresees startups at B rounds level and above will still get funding, and is confident that there will be billions of dollars being funneled next year to incumbent and upcoming unicorns.
"Talking about dollar value invested in the region from Series B and above only, it will still increase because the amount of money in that space is super large. Even though the number of deals goes down, the dollar value of investments will still increase," Agusta said during the Block71 event in Jakarta.
Agusta cited Indonesian fintech firm Kredivo, which recently secured USD 90 million in series C funding led by Mirae Asset-Naver Asia Growth Fund and Square Peg, as an example. Kredivo is a Series C startup with strong fundamentals and robust income, he said.
Jeffrey Paine, managing partner at Golden Gate Ventures added that the investors for WeWork, Uber, and Lyft, were either too early or miscalculated in investing in the startups, and have not reaped the benefits.
"The other reason is you think you'd make money. But then you don't. That means you're too early or there's too much competition. And you forgot to calculate your competition and then you forgot you came in too early," Paine said.
Better luck next year
Pane suggests that startups should better raise their fundings before the third quarter of next year, when the fundraising conundrum eventually worsen to a state that raising for early-stage startups would become even harder and take much longer.
China's economic slowdown and the high valuations of Chinese startups have made consumer-focused companies less attractive to investors. The ripple effect is spreading across the whole region, just like how the WeWork fallout weighed on the market sentiment. That said, he still foresees that US investments will still come in but only for selective startups and mainly late stage ones.
He also believes that there will be more substantial funding next year compared to this year, but investors prefer not to invest in consumer-facing startups, like those e-commerce companies that are still losing money.
"Investors will not fund another e-commerce company, where everybody loses money. So then they don't want to do that, they will do something new and something new takes money and time to turn profitable. That makes it riskier if they think that the next three years will be slow. Then it's very hard for the consumer companies to raise money. Now they [investors] are a little more conservative," he explained.
Meanwhile, media entertainment, such as media services and podcast providers, is a sector getting the attention of investors because it has a high business margin. Indonesia and Vietnam, for instance, have a growing middle-class population, so people will consume more entertainment and are willing to pay for it.
Huge interest but few quality startups
As the largest economy in Southeast Asia, Indonesia has high hopes to increase economic growth through boosting the digital economy. The government has launched some initiatives, including the revamped 1001 Digital Startup Movement, to grow startups across Indonesia.
Faye Alund, the coordinator of the program said many people are enthusiastic about this six-month coaching program. During the past three years, more than 78,000 people applied for the program; however, only a few actually are qualified.
"We offer the opportunity for everyone to join the program, but we are looking for quality startups and ideas that can attract investors," Alund told KrASIA.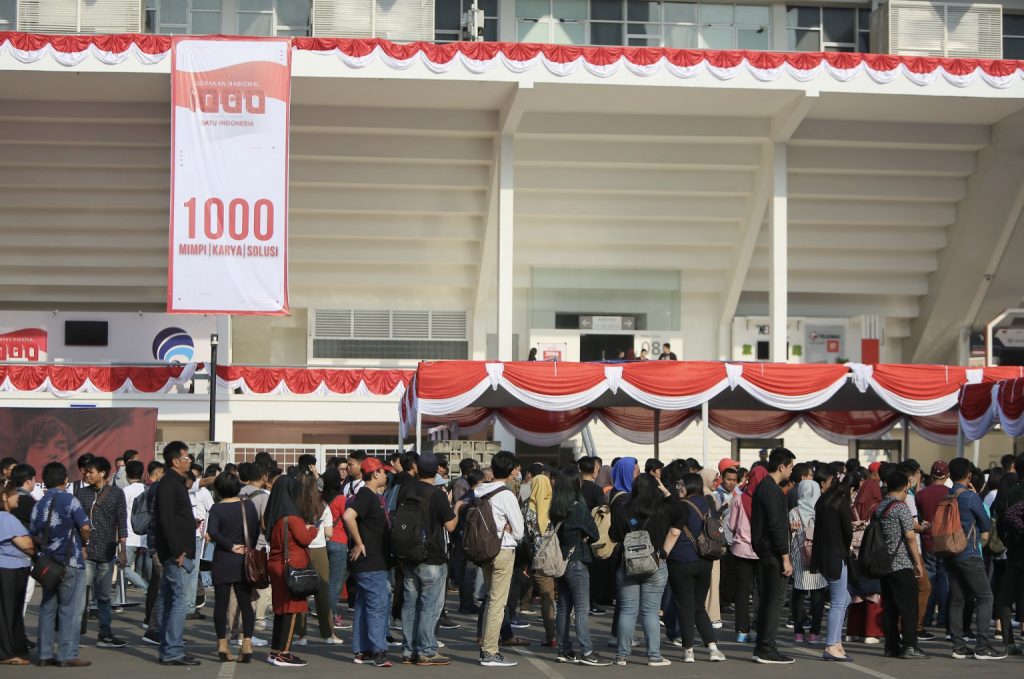 Before establishing Ameera, he had applied to this program for his first startup, but failed to get in. He tried a different approach to engage directly with investors for his second startup.
"I tried to register with some incubator programs, either from government or corporates, but I failed," he said.
Alvin Evander, head of synergy and accelerator at MDI Ventures which has Indigo, an incubator program backed by telco operator Telkom Indonesia, revealed that around 300 startups on average register to enter the incubator for each batch. However, only 10 to 15 startups typically pass the selection process.
"There is much interest from startups to join our incubator, but only a few startups are of good quality and have passed Telkom's evaluation," Evander said.
Muliady from Ameera is not one to give up, however. He believes that his startup can secure 5,000 merchants as customers by 2020, which can turn around his business, and attract the right investors.