The hybrid work model is gaining ground around the world. In the foreseeable future, a physical presence in the office will not be mandatory for many who can use their laptops and work from anywhere that has a stable internet connection.
However, empty offices and wasted rent, as well as the fact that staff members gradually lose cohesiveness when they work apart from each other, have many leaders wondering what might be the best way to engage their teams in the era of hybrid work. To find out how enterprises of all sizes are navigating these new waters, Oasis spoke with several KOLs about the matter. Here are the practices that Wiley Zhang, the video collaboration head for the Asia Pacific and Japan regions at Logitech, has been implementing.
The following interview has been edited and consolidated for brevity and clarity.
Oasis (OS): How do you empower your team and ensure engagement when they are not working in the same office? 
Wiley Zhang (WZ): This is something that I believe a lot of leaders around the world are thinking about. People didn't expect that the pandemic would last this long. But now that everyone realizes the hybrid work arrangement is something that workplaces need to adopt, we're trying to find new ways of engagement.
My practice is to reach out to my team members more actively and frequently, and not just talk about business on a daily basis, but ask about things just like friends would. We always encourage our team to set aside at least one hour each day to step away from daily business, and think about what they really need. In our video meetings, we take time to share our experiences, joys, and anecdotes about our families. That's how we stay connected.
We also come up with creative things to do. For example, the management team and I shipped beers and food to our people, and then we scheduled an event called Central Park, in which we got everyone together and talked about anything they wanted to bring up. We've been more proactive in reaching out and initiating these activities.
OS: How do Logitech's team members stay connected with each other?
WZ: Our CEO at Logitech, Bracken P. Darrell, posts weekly short videos where he addresses everyone in the company. He invites guests from time to time and they talk about different topics. It seems easy because it might just take ten minutes a week, but that's a lot for a leader who has a lot of things to do. He cares about people, so he's willing to spend time and effort on this kind of communication.
Of course, some face-to-face gatherings cannot be replaced. At Logitech, we develop solutions for video collaborations, and there are functions in video chats that are not easy to duplicate for in-person meetings.
Leaders need to be much more proactive and engage team members in meaningful ways rather than tie everyone up in endless meetings. Manage less, influence, and lead more.
Capturing dry erase surfaces up to six by four feet, Logitech Scribe is a dedicated whiteboard camera that gives virtual meeting participants a clear, real-time view of the whiteboard. Photo courtesy to Logitech.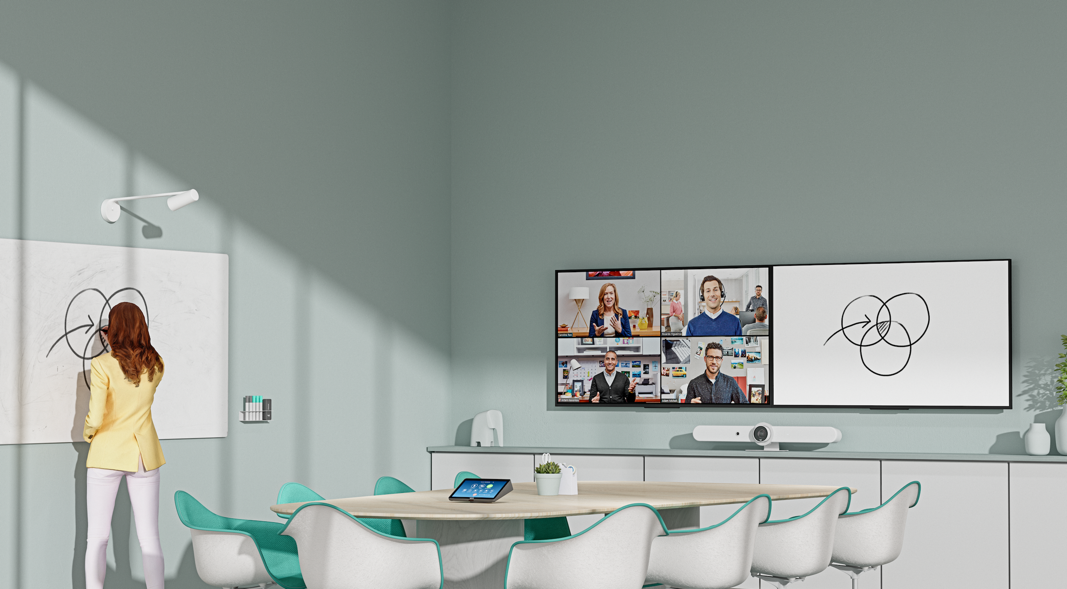 OS: "Manage less, influence and lead more." What does this mean?
WZ: Managing tasks is the easiest part of being a leader, but it is difficult to influence, inspire, and lead.
I tend to look at people from three angles—skill sets and knowledge, roles and responsibilities, and willingness to contribute. The first two are easy; you determine what this person can do and what role they can play. The third angle is difficult because it isn't just about management and allocating tasks; it's about determining whether people have the desire to do it and whether you need to give them encouragement to go the extra mile.
OS: How do you divide your time between managing your team and influencing, inspiring, and leading individuals?
WZ: First, let me share what a vibrant team should be like: if you have really empowered your team, then you don't need to spend much time on daily tasks. You will have a lot more time to think about things that are strategic and more important.
I spend 90% of my time on developing a shared culture and common values, and just 10% on management.
A lot of my teammates are experts; they are better than me at the things they do. So I delegate tasks to those people with trust and provide support whenever they need it.
When I came to the Asia Pacific region for Logitech, I spoke with my team about two particular things. One is that I needed to ensure our voice was heard in Logitech's headquarters. The second message was that our work is about people, and that I would create an environment for the team to do great things.
Oasis, the brainchild of KrASIA, aims to provide a haven for human-centered stories on Asia's leaders. Click here to read similar stories.