The COVID-19 pandemic has caused many traditional businesses to completely rethink their strategies for the future. As disruptions to production and consumption have left many firms strapped for cash, companies are now more than ever trying to optimize their efficiency and reduce costs, and many are opting for cloud-based services as the main alternative to do so.
China's preeminent names in cloud computing, Alibaba (NYSE: BABA) and Tencent (HKG: 0700), are now at the forefront of this shift in strategy across sectors including e-commerce and gaming.
Alibaba, already China's leader in cloud services, is doubling down on this transformation, announcing a USD 28 billion investment over three years in its cloud infrastructure last week.
Already occupying a strong 46.6% of the Chinese cloud market, Alibaba has also successfully expanded its cloud services to the Asia Pacific (APAC) region, outperforming the likes of international providers including Microsoft and Amazon in the region with a 19.6% share of the market. Alibaba Cloud generated over RMB 10 billion in revenue during the fourth quarter of 2019, marking an impressive annual growth of 62.7%.
Overall, the Chinese market for cloud services shows enormous potential. According to research firm Canalys, China's cloud market grew 66.9% year-on-year in the fourth quarter of 2019. Domestically, Alibaba's closest competitors are Tencent Cloud and Baidu Cloud, with 18.0% and 8.8% of the Chinese market respectively.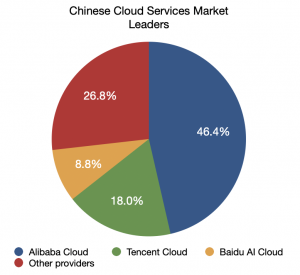 Response to COVID-19
China's tech giants have all leveraged their successful cloud businesses to assist with the COVID-19 response, providing technical and data-driven solutions to augment healthcare efforts with advanced diagnostics techniques.
Tencent launched an international COVID-19 response package in mid-April, where it offered free credits for companies and organizations to use some of its cloud services, similar to a move made by Amazon Web Services, which provided cloud credits to accredited research customers combating the virus. The firm also opened its cloud resources to researchers and universities around the country, and on April 16, Tencent Cloud hosted a webinar on VooV Meeting featuring leading Chinese epidemiologist Zhong Nanshan.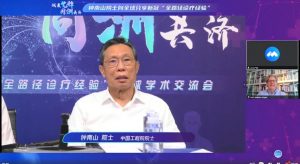 Alibaba Cloud rolled out a plan, named Anti-COVID-19 SME Enablement Program, which will last from April 23 to June 22. The program offers new SME clients a USD 300 coupon for 12 key cloud services, and also provides existing clients a USD 500 coupon for eight advanced products. The company also rolled out video-conferencing application Alibaba Cloud Meeting to rival Tencent's comparable product.
Baidu AI Cloud followed by opening its online medical consultation platform, processing 15 million queries free of charge. Baidu (NASDAQ:BIDU) even established a healthcare-focused subsidiary in March, called Baidu Health, KrASIA reported.
These cloud services have enabled the short-term remote transition for many business and institutions, while also providing assistance in the healthcare response. However, their most crucial role could be seen in the post-virus economic recovery.
A recent report from Canalys explains that firms leading in cloud services, which have moved quickly to soak up excess demand, stand to benefit the most going forward.
Domestic demand
The COVID-19 pandemic hit China's small and mid-sized enterprises (SMEs) the hardest. According to a survey conducted in February from Peking and Tsinghua universities, over 85% of SMEs may go out of business within three months if they do not receive financial help.
While the People's Bank of China has attempted to ease the pain for businesses in tandem with the relief packages of tech giants, the global spread of the pandemic will weaken international demand, heaping more pressure on Chinese SMEs. Per the Ministry of Industry and Information Technology, as of March 29, 76.8% of the 2.2 million SMEs across China had resumed work, according to data gathered by monitoring companies' cloud computing usage.
Despite Alibaba's relative dominance in the cloud space, Tencent Cloud managed to increase its share in the market to 18.0% per Canalys. The company has also launched numerous initiatives to bolster online education and telemedicine sectors during a time of hyper-demand and will hope to establish lasting relationships with corporate clients trialing services during the outbreak period.
In response to this uptick in demand for cloud services, e-commerce giant JD.com (NASDAQ: JD) announced the establishment of JD Cloud and AI as another core business segment on March 5. JD Cloud and AI then signed a strategic partnership with China Digital to collaborate on public cloud services. JD Cloud and AI made another aggressive move to break into the cloud market, signing a partnership with US firm Cloudflare, allowing the San Francisco-based company to establish 150 new data centers in China.
While JD.com's market share is minuscule compared to industry incumbents, the recognition of cloud services as a growth driver for Chinese companies not only satiates customers' increased demand but propels the further modernization of the Chinese economy.

Opportunities overseas
As China's digital transformation unfolded over the past decade and Chinese technology companies grew to maturity, Southeast Asia represents the next frontier of expansion. Recognizing rising mobile penetration rates and the proliferation of digital services in markets like Indonesia and Malaysia has attracted the attention of Alibaba Cloud. The Hangzhou-based giant currently has two data centers in each of Indonesia and Malaysia.
Tokopedia, an Indonesian e-commerce giant, runs part of its network using Alibaba Cloud Singapore, admitting the lack of major local public cloud providers in Jakarta. Even before COVID-19 accelerated the adoption of e-commerce, it had already been a growing sector across Southeast Asia, rising from a GMV value of USD 5.5 billion in 2015 to USD 38 billion in 2019 and on track to surpass USD 150 billion in GMV by 2025.
Lazada, another e-commerce titan in the region and subsidiary of Alibaba, also runs its networks using Alibaba Cloud. According to the company, e-commerce penetration in Southeast Asia lags far behind China, meaning that the region still has immense untapped potential.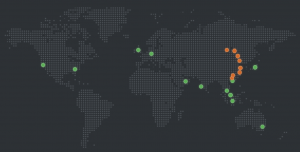 The success of regional e-commerce players like Tokopedia and Lazada is vital and provides a lifeline to many SMEs who are still sorely hurting from the fallout of COVID-19 and are yet to see their offline business fully rebound.
Tencent Cloud is also increasingly eyeing customers overseas. The Shenzhen-based tech giant specializes in gaming cloud services, a vertical where it believes it has the best chance to snatch market share from Alibaba. Given Tencent's inherent advantages in the gaming sector thanks to its global video game ecosystem, the company's cloud business is well-positioned to expand its cloud footprint. Tencent has also partnered with Huawei, and both companies jointly announced the establishment of a gaming lab to explore cloud gaming, supported by innovations in VR and 5G networks, during the Huawei Developer Conference 2020 in late March.
In addition to Tencent's gaming initiatives, Tencent Cloud provided solutions to Southeast Asian e-commerce giant Shopee, which was the most downloaded e-commerce app and the most used in the region as of end-2019, according to research firm iPrice. With offline retail sales in Southeast Asia cut to nearly half of pre-virus levels, increased order volume on Shopee, supported by Tencent Cloud has allowed continued revenue generation for SMEs in the region.
In fact, Singapore-based Shopee launched new features with a Seller Support Package to assist SME's in the Philippines, and entice firms to their platform. In addition to subsidies worth PHP 15,000 (USD 295), the company will provide SME's with a 20% reduction in marketing costs.
In Thailand, another major market for Shopee, the company has experienced "robust" growth during the COVID-19 outbreak. Agatha Soh, head of marketing at Shopee Thailand, explained the importance of SMEs to Thailand's economy, pointing out that SMEs form the core of Thailand's economy and represent 42% of the country's total GDP.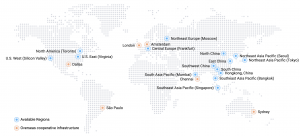 As e-commerce in Southeast Asia expands, so will the demand for cloud services. The post-COVID-19 economic recovery will be marked by a shift towards digitalization, forcing many suffering SMEs to procure scalable IT resources. The scale, experience, and coverage of Chinese cloud solution providers like Alibaba and Tencent allow these companies to covet clients across Southeast Asia as the global economy begins to recover.