The "FinTech Program: Asia meets Tokyo" accelerator recently concluded with eight startups taking part in the business plan pitch event, mentoring, and business matching. The event is only one part of Tokyo Metropolitan Government's (TMG) "Global Financial City: Tokyo" vision. Its aim is to develop Tokyo into a world-leading financial hub powered by foreign startups with cutting-edge technologies and business models. "FinTech Program: Asia meets Tokyo" helps startups to learn more about how to do business in the city as well as to get an opportunity to create new partnerships with local companies.
Hong Kong insurtech startup CoverGo founder and CEO Tomas Holub, participated to get insights that are usually difficult to find. "Our goal was to gain marketing exposure and develop our business in the Japanese market by meeting Japanese insurers and delivery partners," said Holub. "Furthermore, we wanted to know about pain points of incumbent businesses, then we can potentially develop a POC with specific use cases to prove the 'Sound great, but does it work?' question the company may ask." CoverGo was also looking for mentorship to incorporate in Japan and learn more about the appetite for insurtech.
Nextbillion.ai co-founder and COO Ajay Bulusu was attracted by the prospect of finding new Japanese partners. "Tokyo being a mega city and Japan a crucial developed market, we were very keen to learn more and engage with potential customers and investors via this program," Bulusu said. "Being a key global metropolitan as well as the capital of Japan, we could not think of a better city to expand. The mapping industry is dominated by a few large companies and the problems were seeing globally are even pertinent in Japan. Enterprises are seeking more custom solutions and we feel Nextbillion is at the right place to deliver this."
Many of the participating startups in the "FinTech Program: Asia meets Tokyo" accelerator program were excited to be included and the prospect of being able to do business in the future. AIZEN Asia Pacific CEO Jung Seok Kang welcomed the efforts of looking overseas. "TMG has taken initiatives to boost itself as Asia's leading financial hub," he said. "While financial institutions have long pursued traditional business models, we believe their collaborations with new fintech players can help them enhance profitability with new business models, and reanimate Japan's banking sector."
Kang believes that from a business environment perspective, Japan's risk-averse culture and its relatively nascent startup scene could become the basis for a significant leap forward, and bring potential growth opportunities to Tokyo's ecosystem. "From a financial perspective, we will have the opportunity to tap into an enormous financial market in Japan that would expedite our future growth," he added.
Singaporean startup AiDA Technologies is excited about the Tokyo market and its possibilities. CEO Dr. Tan Geok Leng thinks that Japan is a very large and mature market and companies are most ready to adopt new technologies such as AI and machine learning. "We have a rapid POC process and we can demonstrate the power of our solutions within 4 to 6 weeks," he said.
Dr. Saurabh Singh, co-founder and CTO of Intensel, a climate risk forecast and analytics startup, is also bullish about the potential of Tokyo. "Companies in Japan and Tokyo are well ahead of other Asian firms in terms of sustainability," he said. "Moreover, these companies have direct exposure and experience of physical climate risk. Our company is able to address this risk, by leveraging on climate, tech and financial expertise."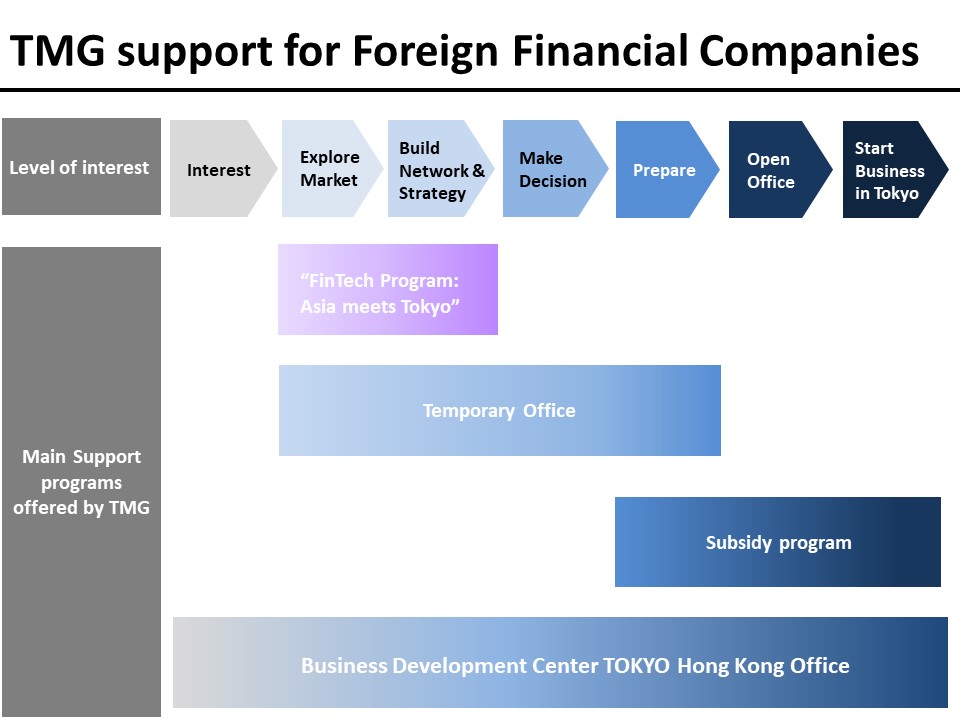 TMG also launched other initiatives to entice foreign financial companies. The "Project for Temporary Office Allocation for Foreign Financial Companies and Human Resources" was set up for companies to help to research the market and plan for a future expansion. This project reduces the burden of office rents for up to three months. The "Overseas Financial Corporation Business Establishment Subsidy Program" aims to provide support for establishing new businesses in Tokyo, covering fees incurred in consultation with experts and personnel recruitment costs. Similarly, the "Subsidy to Support Base of Operations of Overseas Financial Corporations" provides grants to asset managers and fintech firms that have established offices in Japan. The grant covers consulting fees for experts, office rents, and costs for equipment and fixtures of up to JPY 10 million.  Furthermore in Hong Kong, TMG has setup a Business Development Center Tokyo Office. It allows companies that consider setting up a base in Tokyo to get support in areas such as business, introductions to specialists, and information on daily life matters in the city.
The wide range of support for foreign financial companies offered by TMG creates ample opportunities for companies to make the move into Tokyo. With eight startups from the "FinTech Program: Asia meets Tokyo" program now excited and eager to forge ahead with their new knowledge, the future of innovation in Tokyo looks very promising.
Participating Startups:
AIDA Technologies – Insurance Invoice Solution driven by AI
AIZEN Asia Pacific – Credit Scoring Solution driven by Alternative Data
Allinfra Ventures Limited – Solution for Carbon Markets & Infrastructure Finance
CoverGo – Platform to digitalize an Insurance Business
IBSFINtech India Pvt Ltd. – Finance Risk Management Solution
Intensel – Create solutions to analyse Climate Risk
Nextbillion.ai – Cost-Efficient and Applicable Custom Mapping Solutions
Tookitaki – AML Analysing Solution