In November 2017, the Tokyo Metropolitan Government (TMG) announced its "Global Financial City: Tokyo" vision, with the aim of turning the city into a global financial hub that's rivalling the best in the world. With a large population, high GDP, and growing fintech market, Tokyo is positioning itself as the place to be for fintech startups looking to expand into Japan. As part of this push, TMG recently ran the "FinTech Program: Asia meets Tokyo" accelerator program where eight startups from across Asia were selected to participate.
The 52 applications from 9 countries/regions included high-caliber startups and indicated how popular the city has become for prospering companies. The increase in foreign interest is also opening a window of opportunity for the local fintech scene. With the program the organizers aim to harness this interest by deepening the startups' knowledge of both the Japanese market and the needs of local companies. It intends to showcase their products and services to create business opportunities for both sides. The program culminated in a pitching event where all eight startups laid out their business cases.
Allinfra Ventures Limited, founded in 2017, uses blockchain technology to allow financing of infrastructure and environmental assets in a secure and verifiable environment. Co-founder and CEO Dave Sandor was drawn to the program for the opportunities to create partnerships that fit with their goals. "We believe "Asia meets Tokyo" offers a unique and thoughtful process for matching Asia-based companies with high quality and thematically aligned parties in Japan. We were attracted in particular by the opportunity to share our business and receive mentorship from Japanese corporates who have an interest in accelerating a low carbon economy," said Sandor. "We have learnt that we will have the greatest success if we identify strong strategic partners.  We see a tremendous opportunity and a real need for our technology, and our greatest success will come from thoughtful market entry with high quality local partners, either through joint venture or other collaboration agreement," he added.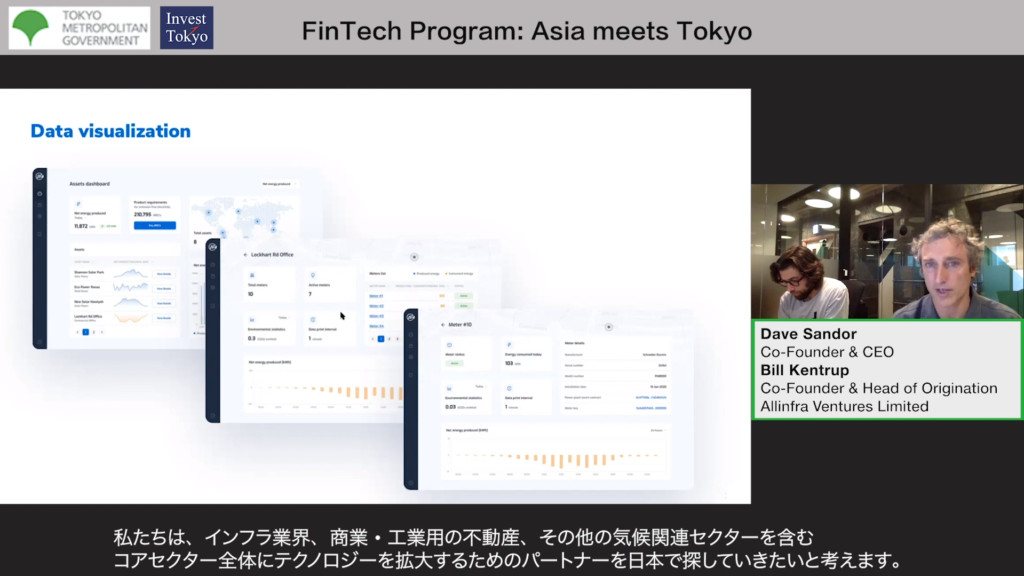 Singaporean startup Tookitaki, which develops anti money laundering products, was also excited about the potential possibilities of the program and the Tokyo market. "Innovation programs such as "Asia meets Tokyo" provide start-ups like Tookitaki enough opportunities to showcase our next-generation solutions to the world and streamline our global growth plans in the right direction. We found these platforms are particularly helpful in generating investor interest, winning strategic clients and partners, and boosting brand value," said co-founder and CEO Abhishek Chatterjee. He went on to say that "financial institutions and investors in Tokyo are very keen to understand the latest technologies such as AI and machine learning and is showing willingness to enter into strategic alliances with technology companies. Government agencies, especially TMG, are assisting foreign and local fintech companies to promote themselves within Tokyo and beyond."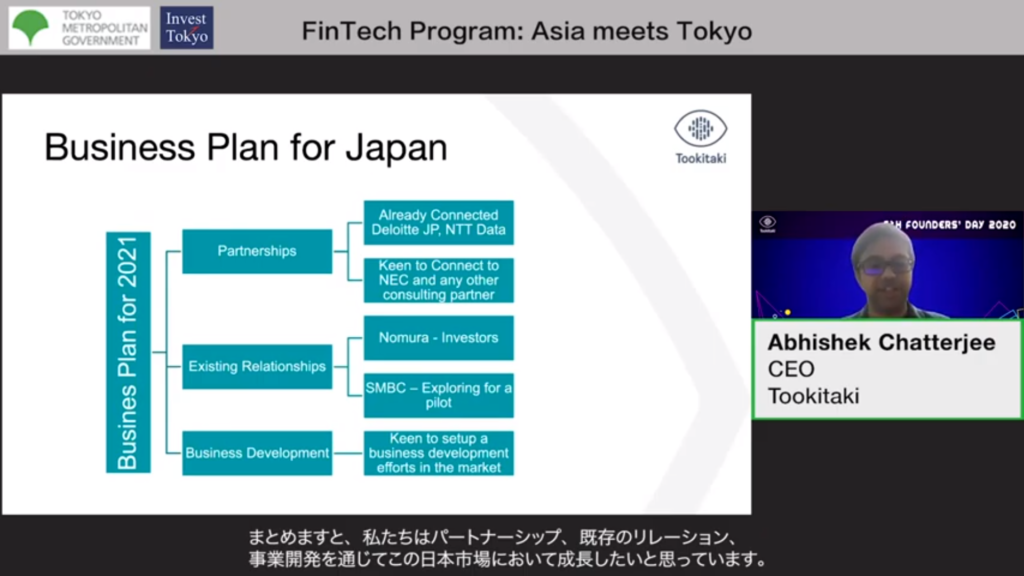 IBSFINtech, who create digital solutions for corporate treasury and trade finance management, sees big appeal in expanding into Tokyo. "The biggest attraction to expand in Tokyo is that it is emerging as the financial hub of the world, becoming the bridge between the west and the east. With pro-global business policies and support from the Japanese government, Tokyo is emerging as the next hub for business, both locally as well as internationally," said AVP Nidhi Modi. The company is looking to use the learnings from the program to push IBSFINtech into the Tokyo market. Modi added that they are "aggressively working on expanding globally and Tokyo, Japan falls under a critical market for us to build a footprint on the global market. Over the next few months, we plan to establish strong local ecosystem collaborations to kick-start our entry into Japan. Based on the opportunities, we are keen to establish presence in Japan and also enable employment generation opportunities for the skilled workforce there."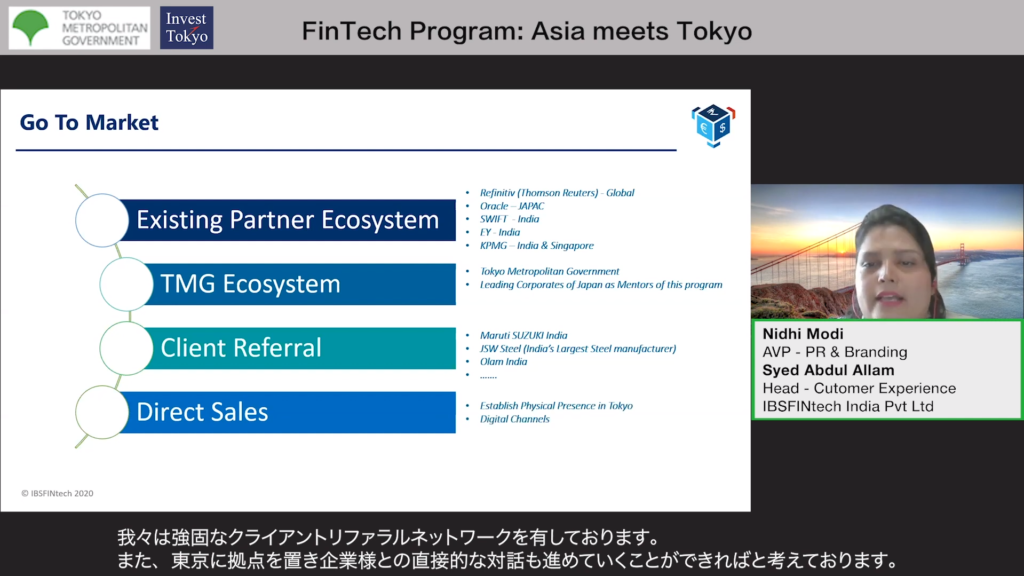 Participating Startups:
AIDA Technologies – Insurance Invoice Solution driven by AI
AIZEN Asia Pacific – Credit Scoring Solution driven by Alternative Data
Allinfra Ventures Limited – Solution for Carbon Markets & Infrastructure Finance
CoverGo – Platform to digitalize an Insurance Business
IBSFINtech India Pvt Ltd. – Finance Risk Management Solution
Intensel – Create solutions to analyse Climate Risk
Nextbillion.ai – Cost-Efficient and Applicable Custom Mapping Solutions
Tookitaki – AML Analysing Solution
To learn more about "FinTech Program: Asia meets Tokyo" Business Plan Pitch Event check out the video below: