The ASEAN region has matured into a tech investor's paradise in recent years. Nations like Singapore, Indonesia, and Malaysia have become hubs of digital innovation, leading to an influx of both domestic and external investment. But with the rise of exciting new ecosystems across Southeast Asia, the distribution of investment will change in the coming years. Vietnam stands poised to capitalise on the shifting investment landscape and is poised to emerge as a digital startup hub in the near future, the ASEAN Today has reported.
Vietnam is a "mini-China"
Powered by market reforms initiated by Doi Moi in 1986, Vietnam's path has mirrored that of its larger neighbour across the northern border in many ways.
Both China and Vietnam are ruled by communist parties, yet have a market economy.
They have also followed similar growth patterns. Like China, Vietnam is now a major manufacturing destination for multinational corporations (MNCs), especially in the electronics sector. The government has also made digitization a key focus in recent years, again taking cues from the Chinese.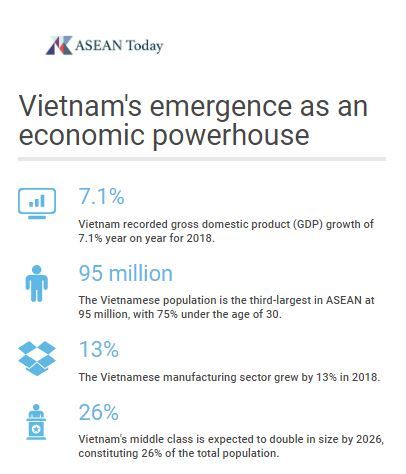 Vietnam has been in the thick of the tech startup scene from the beginning, but it really took off in 2016. Since then, government and private funding have created numerous incubators, VCs, and projects.
The number of startups has also shot up to around 3,000, with 92 firms securing deals worth a record US$292 million in 2017 alone. That represents an almost four-fold increase in as many years, with just 25 firms securing funding in 2013.
The vast majority of these successful Vietnamese tech startups are limited to three main fields of e-commerce, fintech, and online services.
Vietnam has an edge in tech innovation
The success of Vietnam's startup ecosystem depended on a set of diverse factors all lining up together at the right time. Its domestic market is rapidly expanding thanks to increased internet and mobile penetration.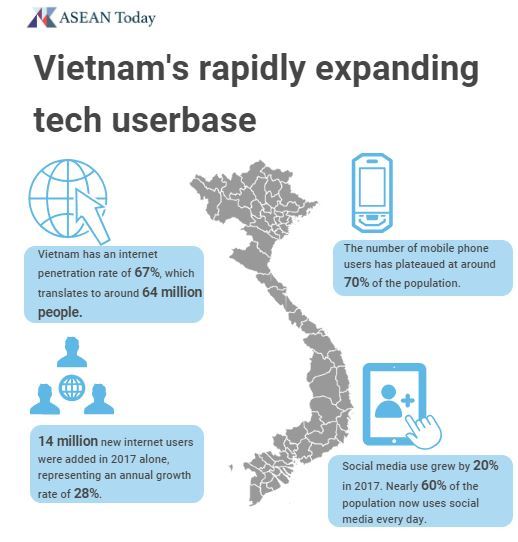 Thanks to government policies, computer science is taught right from primary school level in Vietnam. And with advanced learning centres like the Ho Chi Minh Technology University, some of the best coders in the world hail from Vietnam.
Private initiatives and external aid have also been forthcoming. MNCs like Samsung, LG, Siemens, and Intel have all contributed to Vietnam's emergence as a tech startup hub thanks to their employee training initiatives in Vietnam.
Programs like the HEEAP funded by USAID, and the IPP (a joint partnership between Finland and Vietnam) have further improved the quality of training. The government is also attracting skilled expats, called "Viet Kieu", to return to their home country and start new high tech ventures.
The government has been at the forefront of Vietnam's evolving investment landscape
Since 2016, the Vietnamese government has been actively promoting the local tech industry through legislative measures. The Law on Technology Transfer makes it easier for local startups to access tech from abroad.
A special emphasis has also been given to startups in the Law on Supporting Small and Medium-Sized Enterprises. Released in 2018, Decree 38-ND-CP provides additional legal protections to startups and allows increased access to state funding.
Vietnam is catching up with large regional players
Since 2016, Singapore has been a major driving force in the ASEAN startup scene. But Vietnam is catching up.
Vietnam has conditions that are perhaps even more favourable than Singapore had in 2016. It has a significant population advantage (95 million compared to Singapore's 5.6 million). That means access to a larger domestic market with more avenues of growth, and an abundance of cheap, highly-skilled labour.
Singapore is also one of the most expensive places in the world to live in. By contrast, the cost of living is very low in Vietnam, which could make it a lucrative destination for high tech businesses and skilled foreign workers and entrepreneurs.
But before it can really challenge other ASEAN member states as a serious regional startup hub, the Vietnamese government has to strengthen its infrastructure and ease business restrictions.
Vietnam is currently ranked 79th out of 138 countries when it comes to the quality of infrastructure, so there is plenty of work to be done. But plans to boost Vietnamese infrastructure are underway. A US$921 million investment plan to improve rail, road, electrical and urban infrastructure by 2020 is underway, which will provide significant opportunities to Vietnamese startups.
Although Vietnam rose 14 places in the World Ease of Doing Business Rankings in 2018, it still lags behind four of its ASEAN competitors.
Singapore still occupies ASEAN's throne as the premier startup and technological hub, but if the Vietnamese government can leverage its economic advantages, there is no reason why Vietnam can't catch up with, or even dethrone, Singapore as a major startup innovation hub in South East Asia.