The COVID-19 pandemic has badly affected people whose livelihoods depend on live events. Musicians, theater performers, wellness gurus, and others have been unable to earn incomes by performing in front of thousands of attendees in stadiums, gyms, or convention centers.
However, like many other businesses that had to adapt and speed up the digitization process, Indonesian tech platforms such as KiosTix and Gojek came forward to offer "virtual venues" for organizers to bring monetized live events online.
Ticketing management company KiosTix was among the first firms to leverage the trend with the launch of online event hosting service KiosLive in April. The platform mainly focuses on entertainment events such as online concerts. For example, local indie-pop band Elephant Kind held an online concert on KiosLive in September, with tickets ranging from IDR 35,000 to IDR 300,000 (USD 2.35–20), slightly cheaper than normal offline events. Until now, KiosLive has hosted around 200 online events, logging 30,000 transactions in ticket sales, according to KiosTix's creative manager Caesario Ibrahim.
"We have seen an increase in demand since mid-year, probably because the public was bored of consuming the same kind of entertainment every day. Content creators have started to become aware of how to monetize these events," Ibrahim told KrASIA.
Most online events on the platform are still "virtual replicas" of concerts and theater shows, Ibrahim explained, adding that other sectors such as the fitness industry and the education sector have started to move online too. "Even religious events," Ibrahim added.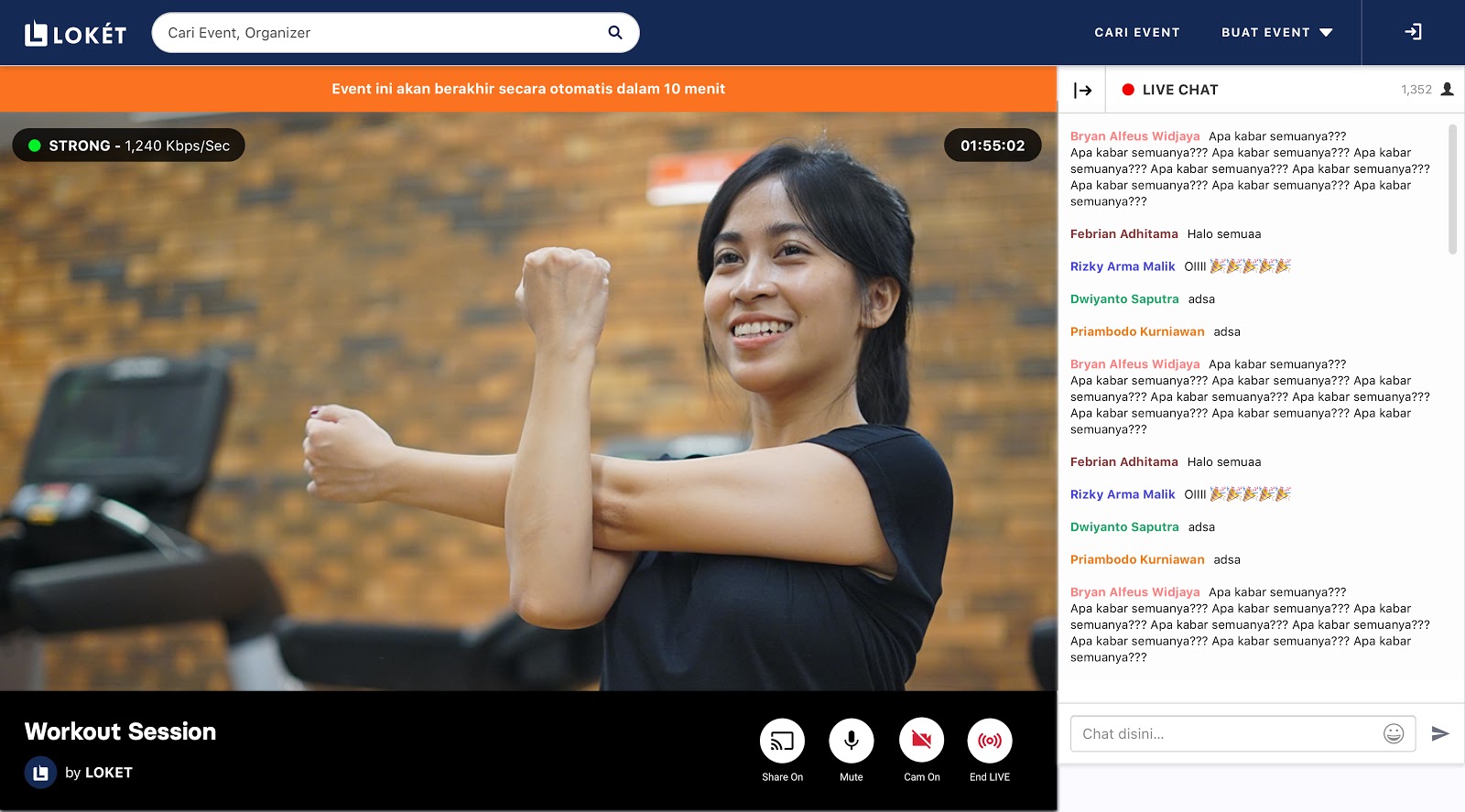 Indonesia's most valuable startup, Gojek, has also shaped this trend with the launch of GoPlay Live in July. The new streaming service focuses on large-scale events such as concerts or festivals, integrated into the company's video-on-demand platform, GoPlay. Gojek acquired event organizer firm Loket in 2017, taking control of the company's platform for online events. So far, Loket had hosted 7,200 events during this pandemic, with most of them held by major corporates. In all, over 500,000 tickets were sold through Gojek's ticketing platform GoTix or Loket.com.
Gojek also launched Loket Live Studio in September, focusing on micro-sized online events hosted by content creators or small business owners. "During the seven months since the pandemic started, the online event category has grown. It is now not only limited to the creative sector, but it has extended into other realms such as finance, sports, law, health, education, and so on," Tubagus Utama, head of Loket, told KrASIA.
Emphasis on interactivity
To further engage users, KiosLive offers "virtual party packages," allowing online events' attendees to order food, drinks, and merchandise that will be delivered to their homes. GoPlay Live also provides a similar feature called "Live Shopping and Virtual Donation," where audiences can also transfer money to creators during the event.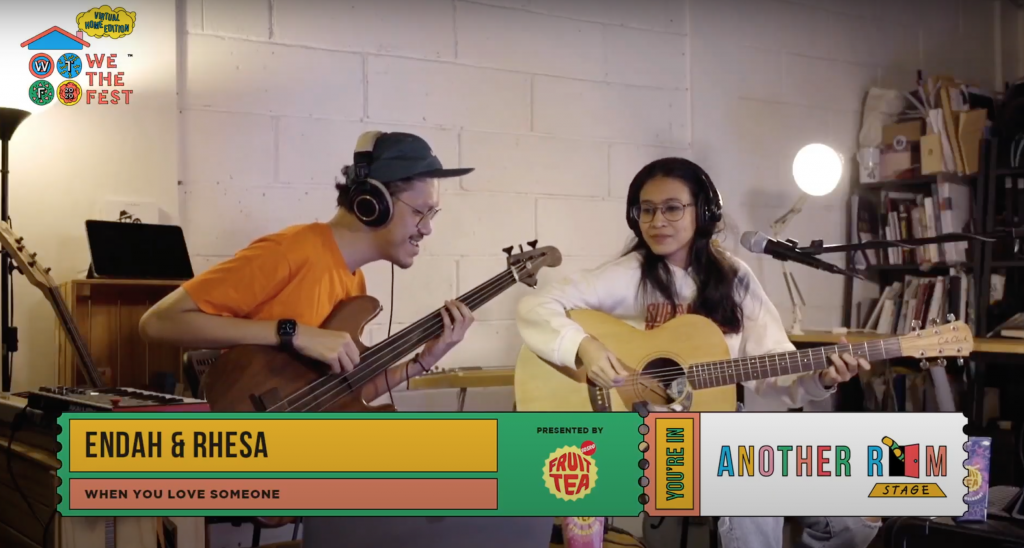 "This new feature provides content creators with a new source of ancillary revenue, which they would have usually gotten from sponsorships, souvenir and merchandise sales, or food and beverage sales at offline events," said GoPlay CEO Edy Sulistyo.
There are also options for live chats and Q&A sessions during online events on both platforms. "We consider an event with positive chat interactions or feedback as a successful one," Ibrahim said. 
Interactive features are considered as important, as most event-goers KrASIA talked to still look for a sense of community when attending virtual events. The ability to interact with other online attendees when watching one's favorite artist performing, or even to chat with creators, gives digital platforms a new edge.
New business potential?
The revenue model of platforms such as GoPlay Live and KiosLive relies on commission from ticket sales, platform fees, and streaming fees, paid by the organizer to the platform.
Even if virtual events could potentially give the illusion of a limitless audience, as they are not constrained by a venue's maximum capacity, KiosLive still imposes caps on ticket sales. "We adjust the maximum amount of tickets available and the audience maximum size with the promotor or the creator. For large-scale events with thousands of streamers, obviously, there would be a limit to not tamper the streaming quality," Ibrahim said.
GoPlay Live and Loket Live Studio didn't disclose their policy on viewer counts.

However, as of now, the industry is still quite immature. "If you ask whether it's profitable or not, probably it's not yet ideal like KiosTix's business was before the pandemic hit," Ibrahim admitted.
Audience members are also not yet convinced that the transition online represents the future of public events, as platforms have not been exempt from technical problems. Widya Arifianti, who attended an online concert on Loket by popular singer Tulus and conductor Erwin Gutawa last April, told KrASIA how her experience was affected by a platform's technical problem that made her miss the first 45 minutes of the concert.
"I only managed to watch three performances out of seven. Apparently, there were a lot of users experiencing similar problems," she said. Even if the host later sent her a link to a recorded video of the concert, she felt it wasn't satisfying enough as she couldn't get the "live performance vibe."
Other users said they enjoy some advantages of online events, such as the comfort of staying at home and avoiding queues at the venue's gate for hours. However, "for a paid online concert, I still have my doubts. Because I'm looking for the experience and vibes when attending concerts, and that can't be felt virtually," said Rizki Fuadhi, a Jakarta-based media worker, who watched at least four online concerts—mostly for free—during this pandemic.
There's no doubt that online platforms still need to improve their technology resources, while organizers have to prepare better to offer a seamless virtual experience to online attendees who pay for access, just like they did with offline events in the good old days.
Loket's Utama holds an optimistic view, where live events could take a hybrid form with online and offline activities. "We observe from the trends that online events have become part of people's daily lives. We are optimistic that it will not stop even though we have successfully passed the pandemic," he said.
In the future, promoters will roll out several ticket options for events, Utama said. "First, offline tickets to watch on the spot. Then, tickets to watch at a satellite location, meaning that audiences can watch the live show together with friends, but not at the event's venue. Finally, online tickets, to watch alone from the comfort of one's home."