Since Myanmar's junta took over the country at the beginning of February, various social groups and workers from public and private sectors, including banks' employees, have taken part in several civil disobedience movements across the country. The protests and military response have led to a state of social and economic paralysis, affecting the banking system, supply chains, and businesses' operations across the country.
Most private banks shut down for several weeks and only returned to business with limited operations in mid-March. Lines of hundreds of people have since snaked outside bank branches early in the morning each day, every person eager to withdraw cash—a simple errand that has now become complicated, time-consuming, and at times, even life-threatening.
A 31-year-old financial services professional who goes by Lwin Phiyu (real name withheld for personal safety) is one of the lucky few who do not have to worry about cash flow—at least for the moment. She managed to sell her apartment in the third week of February in an all-cash deal.
The apartment—located in Yangon's Mingalar Taung Nyunt township, buffered against the serene Kandawgyi lake—attracted an array of interested buyers. However, she rejected most of them as few could complete the purchase entirely with cash.
That was until the owner of a gold shop approached her with an offer of MMK 100 million (USD 70,900) in hard currency. "The gold shop owner's whole family came to our home with a suitcase full of money. The amount was so big that we even had to use a banknote counter to do the counting," Lwin Phiyu said.
"However, we live in an area where security forces have constantly opened fire on civilians, and even raided their homes. Keeping cash at home isn't safe either, so my father decided to purchase gold bars with some of the money, and then he stuffed cash inside the bars," she said.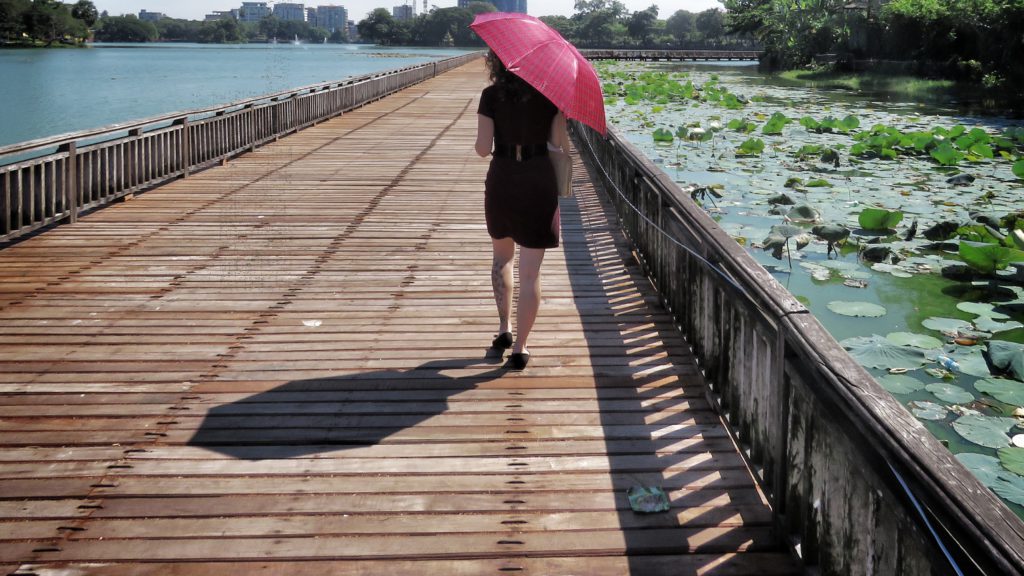 When Lwin Phyu initially proposed depositing the money into a bank account, her parents rejected the idea right away. 
"At the time, many rumors were saying that the banking system may collapse soon as the situation has continued to exacerbate. My parents were also worried that the money in their bank accounts could be confiscated by the state banks and disappear overnight. Some friends have found it harder and harder to cash out money from the ATMs. They are really low on cash now," Lwin Phyu said.
Are banks losing their mojo?
On March 16, KBZ Bank, the country's largest bank by market share, came under fire on social media after four of its customers were arrested following a dispute with staff, Myanmar Now reported. Some netizens suspected that it was the bank that called the police, prompting public backlash. The bank issued a statement the next day, saying that it would assist the customers who had been detained.
This happened shortly after KBZ Bank circulated a notice among its staff on March 12, implying that the bank could be nationalized, or forced to reopen by the Central Bank if employees did not go back to work. "While we remain committed to respecting our employees' freedom of expression, we are also in a no-win situation, where if we do not open, the regulator will step in and open the bank for us," according to an internal circular obtained by Frontier Myanmar.
"We understand that many of you would prefer if we don't reopen," the notice said. "However, the reality is that your interests and our customers' interests are best served if we take the route of opening the bank ourselves, not by an external party, and remain as a private bank."
While section 36 (d) of the 2008 Myanmar's Constitution prohibits the government from nationalizing economic enterprises, section 94 (a) of the country's 2016 Financial Institutions Law allows the Central Bank to take "corrective actions" if banks fail to follow the orders.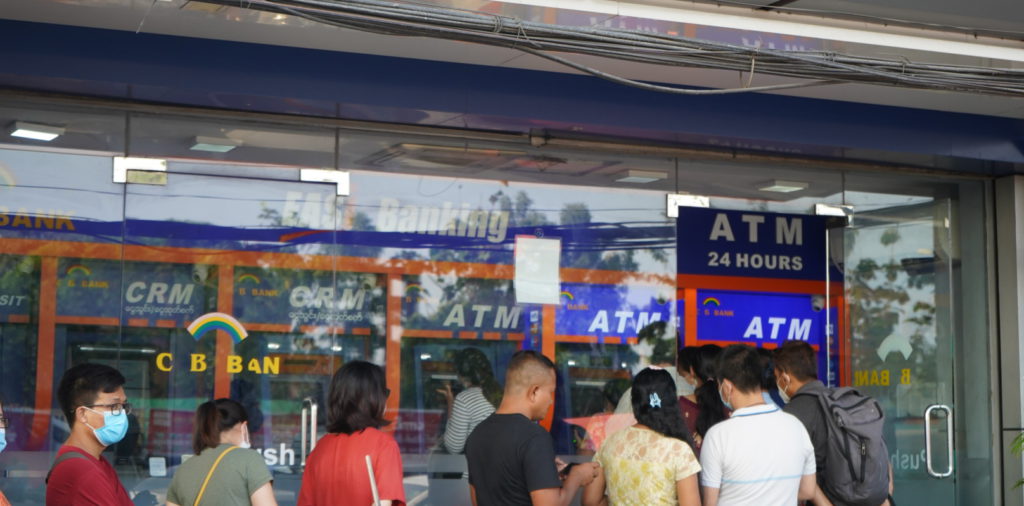 Lwin Phyu said that the scene of an armored vehicle staged outside the KBZ Bank branch on March 16, together with news of the bank's potential nationalization, has eroded her shaky trust in the financial system. Many older Burmese citizens can still remember the financial crisis that followed the military's takeover in 1962, while younger generations fear that history may repeat itself.
"I am losing trust towards the banking system after the KBZ Bank saga, though the story later twisted after KBZ's explanation. The ongoing massive liquidity shortage frightens me. As a consumer, it made me feel even more unsafe when I couldn't withdraw cash from my account," Lwin Phyu said.
Although some private banks have resumed limited services from mid-March under pressure from the junta, access to cash has remained restricted. The Central Bank has also lowered the weekly withdrawal limit from MMK 7 million (USD 4,955) to MMK 2 million (USD 1,420) for individual users, while the limit is MMK 20 million (USD 14,200) for corporate users since March 1, as reported by The Irrawaddy.
The threat of a struggling economy has long loomed over the financial sector. "Negative impacts on physical and human capital accumulation will likely constrain the capacity of the economy to grow over the longer-term," a World Bank report published on March 26 highlighted. At the same time, financial sector risks have been heightened by banking staff shortages, elevated withdrawals, and the debt servicing and cash flow challenges faced by firms," the report reads.
While the banking system is on the cusp of calamity, fintech services have been curtailed by constant internet disruptions and limited cash flows, setting back a sector that had just begun to flourish.

COVID-19 boosted the fintech sector, but the country's political instability now hurts its growth
With the COVID-19 pandemic speeding up mobile payment adoption in a country where cash has long been king, Myanmar's fintech sector rode on tailwinds in 2020, owing to robust interest from regional investors, government support, and surging consumer confidence.
Wave Money, a household name in Myanmar's mobile payment sector, received USD 73.5 million of capital injection from Chinese fintech giant Ant Group in May last year. The firm also reported an increase in its customer base, from 21 million in May last year to 27 million as of September 2020. Wave Money mobilized a total of MMK 12 trillion (USD 8.7 billion) in 2020, doubling last year's MMK 6.4 trillion (USD 4.3 billion).
The aggregate capital involved in Wave Money's transactions is equivalent to more than 11.5% of the country's estimated 2020 gross national product of USD 75.5 billion, according to a company statement published on January 7.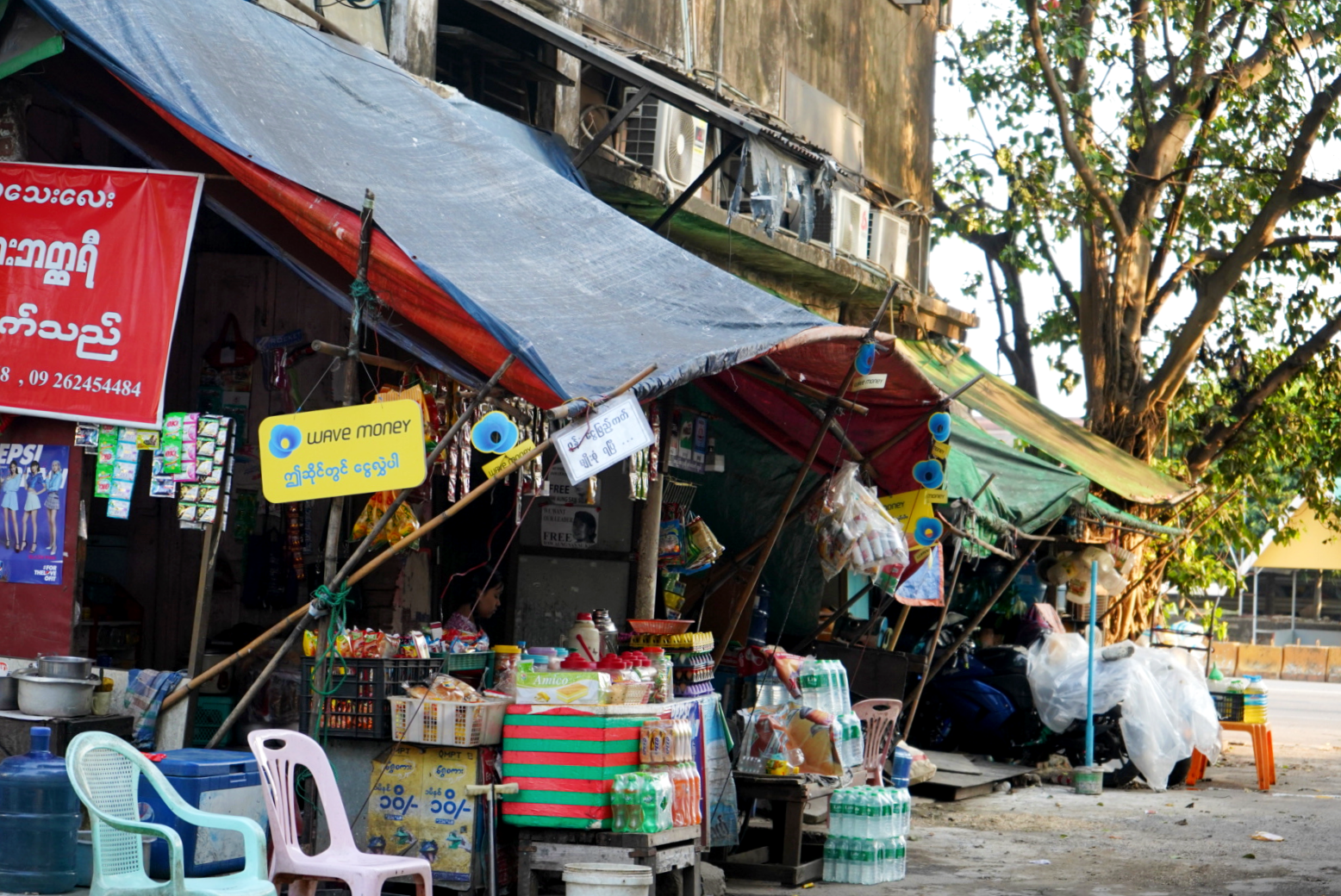 NearMe, a local fintech firm that allows users to make various types of payments through its mobile app and point-of-sale terminals, also notched a seven-digit investment from Japanese conglomerate Sumitomo Corporation last September. NearMe CEO, Lynn Htaik Aung, who is also director of alternative payments at 2C2P, a leading payment services provider in Southeast Asia, told KrASIA in a previous interview that the firm attained "65% growth year-on-year in revenue" last year.
Is fintech losing its momentum? 
Mobile money transfers, facilitated by platforms such as Wave Money or KBZ Pay, have been among the most popular means of local donations for civil disobedience movements, or CDMs, according to Wai Yan, a volunteer for the Strong Hands CDM fundraising campaign.
"We not only donate to the individuals who are going on strike, but also to their families. People can donate money through mobile money transfer, or our volunteers can pick up the cash from the donors," Wai Yan explained, adding there are a total of 22 CDM support groups that have subsidized over 30,000 striking workers since the beginning of February.
However, as the junta continues to curtail digital communications, donation disbursement is becoming more difficult. Wai Yan told KrASIA that one of the campaign's bank accounts had been frozen by the government. It contained around MMK 1.8 million (USD 1,280) in savings.
"As the mobile internet has been cut completely since March 15, mobile money transfers have been suspended almost completely. People find it harder to withdraw money from mobile money agents, and cannot withdraw money from their bank as well. With the brutal crackdown escalating on the ground, it is even harder to collect or disburse cash face-to-face," he added.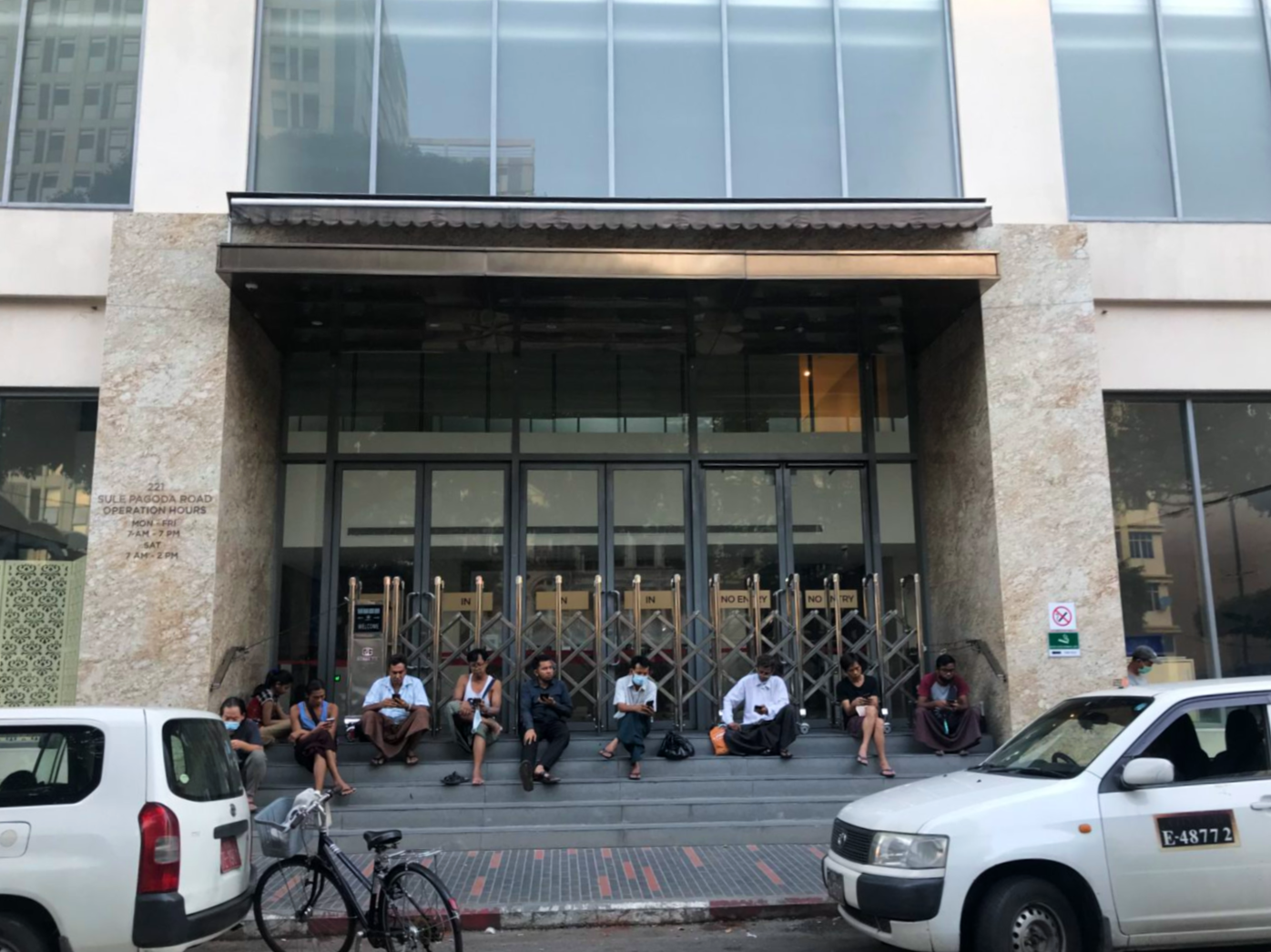 The regime is set to make the life of mobile money operators even harder, shutting down all public WiFi and wireless broadband internet services, meaning that only mobile money agents who are equipped with fiber optic internet connections and a stable cash flow can maintain business as usual—a luxury for most operators.
A Wave Money spokesperson mentioned, in an interview released in February, that internet connectivity interruption could "slow down if not undo" the country's efforts in building up a digital economy. "Any sector that depends on connectivity would be severely impacted," he told KrASIA. Wave Money did not respond to multiple requests for further comments.
Besides problems generated by unstable internet connectivity, the growing anti-coup sentiment has also inspired Burmese citizens to punish enterprises that have sided with the military, including companies operating in the fintech sector. KBZ Pay, a mobile payment application under KBZ Bank, has been named and shamed after the bank urged striking staff to return to work.
"We are well aware of the social punishment against KBZ Bank. However, the bank and its mobile payment app are still adopted by many Myanmar users. There is a lack of money transfer choices when it comes to money collection and disbursement. So even though KBZ Bank is under attack by the people right now, we are forced to use either KBZ's products or Wave Money to transfer," Wai Yan said.
Fears of transaction traceability when using fintech services is another decisive concern of many Burmese consumers, according to a local banking and fintech analyst who spoke to KrASIA on the condition of anonymity.
"In Myanmar, people prefer to transact with cash. Understandably, people are withdrawing as much cash as possible now as they are uncertain about what will happen next. But the distrust towards formal financial services are triggered not by the banking system itself, but mostly towards the mischief and interference of the military regime," he said.
Crowdfunding channels gain momentum
With banks operating partially and fintech platforms experiencing a hard time, informal funding channels have continued to gain momentum. The Committee Representing Union Parliament (CRPH), an organization formed by former National League for Democracy lawmakers and a leader in the current civilian protests, has so far raised USD 9.2 million, according to data on crowding funding site GoFundMe. But it is unclear how they have managed to transfer this amount as the junta has declared CRPH to be an unlawful entity.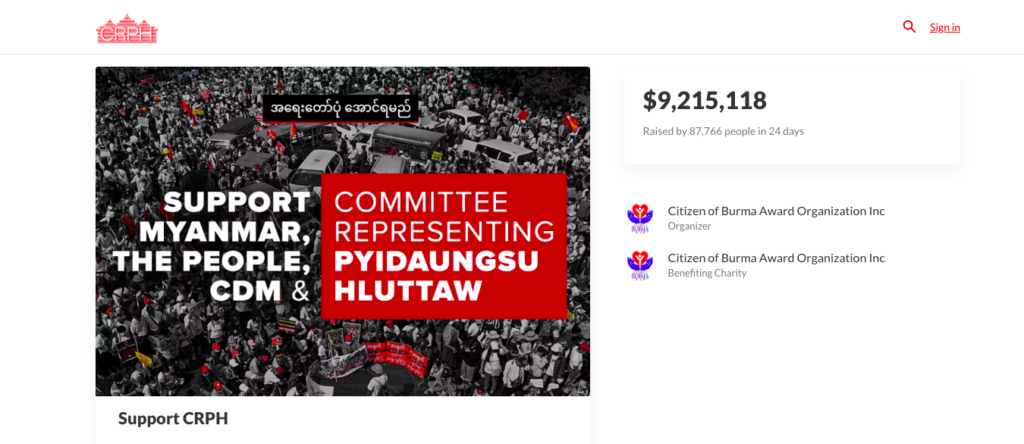 Other overseas fundraising campaigns have also leveraged informal ways to mobilize funding flows in support of CDMs. Tokyo-based We Love Myanmar (WLM), for instance, has raised over MMK 100 million (USD 71,000) as of February 20. Most donations come from the Burmese diaspora in Japan, according to a report by Frontier Myanmar.
WLM, which has offices in both Japan and Myanmar, has managed to collect donations in Japan and allowed their representatives in Myanmar to cash out through their offices in Yangon, Frontier Myanmar reported. WLM has not responded to KrASIA's request for comment.
While the flow of donations might temporarily help some protestors, the current situation in Myanmar seems analogous to the financial crisis in 2008, when high inflation, meager wages, and rampant corruption sent millions into poverty. No one knows what the future holds for Myanmar and its once promising fintech sector.