Ten leading mobile wallets across seven countries in Asia can now be used in China, after the introduction of the "Alipay+-in-China" (A+China) program by Chinese financial technology giant Ant Group. The program expands the Alipay+ cross-border mobile payment ecosystem, granting access to the vast merchant network in China and covering a population of over 175 million people.
With the Hangzhou Asian Games scheduled to commence on September 23, 2023, the A+China program has been launched to meet the needs of travelers visiting China. Under this program, travelers have the option to link their international bank cards to an updated international version of Alipay, allowing them to enjoy mobile payment services and digital conveniences while in China.
As of September 19, 2023, Ant Group has onboarded seven new e-wallets and payment apps from Asia into the A+China program. They include:
mPay (Macao)
Hipay (Mongolia)
Changi Pay (Singapore)
OCBC (Singapore)
Naver Pay (South Korea)
Toss Pay (South Korea)
True Money (Thailand)
Users of these apps can now utilize their preferred home e-wallets on their smartphones to make mobile payments within China's vast Alipay merchant network.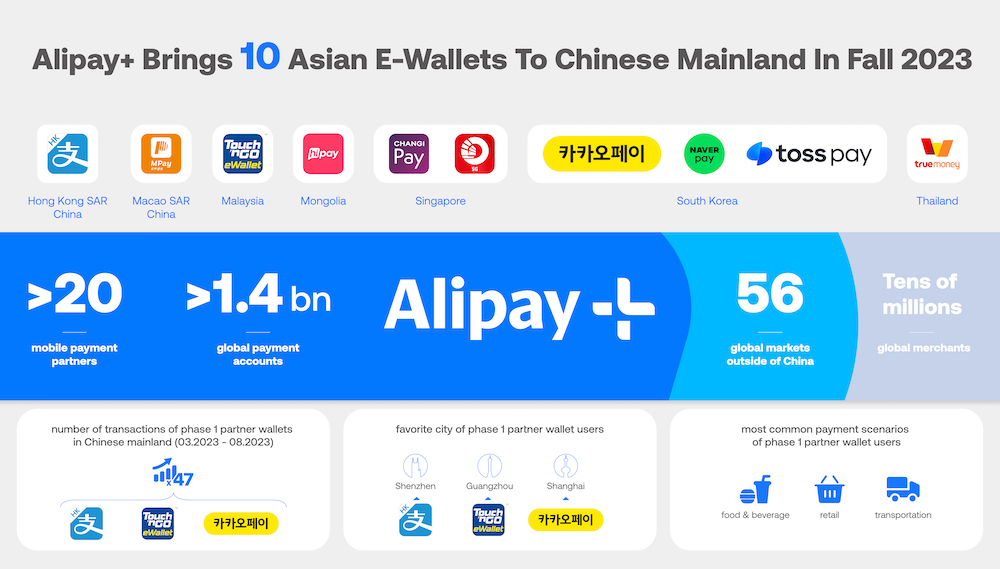 Additionally, users can access promotional deals via Alipay+ Rewards, an integrated digital cross-border marketing platform available on selected wallet apps.
The initiative has already achieved notable success, with the total number of payments made in China by the three pilot A+China wallets—Kakao Pay, Touch 'n Go eWallet, and AlipayHK—experiencing a 47-fold growth in six months. The majority of these transactions fell under the categories of food and beverage, retail, and transportation.
Won-Keun Shin, CEO of Kakao Pay, highlighted the significance of this initiative for Korean users. "It was inconvenient for both merchants and users to carry cash when traveling to China, where mobile payments are prevalent. However, with Alipay+ now accepting Kakao Pay at merchants across China, the convenience of Korean users will be expected to increase significantly," Shin said.
The digital wallet aims to further strengthen global cross-border payment services, allowing users to make payments with Kakao Pay wherever they go while enabling tourists to make payments via Kakao Pay-affiliated merchants in Korea.
Outside of China, Alipay+ is collaborating with over 20 mobile payment partners across Asia, covering more than 1.4 billion consumer accounts and five million merchants in 56 markets. The A+China program extends Alipay+ services to tap into China's massive merchant network, comprising tens of millions of point-of-sale locations.
This expansion is facilitated by the guidance of the People's Bank of China, and support from NetsUnion Clearing Corporation, e-wallet partners, international card organizations, and other financial institutions in China.
While China leads the region in digital wallet usage, the rest of Asia, especially Southeast Asia, has become the world's fastest-growing mobile payment market.
Eric Jing, chairman and CEO of Ant Group, expressed his gratitude for the collaboration among various parties to make the A+China program a reality. He emphasized the importance of this partnership in enhancing convenience for travelers and fostering cross-border commerce.
Additionally, Douglas Feagin, senior vice president of Ant Group and head of cross-border mobile payment services at Alipay+, highlighted the commitment to invest in payment and digital marketing technologies to support partners and merchants in achieving robust growth.
The A+China program marks a significant milestone in the realm of international mobile payment services. By enabling international e-wallet users to access Alipay's merchant network in China, this initiative enhances convenience for travelers and strengthens cross-border commerce. As digital payment continues to evolve, Ant Group's dedication to innovation and collaboration positions it as a key player in shaping the future of the mobile payment landscape.