Gamification, the incorporation of game design elements and techniques into non-game contexts, is a popular tactic used by internet companies to leverage on our consumers' innate desire for rewards, fun, and excitement towards their business success.
Tencent and Alibaba—China's two largest internet companies, both of which at their peaks maintained about half a trillion dollars in market cap—are masters at merging technology with entertainment. Here are three examples of how they gamify their services.
#1 Gamification of money gives rise to WeChat Pay
China invented paper money a millennium ago and is reinventing money again with mobile payments. Tencent's WeChat Pay and Alibaba's Alipay are the two largest mobile payment companies that are transforming China into a cashless society faster than any other country. According to iResearch, in 2016, China's mobile payments industry was roughly 50 times the size of America's.
Giving out red packets stuffed with cash during special occasions is a timeless Chinese tradition. The lightning growth of mobile payments in China traces its roots back to when WeChat introduced Red Packet in 2014. The feature allows users to send virtual red packets to friends and families. During the spring festival holidays – which usually lasts two weeks – in 2016, 8 billion red packets were sent via WeChat. That number became 46 billion the following year.
How is WeChat Pay gamified?
I gave red packets to a group of friends in China without telling them in advance. All red packets were collected in about 10 seconds. Here's how it works.
The impact of electronic red packets: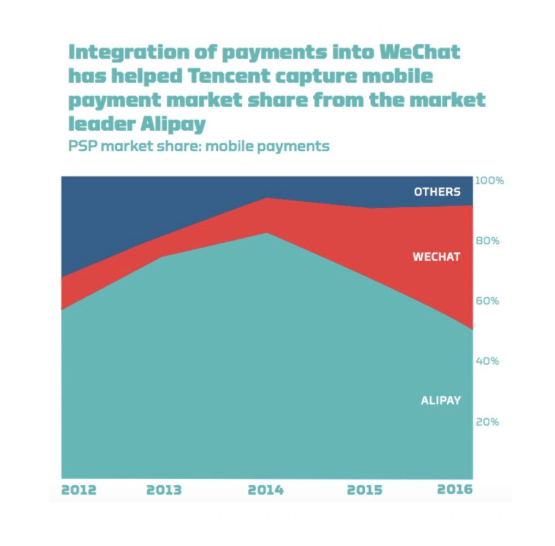 Source: iResearch
Connie Chan, general partner at the venture capital firm Andreessen Horowitz, called this move a "growth hack with zero acquisition cost." The tactic accelerated mobile payment adoption in China. Alibaba handled 70% of China's mobile payments in 2014, but WeChat took a bite out of the company's market share after launching Red Packet that year. In 2017, Alibaba only maintained 53% of the country's mobile payments.
WeChat Pay held about 40% of the US$5.5 trillion Chinese mobile payment market in 2017.
#2 Gamification of music: Tencent Music is more than a music streaming platform
For more than a decade, the recording industry experienced a steep decline due to the proliferation of MP3 tracks shared over the internet. Even after adapting to music lovers' new habits, streaming companies such as Spotify are still struggling to break even due to massive user numbers and costly licensing fees.
Yet Tencent Music—a music streaming and social platform built on the basis of multiple apps that includes the music-streaming platforms QQ Music, KuGou, KuWo and the virtual karaoke rooms of WeSing—has been profitable since going live in July 2016.
How is Tencent Music platform gamified?
Unlike most music streaming platforms, the bulk of Tencent Music's revenue is not generated by paid subscriptions, digital music sales or advertisements. In 2018, Tencent Music reported that 70% of its revenue is from "social entertainment services" such as live-streaming, which was popularized by the gaming industry.
In a live-stream session, viewers can send virtual gifts valued under USD15,000, to show appreciation to their friends, internet celebrities and their favourite music artists. The money is then split—the content creator received 30%, while the platform takes 70%.
As for the music streaming apps, the more virtual gifts an artist receives when one's music is being streamed, the higher one climbs on the platform's leaderboards. Additionally, in WeSing's karaoke sessions, friends can tip one another or their favourite internet celebrities.
Tencent Music holds three music streaming apps, KuGou, KuWo, QQ Music, as well as a social-karaoke app, WeSing. Here's a glimpse of the four music apps.
Tencent Music platform's diversity led to fruitful results. In December 2018, Tencent Music kicked off its long-awaited IPO, raising nearly US$1.1 billion. It is the largest and most profitable music streaming company in the world. Here is a summarized comparison between Spotify and Tencent Music.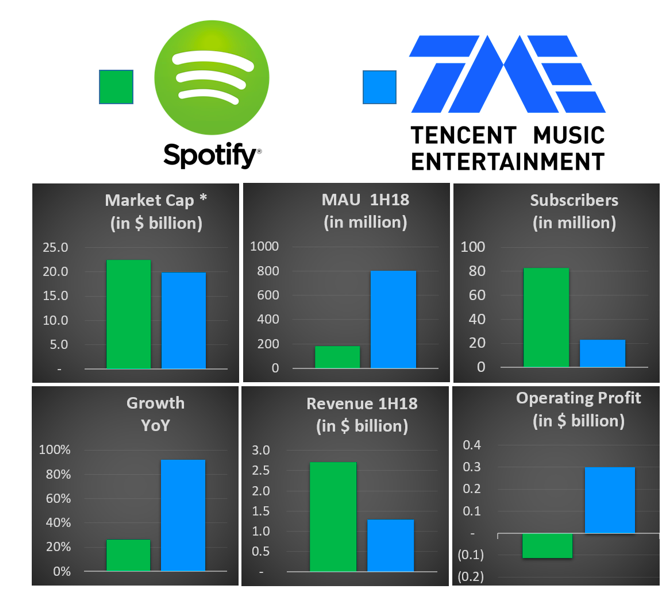 Source: Seeking Alpha
#3 Gamification of credit: Sesame Credit score as a status symbol
FICO is a three-digit credit score widely used by Western financial institutions to gauge a borrower's creditworthiness based on statistical metrics.
China did not have an analogue system until 2014, when the Chinese government released a document on a much broader concept, called "social credit." This system, which for now is being adopted on a voluntary basis but is expected to be mandatory across the country by 2020, is an enhanced version of the FICO system. It not only measures one's financial credibility, but assigns ratings based on social integrity—in other words, "good behaviour."
Referencing the government's maxim that "keeping trust is glorious and breaking trust is disgraceful," Ant Financial launched its credit system, Sesame Credit, in January 2015, and claims that it is the first credit-scoring system that utilizes big data technology.
How is Sesame Credit gamified?
Sesame Credit resides in the Alipay app, where every user is given a social credit score ranging from 350 and 950, with an update once a month. Benefits such as credit borrowing and deposit waivers on consumer product rentals are unlocked based on how high a user's score is.
Determining financial credibility is straightforward, because Ant Financial possesses the details of every transaction by Alipay users. It knows when, where, and how much money changed hands, as well as the identities of those involved.
However, it isn't entirely clear how users' scores are adjusted. For instance, "bad behaviour" has not been defined by Ant Financial. Some speculate that participating in Alibaba's corporate social responsibility projects can boost Sesame Credit scores. Ant Farm and Ant Forest, are two games that live in Alipay. In Ant Farm, users raise chickens that provide eggs, which can be exchanged for tokens that fund real charity projects. Ant Forest is a game where players grow trees by performing eco-friendly activities, such as walking, cycling, and selling second-hand items on Alipay's affiliate platforms. So far, Alibaba has planted 10 million trees because of activities in Ant Forest, providing a reduction of 1 million tons in carbon dioxide emissions.
A pilot program in Yiwu, where the largest small commodity wholesale market in the world is located, has allowed foreigners to register for Alipay usage.
The impact of social credit:
As of September 2018, Alipay has 800 million active users. Perks aside, users with high Sesame Credit scores can apply for visas to certain countries, such as Canada, without submitting their bank statements.
Some controversy surrounds Sesame Credit—it has drawn comparisons with measures instituted in George Orwell's Oceania in Nineteen Eighty-Four. But China is set on embracing algorithmic governance, and that is being fulfilled by Ant Financial, the world's largest tech unicorn. The company closed a US$14 billion Series C funding round in May 2018, bringing its valuation to US$150 billion.
Conclusion
These are only three examples of how two internet powerhouses use gamification for user growth, data acquisition and revenue diversification. A new generation of Chinese tech companies is gamifying their services in novel ways.
Two-year-old, Tencent-backed news aggregator QuTouTiao awards digital gold coins to users who play games that involve reading articles through their app, or if they ask their friends to join the service. Users can then exchange 1,600 coins for one yuan. Currently, QuTouTiao has 20 million daily readers.
ByteDance's TikTok, which is also two years old, enables anyone to edit videos with its easy controls and filters. One feature in the app, Gaga Dance, is a dance fight game that prompts users to execute difficult dance moves, with video effects and popular music layered over the final clip.
Technology and entertainment are mingling in ways that have never been done before, bringing people together in unexpected ways.
Editor: Brady Ng & Ben Jiang