The Alibaba Cloud x KrASIA Global Startup Accelerator Vietnam Demo Day took place on May 25 in Ho Chi Minh City. Pitches made by ten finalists were evaluated by judges representing ThinkZone Ventures, Do Ventures, VSV Capital, TheVentures, Sunwah Innovations, and Alibaba Cloud.
Startups operating in logistics, real estate, e-commerce, and other sectors participated in the Demo Day. After each startup presented their problem statement and solution, one contestant was named the event's winner: founded in 2020, Dutycast focuses on improving the cross-border shoppers' experience by providing transparency for taxes, duties, and logistics-related expenses. The judges highlighted its existing functionality, particularly Dutycast's solution for automated cross-border delivery chain processes, and its current traction as the startup's key advantages.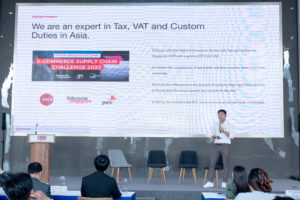 Here are the other startups that took part in the Demo Day:
AirCity is a residential property management company that automates property maintenance management, communications with residents, and more.
BitVision provides full-stack financial reporting software for web3 business activities.
B2bmart.vn is an e-commerce portal for connecting product and service providers with domestic and foreign industrial clients.
Computer Vision Vietnam Technologies is creating a platform to help businesses automate their document-based processes to work more efficiently using OCR & AI technology.
HorizonLand is developing a metaverse that combines multiple e-sports games in one virtual environment.
LessonBox is a learning platform where students and teachers can find and share educational resources.
Libraxy is a web3 reading lifestyle app that connects readers and independent creators to prevent copyright infringement and reduce publishing costs.
SingM is a web3-based entertainment app that combines karaoke with GameFi and SocialFi elements.
Song Nhat Tinh JSC focuses on solving the pain points of Vietnam's first- and middle-mile logistics industry by applying AI-powered solutions to transport and fleet management.
Alibaba Cloud and Sunwah Innovations form new partnership to support the development of Vietnam's startup ecosystem
Sunwah Innovations and Alibaba Cloud announced their new partnership at the event, marking a significant milestone between the innovation arm of Sunwah Group and Alibaba Cloud, the digital technology and intelligence backbone of Alibaba Group. Jesse Choi, general director of Sunwah Vietnam and CEO of Sunwah Innovations, said that both parties will leverage their unique strengths and share resources to promote entrepreneurship among Vietnamese youth and provide more support for Vietnam's startup ecosystem. Kenny Song, Vietnam general manager of Alibaba Cloud Intelligence, emphasized the company's commitment to work with ecosystem partners and empower Vietnam's startup community as well as provide support to local businesses.
Under this partnership, both parties will collaboratively organize various events aimed at strengthening international exposure for Vietnamese startups while supporting the expansion of overseas startups into Vietnam. Local startups will also gain opportunities to participate in extensive innovation and technology events hosted by Alibaba Cloud. Both Sunwah Innovations and Alibaba Cloud are committed to supporting academic institutions in Vietnam in information and technology training fields to nurture digital talents and developers.
Local venture capitalists and ecosystem players discuss the opportunities in Vietnam
Two panels were held to feature local thought leaders, who discussed the ecosystem's latest developments and opportunities.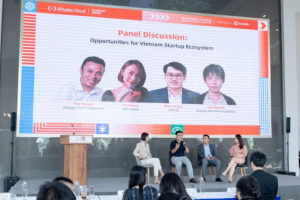 The first panel discussion, "Opportunities in the Vietnamese Startup Ecosystem," featured insights from Nguyen Quoc Thai, Alibaba Cloud Intelligence channel business development lead in Vietnam; Tra Hoang, managing partner of Vietnam Silicon Valley Capital; and Khiet Vuong, incubation manager of University of Economics Ho Chi Minh City Institute of Innovation. Van Nguyen, partnership manager of the Startup Vietnam Foundation, moderated the discussion.
All speakers agreed that Vietnam is a dynamic and promising market in Asia, with distinct advantages that make it an attractive home base for local and foreign startups. The unique strengths of Vietnam's innovation ecosystem include abundant tech talent resources, developed infrastructure, public policies that support startup development, and increasing capital investment activity from domestic and international venture capital funds.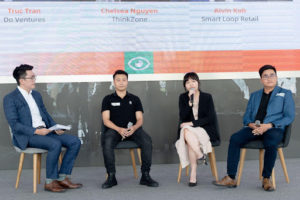 The second panel discussion, "Post-pandemic Vietnam Venture Capital Landscape and Implications for Vietnamese Startups," involved representatives from leading venture capital firms in Southeast Asia, including Truc Tran, investment manager of Do Ventures; Chelsea Nguyen, principal of Thinkzone Ventures; and Cody Pham, head of investment at TheVentures. Alvin Koh, co-founder and CEO of Loop Smart Retail, moderated the session and offered his own views through the lens of someone who operates a startup.
Still recovering from the COVID-19 pandemic's severe impact, Vietnam's startup ecosystem has managed to reach new heights. There was a total investment capitalization of USD 1.3 billion in 2021. Notably, many startups in the fields of fintech, e-commerce, food and beverage, video games, and blockchain have rapidly gained traction and achieved initial success.
At the moment, a major development among Vietnam's startups is to contribute to community development and sustainability by using clean energy, recycling, reducing energy consumption, and creating jobs for the disadvantaged.
The Alibaba Cloud x KrASIA Global Startup Accelerator Vietnam Demo Day was held in Ho Chi Minh City on May 25, 2022.