Collaboratively organized by Alibaba Cloud and KrASIA, the inaugural AsiaForward Startup Day aims to uncover new depths in a cross-border knowledge exchange between business and investment leaders based in Southeast Asia and China.
Designed to be a full day of interactive activity and dialogue, the event gathers Asia's leading VCs, Southeast Asian startups of all stages, and notable Chinese startups to discuss the opportunities in the region's hottest sectors. Startup attendees will get the chance to find out more about the intersection of tech, innovation, and business from guest speakers and hear business advice directly from VC investors.
AsiaForward Startup Day will be held on March 24, from 10:00 a.m. to 4:15 p.m. (GMT +8). Read on for the event's highlights or visit the official website for more information.
Panel discussions with Q&As | 10:20 a.m. to 12:00 p.m. (GMT +8)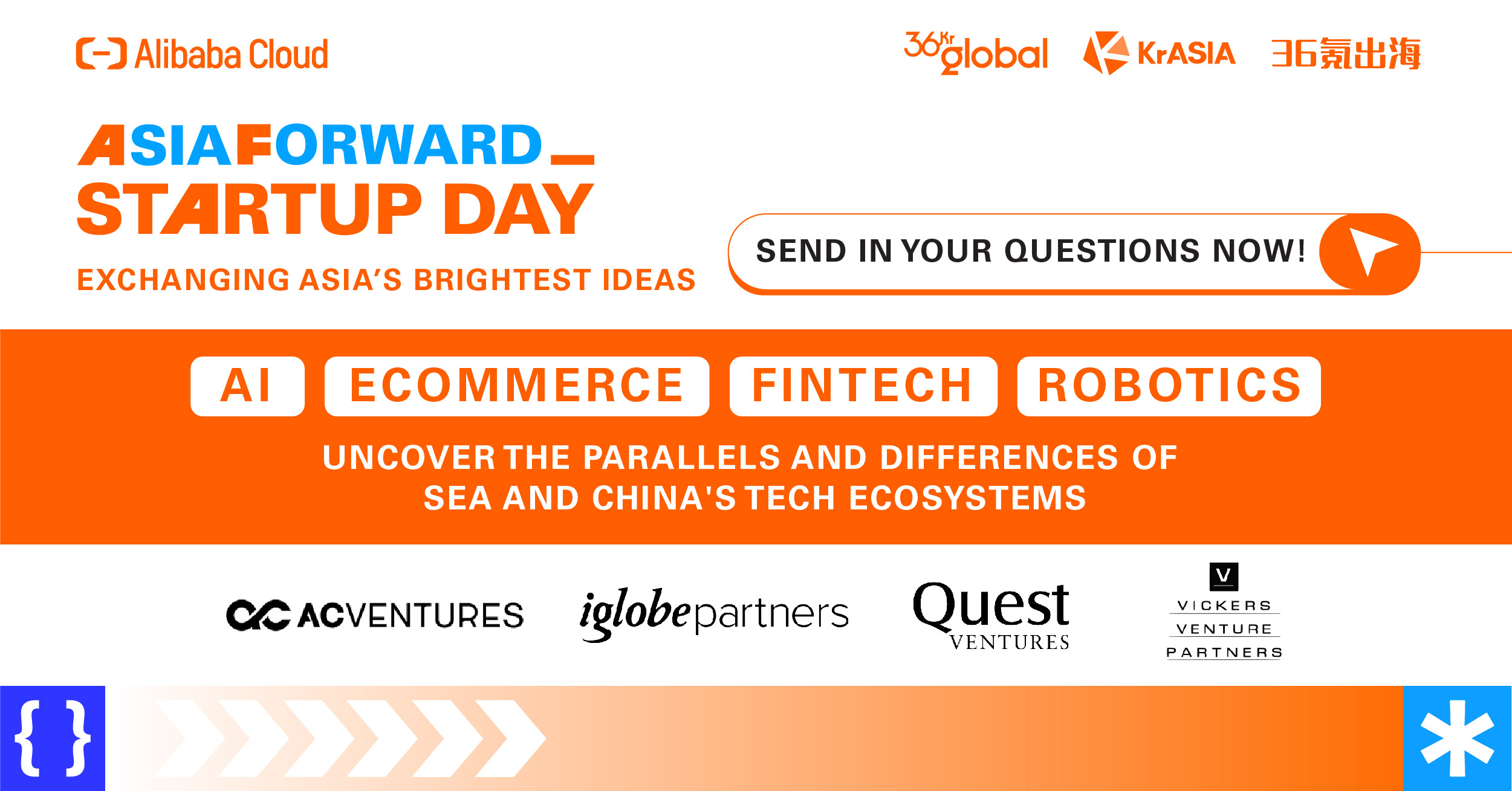 There will be four themed panels that cover topics on fintech, robotics, artificial intelligence, and e-commerce. Each panel will include representatives of notable Chinese startups and top VCs in Southeast Asia.
The panelists will share their experiences and learnings from the past decade of rapid growth and development in Asia, particularly addressing the similarities and differences between the business and innovation contexts of Southeast Asia and China.
Audience members will also have a chance to join the conversation by submitting questions to the panelists. By referencing the successes and failures of entrepreneurs and investors with deep experience, those attending the event will be able to find out more about actionable insights that can apply to their home markets.
Here are the VC investors who will be speaking at the AsiaForward Startup Day:
Fintech: Helen Wong, senior advisor and venture partner at AC Ventures
Robotics: Jeff Lin, senior principal at iGlobe Partners
Artificial intelligence: Linda Li, managing director at Vickers Ventures
E-commerce: James Tan, managing partner at Quest Ventures
The startup panelists and finalized panel timings will be shared soon.
Sign up to save your seat for these panels! We will be in touch to call for questions when the speaker lineup is confirmed.
Open Office Hours | 2:00 p.m. to 4:15 p.m. (GMT +8)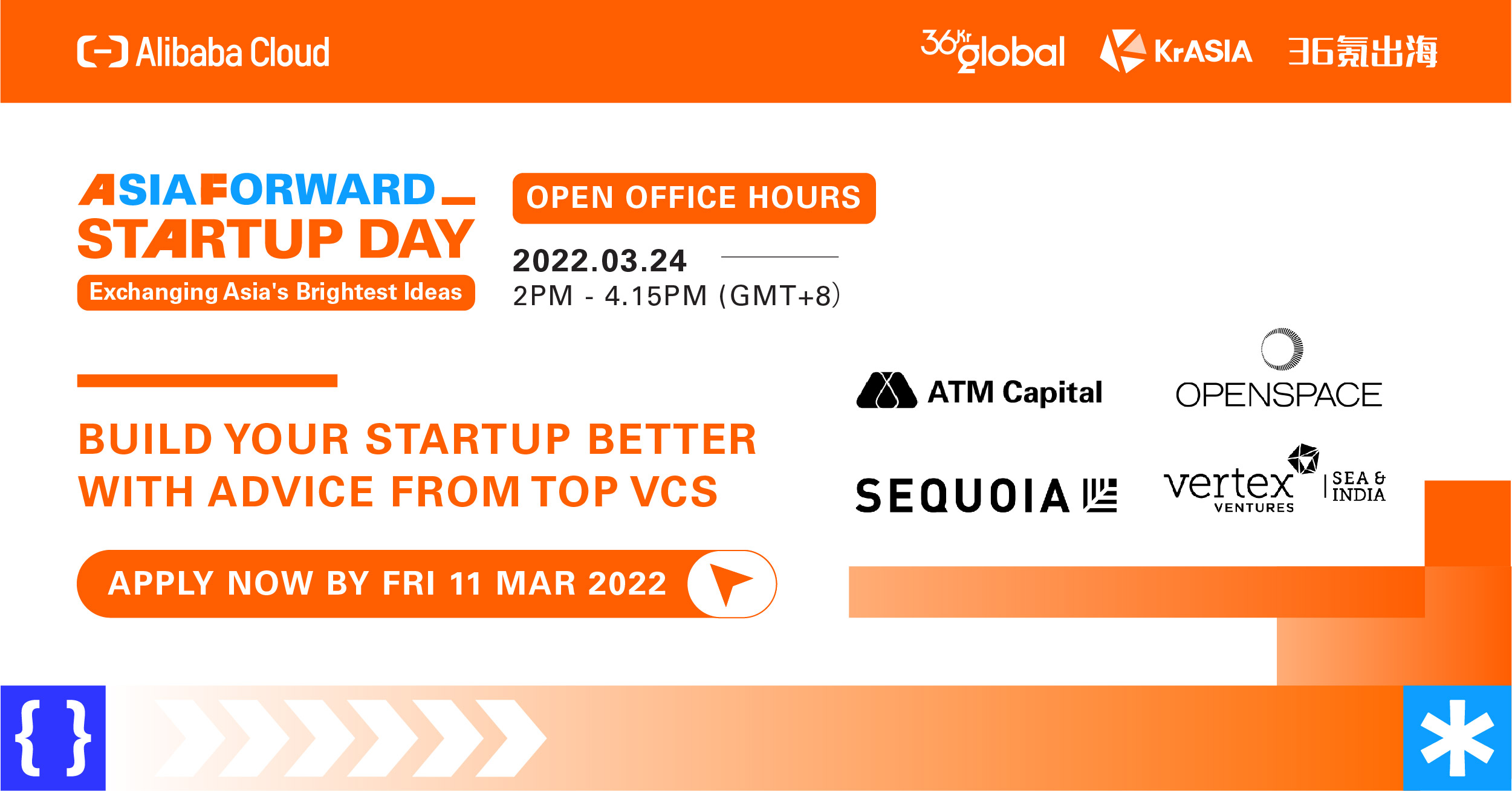 Open Office Hours is your chance to consult with a VC investor based in Southeast Asia or China. Selected startups can seek advice and network with Asia's leading investors in one-on-one Open Office Hour sessions. These conversations will be open for members of other startups to listen in. Submit your deck here before March 11, 11:59 a.m. (GMT +8), to participate in Open Office Hours. These are the VC investors who will be available during Open Office Hour:
Minjun Liang, founding partner at ATM Capital
Adele Teh, senior associate at Openspace Ventures
Johan Surani, vice president of Sequoia India
Dhia Izza Nabila, associate director at Vertex Ventures Southeast Asia & India
The day's activities also include satellite in-person networking events in Singapore, Kuala Lumpur, and Jakarta. Alibaba Cloud workshops will be held virtually to provide startups with expert advice on optimizing their cloud usage and the chance to try out Alibaba Cloud's solutions.
Register now to save your seat for AsiaForward Startup Day and join the day's activities!