Hi there! In this age of AI, we are initiating this bold AI-powered pilot project.

KrASIA's parent company, 36Kr, is the leading tech and business media in China. Every day, 36Kr delivers an enormous amount of news on Chinese startups. KrASIA wants to share these articles first-hand, but it was impossible to translate huge amount of information manually in the past.

Now, with AI, we have a solution: AI-powered translation with minimal human effort. Please understand that it may affect your reading experience. Nonetheless, feel free to contact us ([email protected]) should you have any feedback.

Enjoy!
36Kr, KrASIA's parent company, has been following closely about the Chinese apparel-sharing company YCloset. The company secured a new round of financing from Alibaba Group, who led their Series C fundraising last year, but the actual amount was not disclosed. According to YCloset, the new funds will be spent on team expansion, their recommendation algorithm system and continue building more high-tech washing and maintenance centres.  In addition to Alibaba, YCloset also received investment from Softbank China Capital, Sequoia China, IDG Capital, GSR Ventures, Zhen Fund and other institutions, with accumulated financing amounting to several hundred million US dollars.
Founded in December 2015, YCloset charges a monthly membership fee of 499 yuan and allows female users to rent unlimited clothes and accessories country-wide. Furthermore, users can choose to buy the apparel if they like to and prices fluctuate according to the rent count. Thus far, 75% of the income comes from membership fees and the remaining comes from sales of clothing.
YCloset positions itself as a company that offers affordable luxury, professional and designer brand clothing. The company hopes to have the top famous brand to drive the long-tail brands. At present, there are 500 brands on the platform and 20,000 SKUs. Among them, Acne Studios, Self-Portrait, PINKO, McQ, VERSACE JEANS and other luxury brands account for about 20%, and commercial brands such as Peacebird are about 30%. Designer brands still account for a larger proportion of 50%.
In terms of business model, YCloset gradually shifted from one-time supplier purchase to brand partnerships with clothing companies. Brand partnerships allow revenue sharing between YCloset and their partners. To these clothing companies, YCloset gave them a new revenue, at the same time, they may get consumer insights from the data YCloset collects. In the future, YCloset will have joint marketing campaigns with the brands and assist in incubating new brands.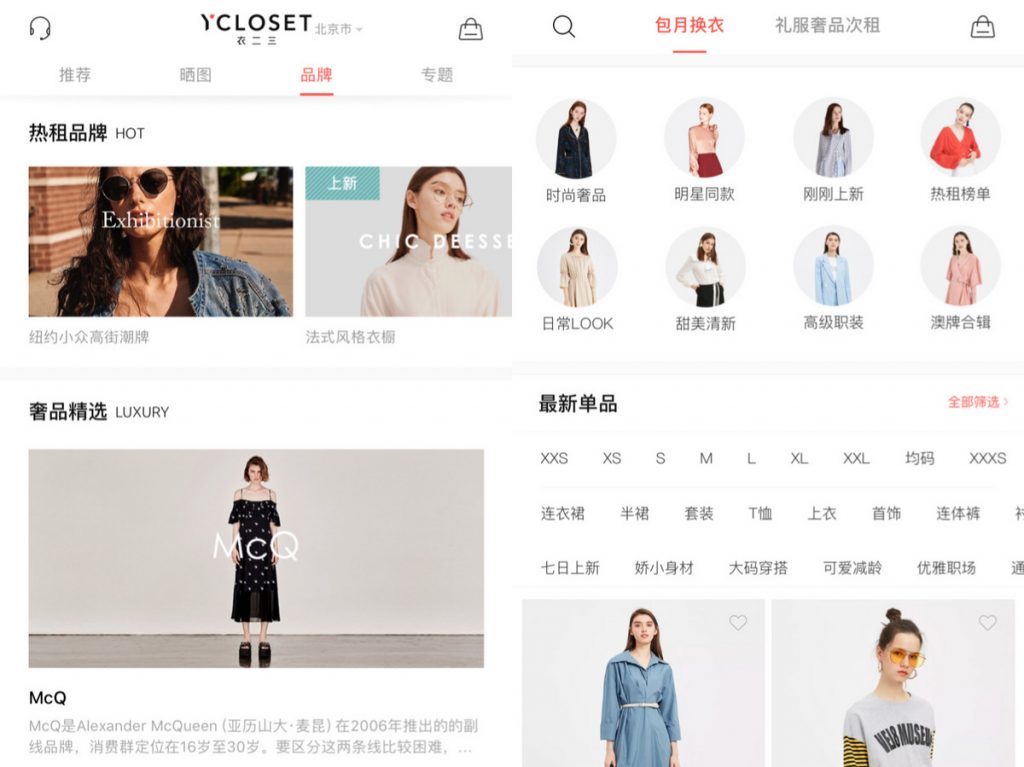 User experience is an important factor in pull-factor in a rental business model like YCloset. For a better user experience, the first thing companies need to do is to improve operational efficiency. YCloset has focused on the following:
Operation Centres
At present, YCloset has built its own back-end operation centres in Beijing, Nantong, Guangzhou and Chengdu, integrating storage and maintenance services to ensure the efficient turnover and distribution of clothing. Founder Liu Mengyuan told 36Kr that storage and washing are the more tedious tasks, but they directly affect the user experience. To ensure the quality of clothing and maintenance, it must be done by them.
Upgrading of back-end operations
The operation centre, a 20,000 square meter smart warehouse at NanTong, in JiangSu province covers the entire East China region. The laundry department partners with well-known laundry brand Fornet. At present, RFID tracking technology has been fully applied, which allows recognition of clothing type and the respective washing methods and records.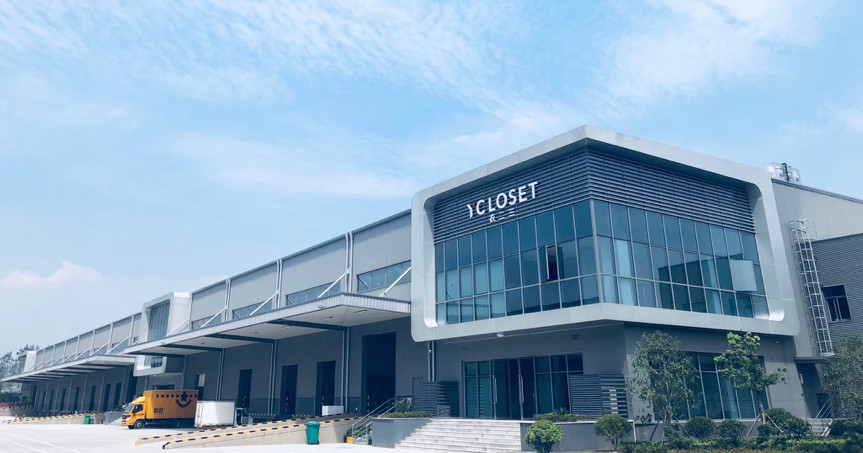 At present, the number of paying members of YCloset is 10 times higher than that of the same period of last year. Inventory turnover is about 20-30 times. The average user opens the app 2-3 times a day, with an average of 5 minutes, and an average of 1 order per week. What can be seen is that YCloset performed better in improving user growth and maintaining user retention.
On top of the impressive business development of YCloset, Alibaba's investment strategy also attracted attention. Liu Mengyuan told 36Kr that this investment was part of Xian Yu's (Alibaba's second-hand marketplace) strategy to build a circular economy. Earlier this year, Xian Yu launched similar rental services of products such as apparel, phones, electrical appliances and toys. In the future, YCloset will cooperate with Alibaba Cloud, Taobao, Tmall, Alipay and Sesame Credit. This includes being available on Xian Yu, Taobao and Alipay platforms and allows more people to reach more brands.
The rental business has existed for a long time, but the Internet has turned this into a new ball game. Even though this concept is new, but companies like Airbnb, Didi has preempted and educated the market to be ready for a new idea of sharing.
Liu Mengyuan believes that there will be a tipping point. In future, more and more people will be more accustomed to this cooler and more fashionable way of spending. She believes that clothing can kick-start this new concept of sharing economy.