Before Jack Zhang and Max Li developed the cross-border payment platform Airwallex, they were coffee shop owners, running a cafe by the name of Tukk & Co in Melbourne, Australia. During the process of importing coffee beans, the duo experienced firsthand the high foreign exchange costs and banking expenses associated with cross-border payments, realizing that many small and medium businesses faced similar challenges.
To address this, Zhang and Li teamed up with two other alumni from the University of Melbourne, Lucy Liu and Xijing Dai, to establish Airwallex with the aim of providing cost-effective cross-border payment solutions for SMEs.
Today, Airwallex has grown into a global platform with over 1,400 employees in 20 offices worldwide, offering localized professional services to its international clients.
Compared to other cross-border payment platforms, Airwallex's core advantage lies in providing customers with an all-in-one platform. Currently, SMEs venturing into international markets are the main customers of Airwallex. These businesses typically struggle to access the appropriate financial services when operating abroad, as foreign banks have relatively weak support for Chinese SMEs.
In this context, Airwallex offers a comprehensive solution, comprising global payment processing, currency exchange, payments, and expense management. This addresses the full range of financial and accounting needs of businesses operating internationally, reducing the costs of going global for SMEs while enhancing their operational efficiency.
China's cross-border payments landscape
According to a research report by iResearch, in 2023, the transaction volume of comprehensive third-party payments in China is expected to grow by 14.5% year-on-year. Cross-border B2C e-commerce payments is predicted to lead the industry's expansion, forecasted to grow at a rate of 20.1% to reach RMB 2.183 trillion (USD 298.37 billion).
In 2022, the overall market size for cross-border B2B trade payments in China, based on total addressable market (TAM), reached RMB 4.9 trillion (USD 669.73 billion), equivalent to a 40% year-on-year growth. However, the market penetration of various cross-border payment institutions remains below 10%, representing a new growth opportunity in the industry.
In an interview with 36Kr, Chen Keyan, vice president of Airwallex in China, said that the penetration of SMEs owning overseas bank accounts is 5–10% in Western markets, but only 3% in East Asia. Looking at the Chinese market, Chen believes that there is still room for improvement in the international financial capabilities of SMEs, and said that a more robust cross-border payments platform can help regional Chinese enterprises to expand their global operations more effectively.
According to a report released by the Development Research Center of the State Council of China and the China Academy of Information and Communications Technology, digital trade development is on a positive trajectory in China, and steadily attaining international competitiveness. In 2022, the total import and export value of China's cross-border digital services reached USD 371.08 billion, representing a 3.2% year-on-year increase and ranking third among the top ten countries based on volume growth.
About Airwallex
Airwallex's products can primarily be divided into three categories:
Global business accounts are all-in-one accounts that enable SMEs and global businesses to receive foreign payments from various countries and regions as well as manage multi-currency accounts with local bank codes and dedicated account numbers. These accounts are provided in tandem with a payment network, international security standards, and support from a localized operations team, increasing the flexibility of fund allocation while reducing the high fees associated with cross-border payments.
Core APIs are built atop of global business accounts, enabling businesses to programmatically create global receiving accounts to authorize one-time or recurring direct debits, and generate account statements easily. This product offers various payment features, online service integration, and transaction processing, helping businesses manage cross-border financial transactions easily while automating daily financial operations.
Embedded finance provides users with a more contextualized experience, enabling them to use cross-border payments and related financial services anytime, anywhere, and in various scenarios, including transactional internet platforms. This product aids users in efficiently managing their fund flows and automates the flow of funds between accounts within the platform's ecosystem, simplifying reconciliation processes.
According to Chen, Airwallex is aiming to enhance its financial infrastructure with the goal of expediting fund transfers across borders, concurrently reducing associated costs. The company is already fulfilling local payments in a 0–1 day timeframe, and it is on track to achieving the same efficiency on an international level. In the past year, over 70% of international payments processed through Airwallex's platform were completed on the same day, leading to millions of dollars in cost savings for users.
Airwallex last raised funds in October 2022, when it completed a Series E2 round of financing. It raised USD 902 million from its existing investors including Square Peg, Salesforce Ventures, Sequoia Capital, Lone Pine Capital, Hermitage Capital, 1835i Ventures, and Tencent. HostPlus and an undisclosed North American pension fund also participated in this round. The company was valued at over USD 5.5 billion.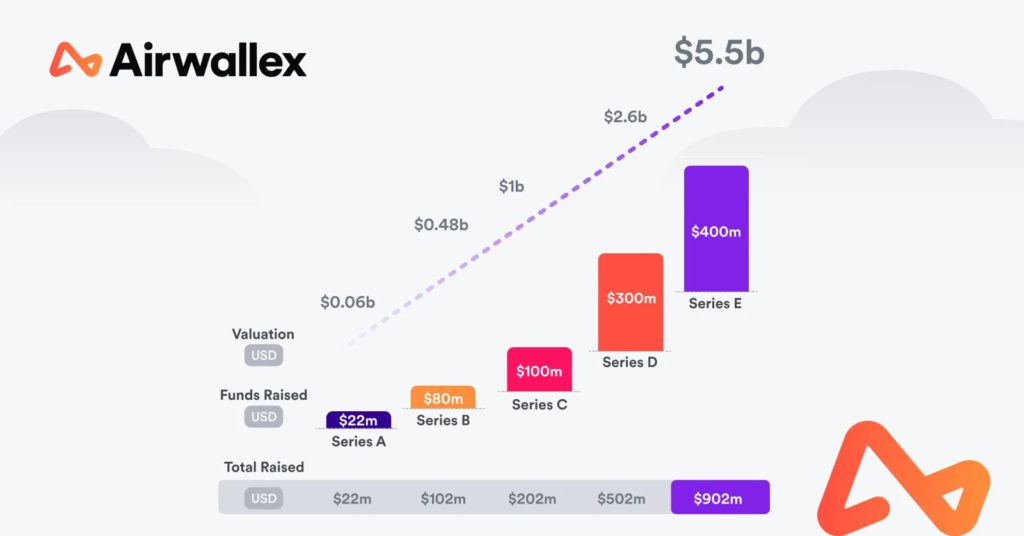 In the interview with 36Kr, Chen shared more insights regarding Airwallex, including the company's response to evolving regulatory requirements and its plans for the future.
The following interview is translated and has been edited and consolidated for brevity and clarity.
Chen Keyan (CK): In the context of increased market competition, accelerated industry reshuffling, and stricter financial regulations, Airwallex will continue to adhere to high standards of compliance and security to ensure stable and long-term growth. To achieve this, Airwallex has synchronized its approach to financial and technology security with compliance requirements. The company works with multiple leading financial institutions globally to secure customer funds and maintain high liquidity. Currently, Airwallex is the second foreign payment institution to obtain a payment license in mainland China. The company has acquired financial licenses and qualifications in over 50 countries and regions, including Australia, the US, the UK, China, Hong Kong, the EU, and Singapore, to ensure payment security.
From a technical perspective, as a fintech company, Airwallex conducts all its business online. Therefore, technology security is fundamental to the company's operations. Airwallex holds international qualifications in information security, payment technology security, among others. The company also places a strong emphasis on regulatory compliance and maintains a high level of legal expertise in different regions.
36Kr: After obtaining a license in mainland China, what are Airwallex's plans for future business development?
CK: Airwallex has a sizable number of payment entities both overseas and in mainland China. Our first step is to connect the secondary payment service chain between overseas and mainland China. We will subsequently build on this foundation by developing the overarching cross-border payments roadmap, encompassing the incorporation of global product and service models and how to leverage a flexible cross-border payments solution to empower our mainland Chinese clients in unlocking new global market opportunities.
Furthermore, Airwallex will aim to strengthen its cooperation with domestic financial institutions, increase investments in domestic talent, technology, and commit resources to develop high-quality financial services and contribute to financial transparency.
Over the past eight years, Airwallex has been committed to providing safe, convenient, and innovative services to digital platforms spanning industries such as e-commerce, digital content, logistics, online education, and online travel agencies. We believe the digital economy is one of the engines driving global economic recovery. In this process, our team will focus on innovation to spur business growth and support enterprises in their global expansion.
After obtaining a license in mainland China, we also hope to help Chinese brands expand their overseas business more effectively through cross-border payments. We aim to facilitate better communication between domestic and international entities while making use of mainland China's local architecture in a more flexible and convenient way to serve Chinese companies going global.
36Kr: What technology advancements has Airwallex pursued?
CK: Technology has played a significant role in internet development over the past two decades. As a global fintech platform, Airwallex recognizes that artificial intelligence is one of the main technology trends this year. Our technology team is utilizing core technologies like big data and AI to build better products and services that will promote financial inclusivity while contributing to the creation of an extensive global payment network. We're particularly focused on developing payment methods for countries and regions along China's Belt and Road initiative.
In the context of the digital economy, we aim to help businesses cross borders. We're establishing a think tank for SMEs to assist them in resource allocation for their core operations. Airwallex will combine AI development with API technology to develop more intelligent applications which will, in turn, enable businesses to iterate their products and services more effectively.
Moreover, we are implementing algorithms focusing on real-time transaction settlement. We hope to eventually clear all payments in real time, utilizing algorithms.
KrASIA Connection features translated and adapted content that was originally published by 36Kr. This article was written by Annabella Chang for 36Kr.