Under the auspices of its Asia's Innovation Resource Platform (AIRP), 36Kr Global aims to accelerate the development of cross-border economic flows and help industry stakeholders explore business opportunities with each other.
On November 24, AIRP, together with Singapore's Economic Development Board (EDB) and JG Digital Equity Ventures, the venture arm of JG Summit Holdings, came together for the seventh installment of the Bespoke Innovation Webinar 2020 — focused on the digitalization of traditional banks. Representatives of promising fintech startups were invited to share during this virtual closed-door exchange.
During the Q&A session, Sheinal Bhuralal, senior investment director of JG Digital Equity Ventures and startup representatives discussed the application of new technology in banking and potential of future cooperation.
Representing the Global Innovation Alliance Programme Office of the Singapore Economic Development Board, Ethan Lim shared the vision and purpose of the event. As Asia's economic gateway, Singapore has always been committed to promoting the process of globalization and the strategic cooperative relationship between Singaporean and Chinese enterprises — creating a more dynamic and sustainable ecosystem.
As such, the intention of this session was for JG Digital Equity Ventures to connect with startups they are interested in learning from, get inspiration and work together to create new opportunities.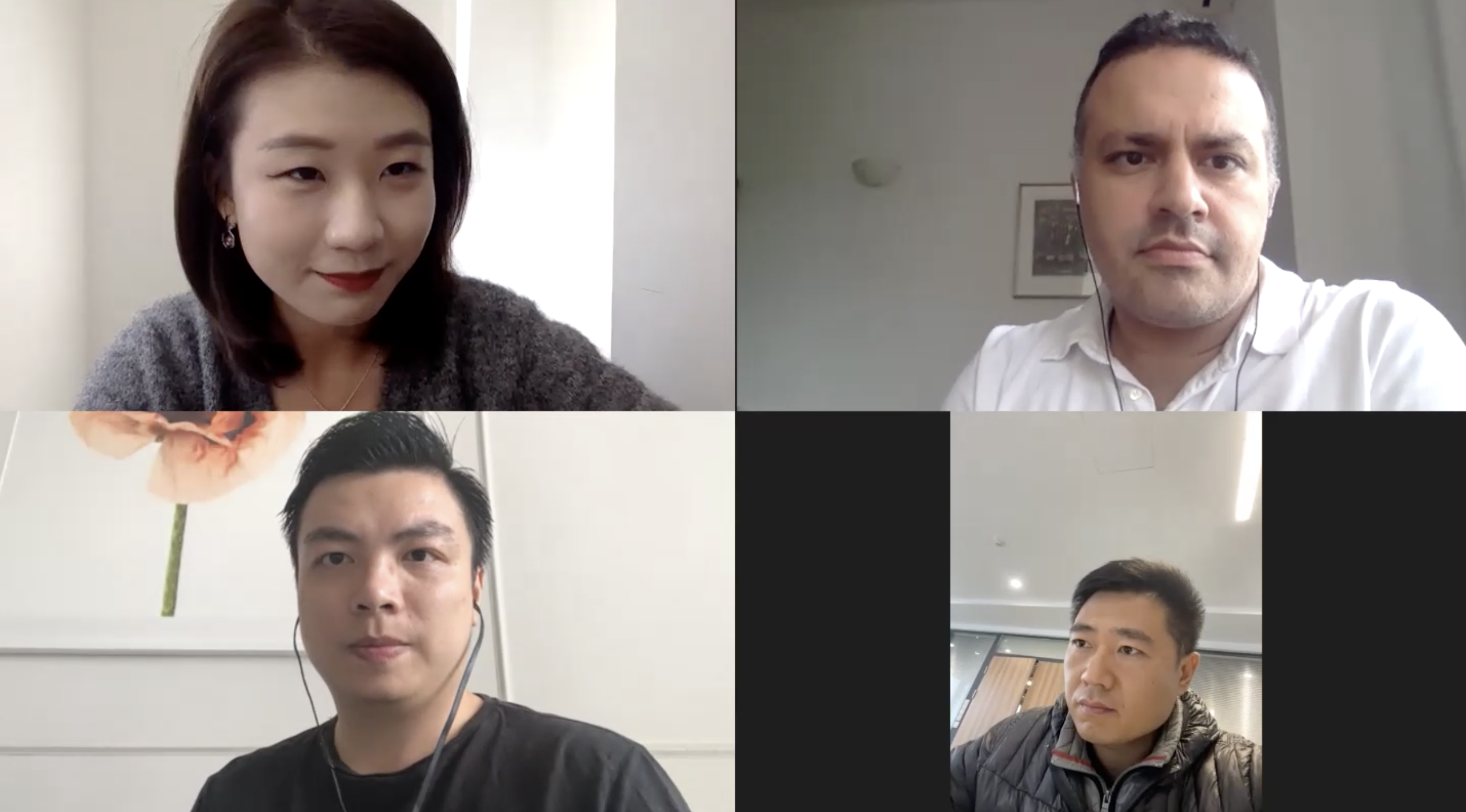 Digital Employees – AI + Robotic Process Automation 
RPA (robotic process automation) uses software robots to simulate and replace human employees to operate various OS and application software. It can deal with repetitive, procedural, regulated and experiential work with low cost and high efficiency, as well as cross-system, cross-platform data processing work.
IntelligenceIndeed proprietary technology lies in providing AI and RPA driven intelligent software robots, otherwise known as digital employees. At present, it has serviced government agencies as well as large enterprises in finance, energy, and the transportation. It has helped customers replace repetitive systems and gain supported decision-making capabilities.
Its AI cloud product, 'z-brain', can increase the perception and cognitive ability of robots through AI components, such as intelligent decision-making.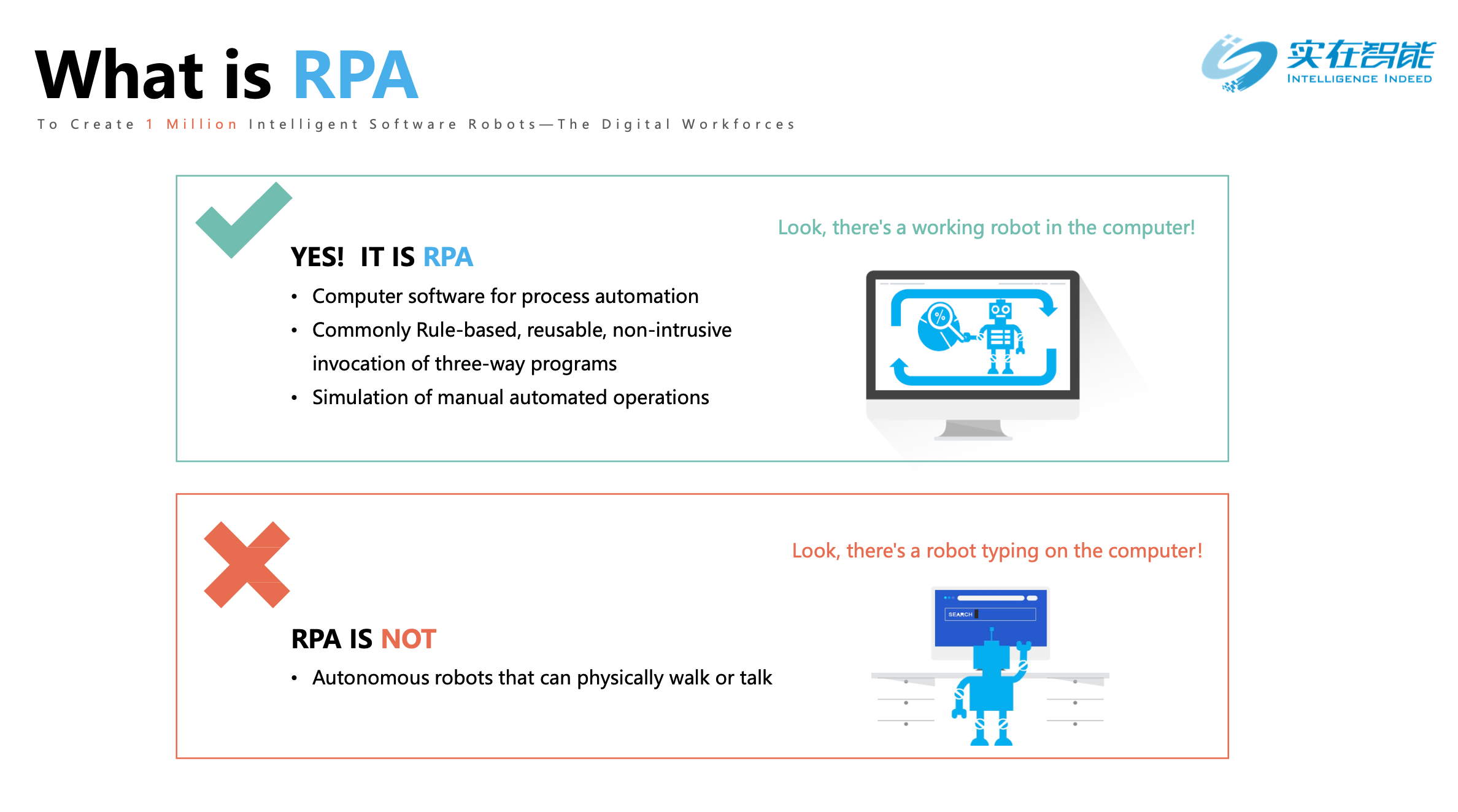 IntelligenceIndeed's system comprises of 4 products: z-factory (robot factory), z-commander (central console), z-bot (Digital employee) and z-brain (AI cloud brain). Their integrated platform includes NLP (natural language processing), CV / OCR (computer vision / optical character recognition), Chatbot (dialogue robot platform) functions and machine learning platform. The entire system acts as a general platform, allowing users to drag and drop more than 400 RPA components, to build different business processes zero-code, saving deployment time and cost.
At present, IntelligenceIndeed's technology has been used across industries and departments, including finance, human resources, operations, customer service and risk control. Other use cases include intelligent underwriting in insurance and customer service quality inspection in e-commerce.
Their revenue model is based on deployment of customised software robots as well as a SaaS license annual fee. The technology implementation cycle ranges between a few weeks to three months, while prices span several hundred thousand to millions in RMB.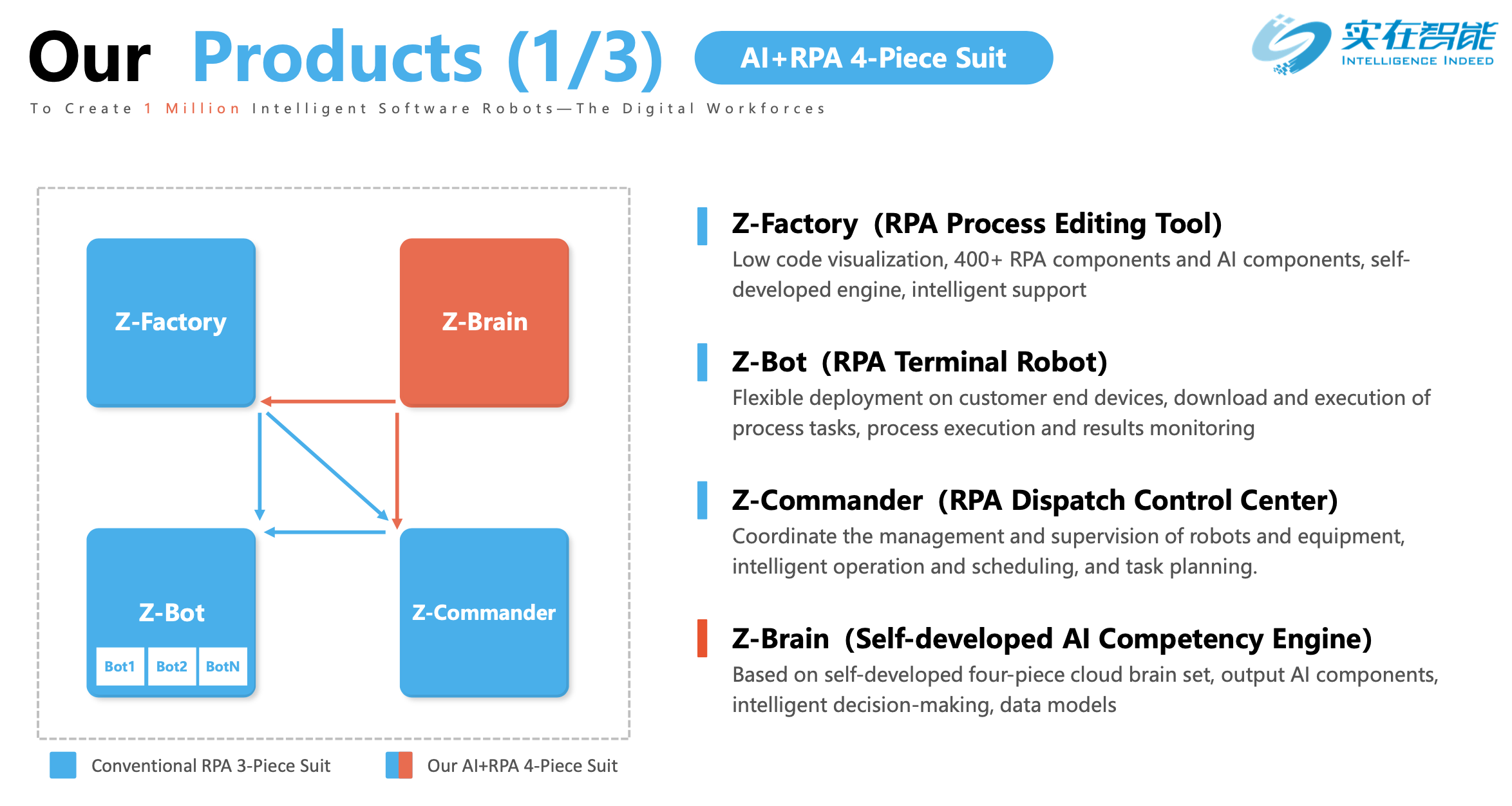 In the Q&A segment, IntelligenceIndeed and JG Digital discussed potential use cases of RPA and how to use the technology can aid collaboration across organisations. In application, RPA is acts like a 'digital employee'. Clients can use these digital employees to operate the internal systems of the company and independently deal with daily affairs. When dealing with issues that require more experienced decision making, the 'digital employees' are optimised with AI deep learning, enabling it to learn how to make better judgments.
The advocate for digital transformation in finance 
Qinjia Digital promotes digital transformation of institutions by technology. The company utilises cloud computing, AI, data insight, anti-fraud, blockchain and other technologies to assist government agencies, small and medium-sized enterprises, financial institutions and other industries to build digital risk management capabilities.
Its three core business lines are: enterprise intelligent solutions, intelligent government solutions and digital financial solutions. At present, serviced more than 80 financial institutions in China.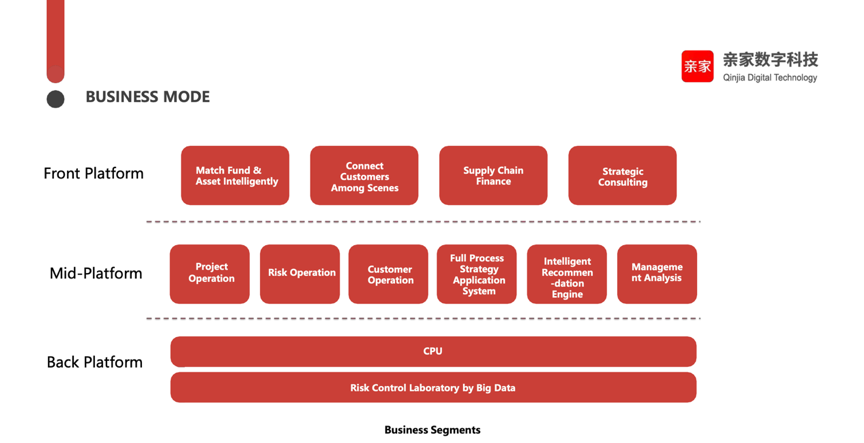 Qinjia Digital adopts the B2B2C mode, based on its own cloud computing, AI, data insight, anti- fraud and other technology service platforms. It provides digital transformation schemes for financial institutions and large-scale national enterprises, and services such as overall asset quality monitoring, user stratification and various data integrations across the platform.
Qinjia Digital aims to reduce costs for customers, improve enterprise efficiency, improve user experience, update and upgrade each industry's model. It also helps small and medium-sized financial institutions to integrate more use cases around basic necessities, food, housing and transportation, providing comprehensive services for the younger generation.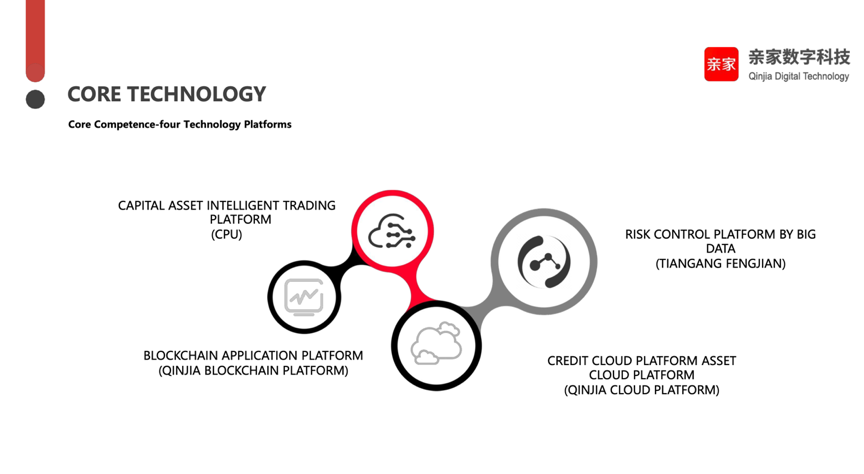 During the Q&A segment, both companies had an in-depth exchange supply chain financing, credit scenarios, risk scoring system, platform architecture and service cycles. Qinjia Digital can also help small and medium-sized financial institutions to screen and issue loans by combining with the accounts payable and current cash flow of enterprises. At the same time, it can also improve the financing efficiency of small and medium-sized enterprises.
The platform has multiple standard functions that are able to generate relevant schemes. Its versatility allows clients to simply drag and drop, to construct transaction structures to their preference.
36Kr Global's cross-border innovation team, AIRP, will be organizing further sharing sessions with Singapore's Economic Development Board (EDB) and other large Singaporean companies. Stay tuned for more updates! Check out our other sessions here!
About 36Kr Global AIRP

Asia has surpassed other regions to become the largest economy in the world. As mentioned, each region has its advantages and characteristics. We have observed an increasing number of big corporates deploying their innovation strategies without geographic limitation and trying to find best-fit solutions across regional markets like China, SEA, India, and Japan. However, it is challenging for corporates to reach outside of the organization to scout for technology and collaboration partners.
AIRP (Asia's Innovation Resource Platform), a cross-border consulting team under 36Kr Global, has been committed to connecting large enterprises and start-ups in various regions, helping them realise innovation transformation and finding potential partners. Whether you are a large enterprise or a startup, if you are interested in being part of our network or have any enquiries about AIRP, reach us at [email protected]!