Under the auspices of its Asia's Innovation Resource Platform (AIRP), 36Kr Global aims to accelerate the development of cross-border economic flows and help industry stakeholders explore business opportunities with each other.
On November 19, AIRP, together with Singapore's Economic Development Board (EDB) and K3 Ventures, the venture arm of Kuok Group, came together for the sixth instalment of the Bespoke Innovation Webinar 2020 focused on consumer brands, agritech as well as the health and wellness sector. Speakers included SoupMaster, Dengfenglai, Hey Maet, Nihao Zhiwu and BooHee.
Representing the Global Innovation Alliance Programme Office of the Singapore Economic Development Board, Ethan Lim and Yvonne Leong emphasised EDB's mission to assist the establishment of strategic partnerships between Singaporean and Chinese companies. As Asia's economic gateway, Singapore has always been committed to promoting the process of globalization. As such, the intention of this session was for K3 ventures to connect with startups they are interested in learning from, get inspiration and work together to create new opportunities.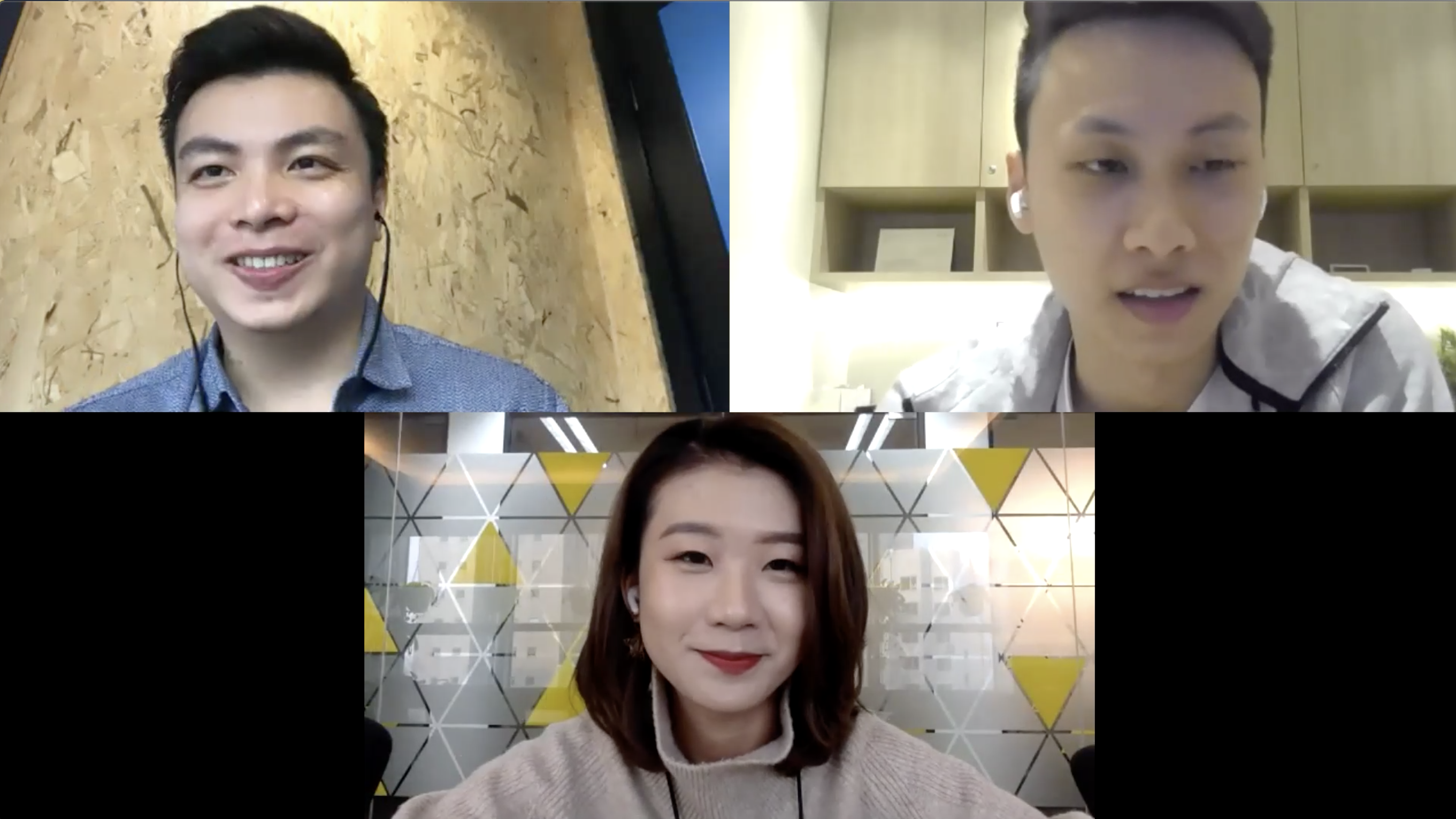 Redefining 'drinking soup' as part of a healthy lifestyle concept 
Founded in 2015, Soup Master has more than 100 stores across 35 cities in China. The brand focuses on additive-free soups and healthy grains, tailoring comfort food to the Chinese palette. Since establishment, the company has been invested by IDG, Lightspeed China Partners, ZhenFund, Lightup Capital and others, raising more than tens of million in RMB. Soup Master holds firm that local products are not inferior to other well known international brands, and it committed to building China's leading soup brand.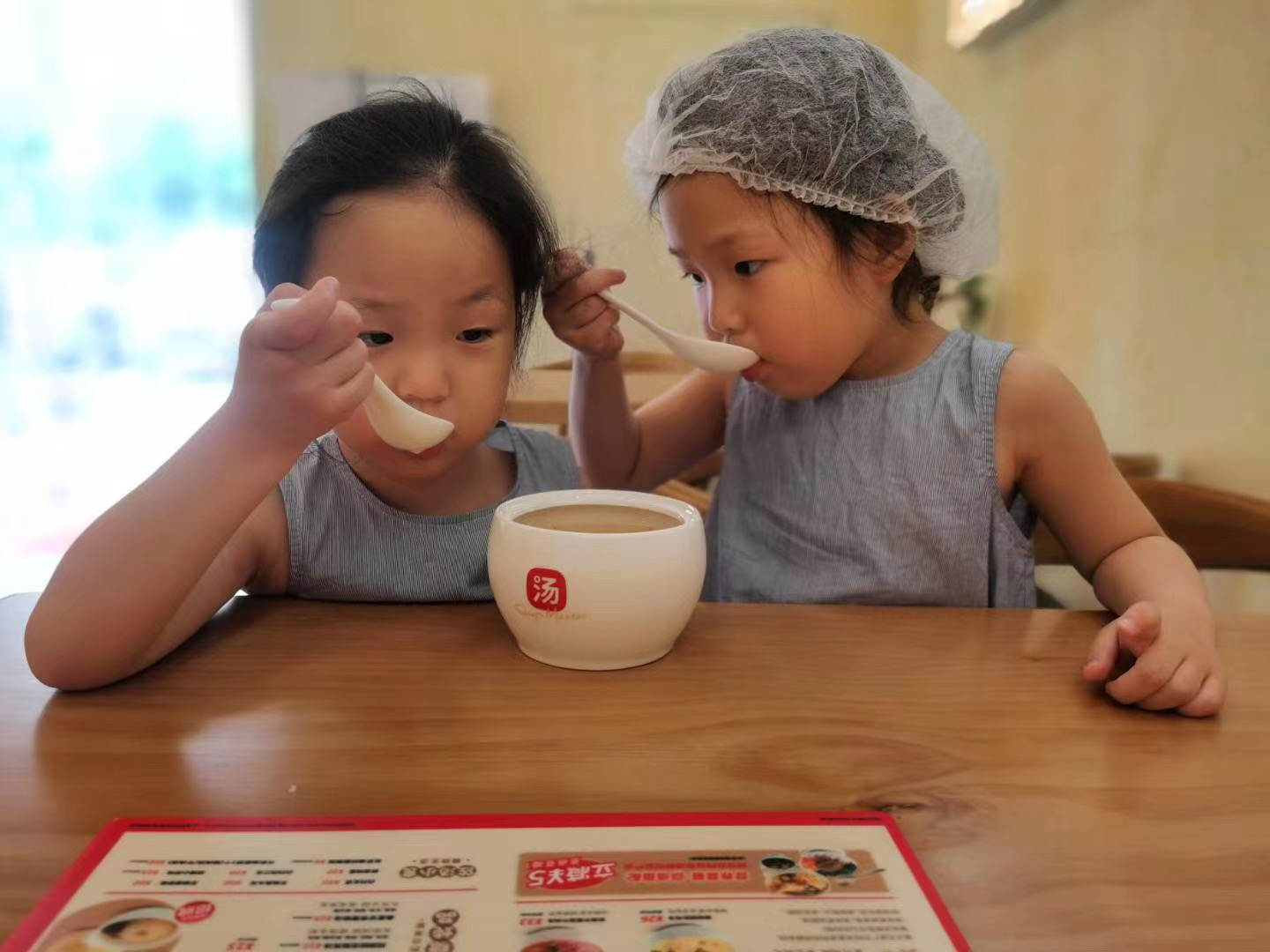 Zhu Wenjing, co-founder of Soup Master, presented the exclusive soup cup designed specifically with sealing and heat preservation properties in mind. Soup Master is China's first soup brand to package soup in a portable cup, pushing forth the concept of drinking soup anytime and anywhere. The aim is to dispel the notion that drinking nutritious soup is reserved for specific occasions or purposes, such as when pregnant or ill, but instead to encouraging customers to cultivate the daily habit of drinking soup. At present, 70% of their customers are women, aged between 25 – 45.
Over the past 5 years, Soup Master has risen through 3 stages of growth. First was researching on consumers tastes and habits, as well as product development. Soup Master began to build its consumer base through various marketing exercises. In its second stage of development, Soup Master tested various store models and found it was most suitable to have retail presence near offices and shopping centres.
Additionally, Soup Master created its own digital management system, committed to building a data-driven generation of small shops, optimising its business operations. Soup Master began its franchise model in its third stage of growth, with the number of stores quickly exceeding 100. Since April this year, it has opened 30 stores, growing against the trend in the market downturn spurred by the COVID-19 pandemic.
During the Q&A segment, Ms Zhu and K3 Ventures discussed the employment of data and operational systems to manage cost. Ms Zhu highlighted that with Soup Masters data management system, they are able to monitor sales and inventory and data customer consumption behavior. Moreover, data such as key indicators of store operation in real time can be captured, including the ratio of marketing input-output and cost structure. Ultimately, refining cost control accuracy to 0.1%. Once the excess cost is identified, it can be attributed to its source, and a targeted adjustment can be made.
K3 Ventures looks forward to future conversations and cooperation with Soup Master.

Alternatives proteins gain traction in the Chinese market 
Hey Maet, founded in early 2020, is an alternative protein brand that provides customers with alternate meat patties, Chinese and Western style sausages, minced pork as well as a whole variety of other alternative meat products. The brand aims to promote eating delicious food whilst maintaining a healthy lifestyle, and leading a lifestyle that contributes to a sustainable earth.
Since 2019, alternative meats and proteins have become a hot spot in China's food and science technology sector. Plant-based meats have demonstrated the advantages of low cost, easy access to diverse raw materials and a relative quick path to commercialisation. Different from mock-meat, plant-based meat is closer to real meat in taste and texture, and has better nutritional composition.
During the session, Hey Maet's founder Hong Xiaoqi shared her thoughts on the alternative meat sector development and related production technology.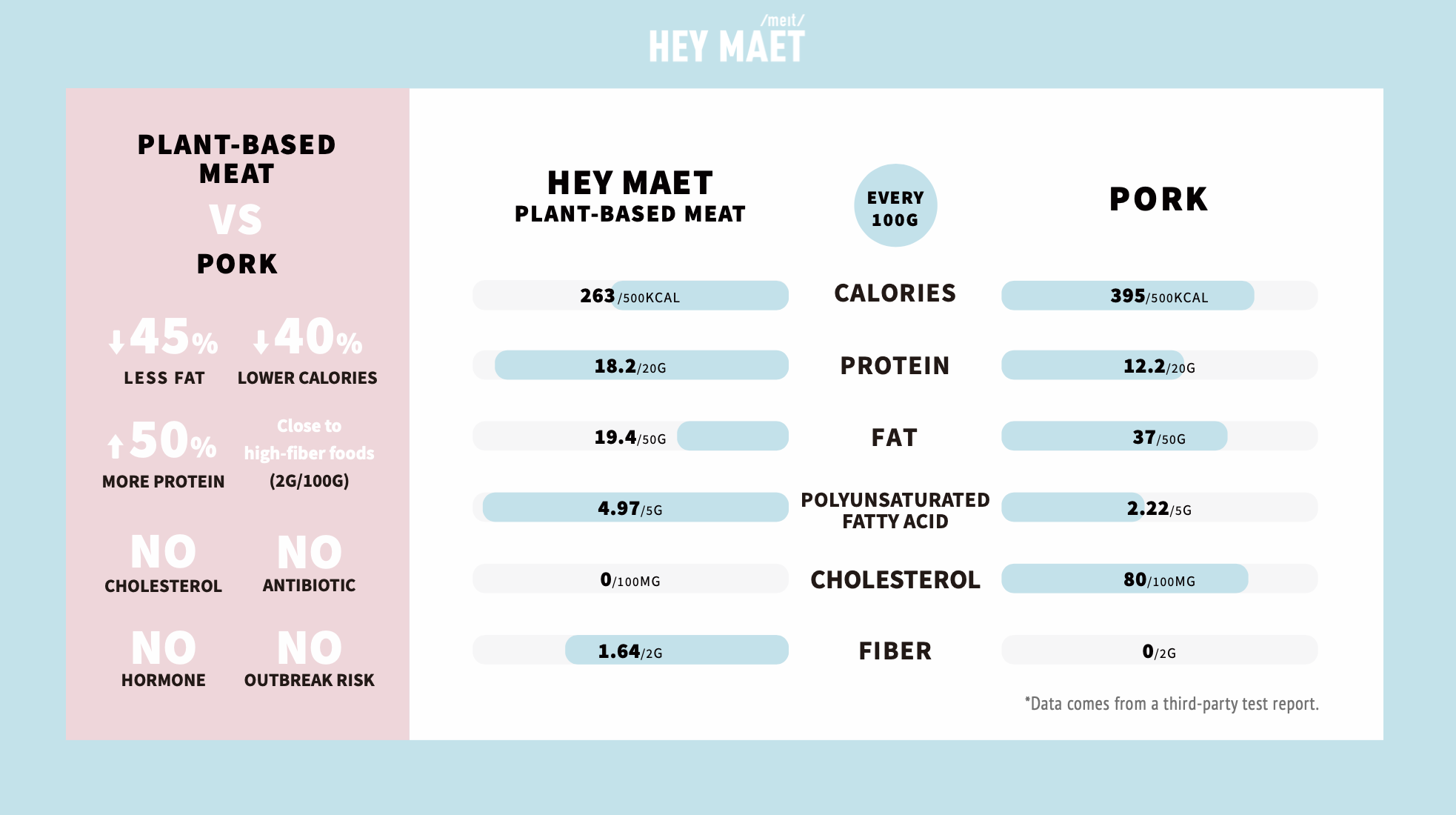 Hey Maet's R&D facilities are split into two main teams. The test kitchen is responsible for the development of plant-based meat products. The team is able to also develop specific, customised dishes to meet the needs of different customer groups. Their R&D lab, on the other hand, focuses on optimizing the core structure of plant-based meat, exploring potential raw materials and working with factories to build out the entire mass production line.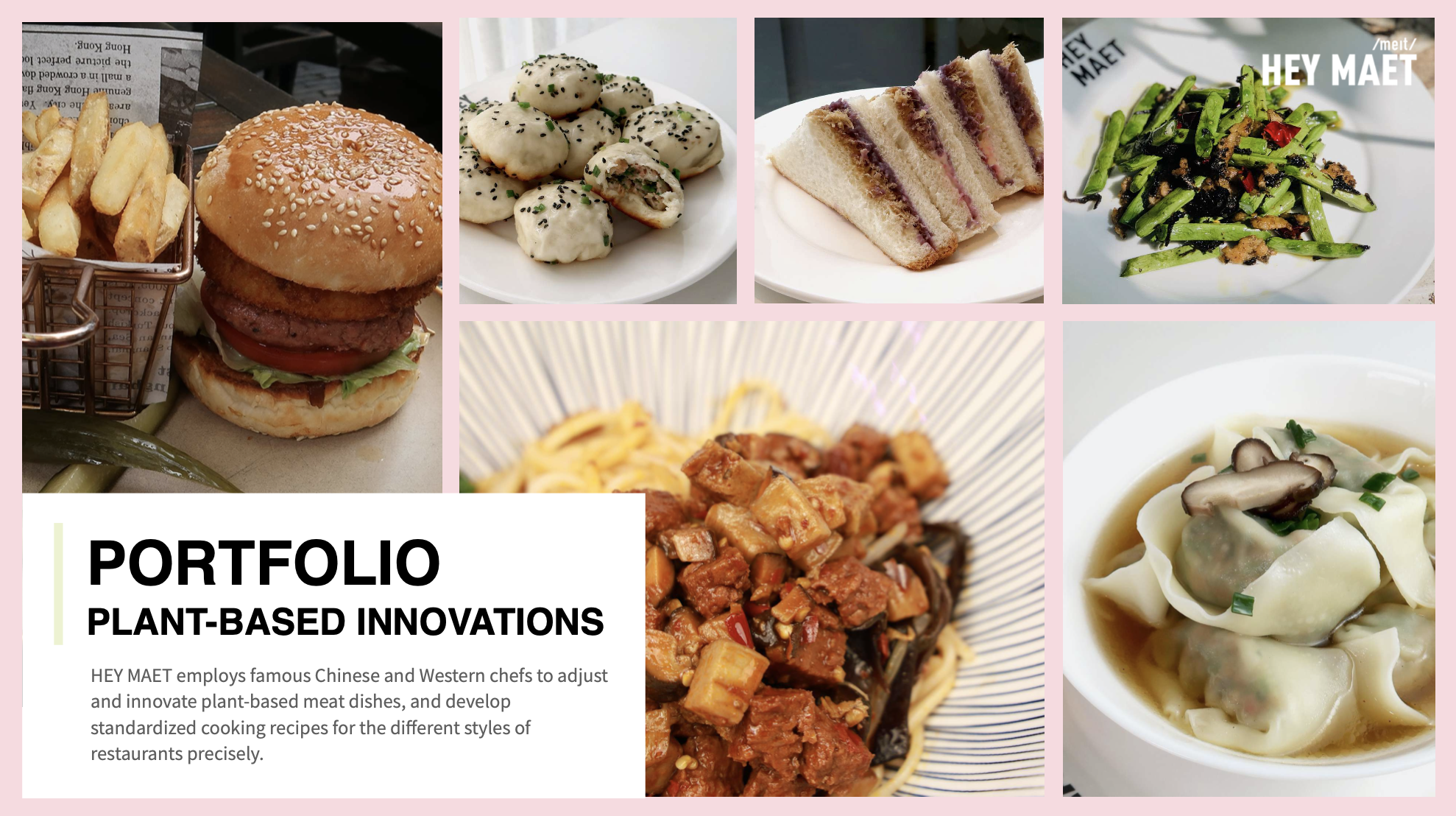 Plant-based meat, while promising, is still an emerging market in China. Most sales channels are currently online and offline presence is limited. Hey Maet plans to develop it's to-B offline distribution channels and is currently in discussion with several catering brands. The brand has also established a partnership with Shuangta Food Group to improve production and gradually gain visibility through to-B offline channels.
During the Q&A session, K3 ventures expressed much interest in following up with Hey Maet and exploring future ways of cooperation.

Agriculture empowered through AI technologies
Kinghoo Agrotech was founded in 2020 with the mission of solving industry pain points such as animal disease transmission, high cost of treatment cost and the lack of standardization in animal husbandry. Their proprietary technology, the Kinghoo e-farmer app, is used to provide intelligent diagnosis for livestock and poultry diseases. The use of AI and Ar technology enables farmers to use their mobile phones to take pictures of livestock from multiple angles. With the images, the software is able to make a basic diagnosis of the animal's disease and suggest treatment.
CEO, Niraj Prajapati, shared two images of common skin abnormalities found in pig breeding and invited everyone to distinguish between that and regular mosquito bites. Guests were not able to distinguish between the two and thus the wrong judgment was made.
Niraj also emphasised that their technology not only helps to identify the condition of livestock but also provide both Chinese and Western treatments. With their database, they are also able to suggest vaccines and management plans according to the region and farm conditions. The built-in AI voice activated assistant can answer commonly asked questions and support multi-lingual text and voice input, providing farmers with immediate feedback.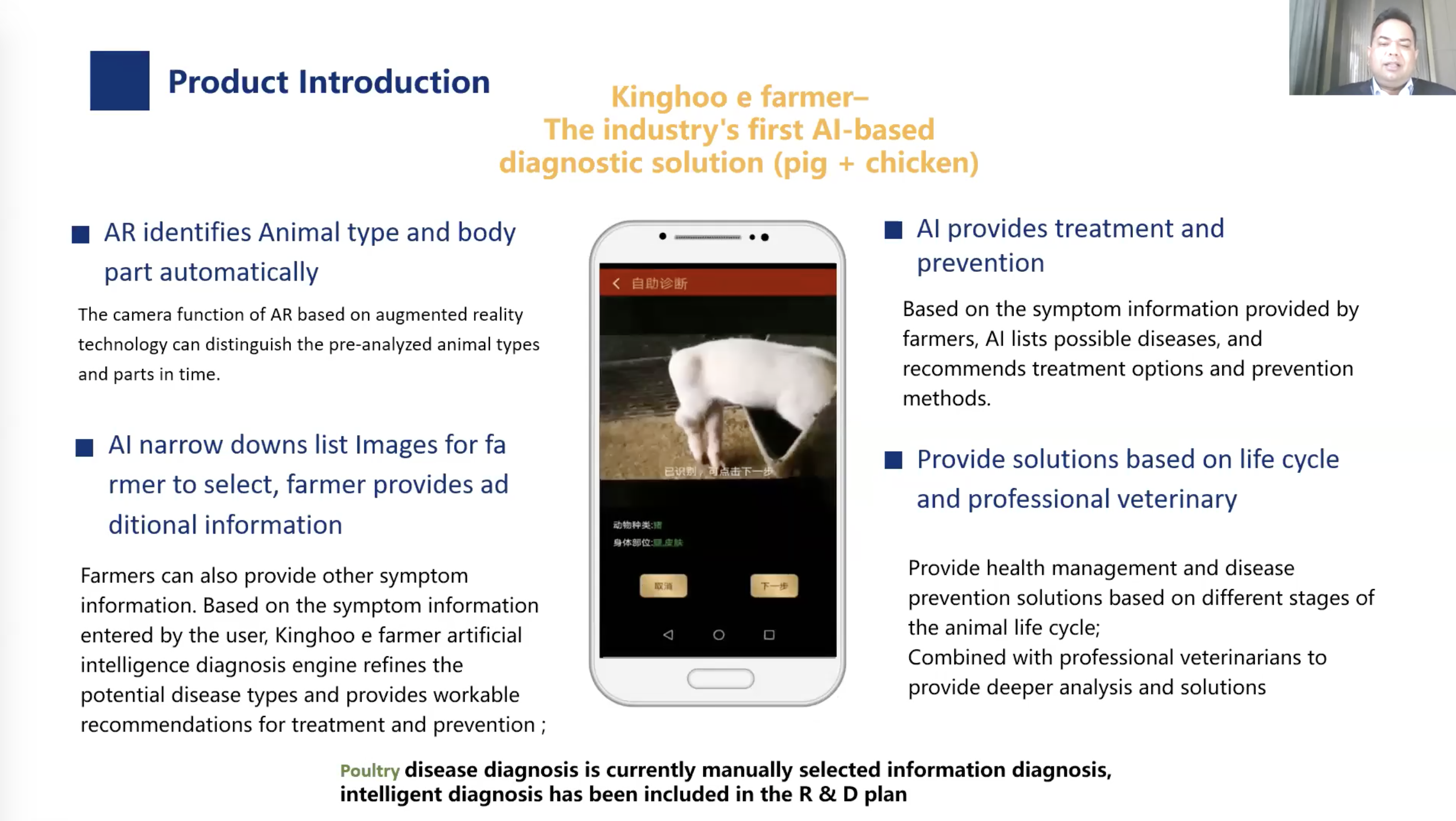 In addition, Kinghoo has a comprehensive livestock breeding visual integrated management system, "farmzAI fangzan", which monitors and manages the feeding progress and environmental conditions in the farm in real time. The system can be connected with a variety of sensors and other monitoring equipment on the farm. In case of abnormal data, it can trigger and alarm, which the farmer can remotely control and adjust through mobile phone.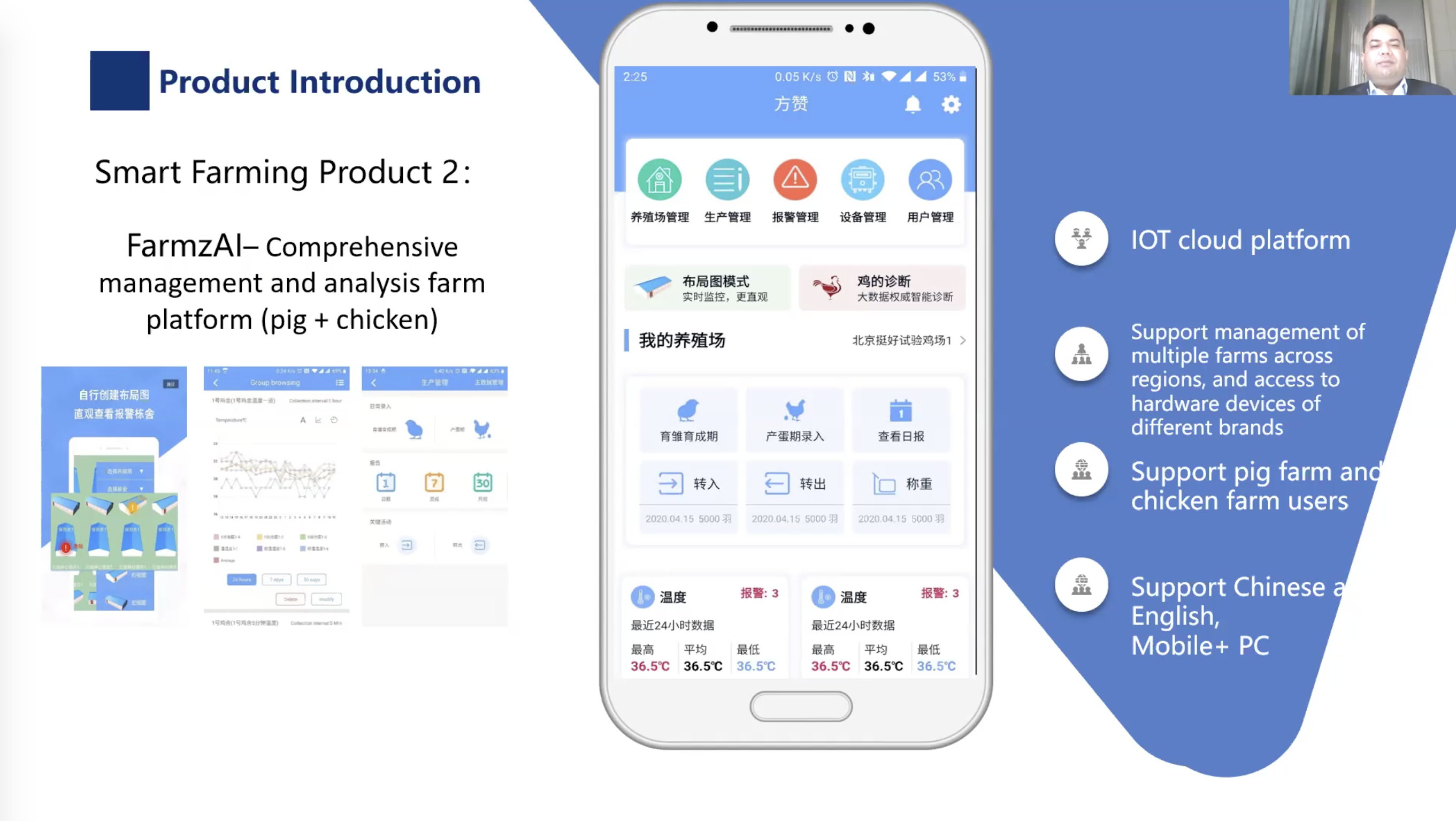 During the A&A segment, Niraj and K3 Ventures discussed the hardware used on the farm as well as Kinghoo's future development plans. Niraj shared that the company plans to setup a leasing model to allow farmers flexibility in adopting their technology. The company also looks forward to strategic partnerships with micro-loans and insurance providers to enable farmers quicker upgrade of equipment, thus improving breeding efficiency and output whilst protecting the farms's interest with insurance against natural disasters.
Lastly, with plans to explore the SEA market in 2021, Kinghoo looks forward to potential cooperation with K3 Ventures.

Healthier lifestyle through new choices
Founded in 2018, supporting its 80 million users to pursue a healthy life, Boohee notices the core of urban residents' health problems: anxiety. The younger generations' pursuit of health is not simply about being physically disease-free, but also the harmony and balance of body and mind. People seek to redefine healthy living and look to reduce anxiety and stress. In order to lead a healthier lifestyle for young families, Boohee delivers personalized nutritious prescriptions and one-stop health solutions to its users through online health services and food products.
By providing online diet management tool and professional healthy eating and weight loss services, Boohee has 80 million registered users in China. Nowadays, Boohee has the most up-to-date and comprehensive food database in China incorporated with cutting-edge algorithms and AI technology.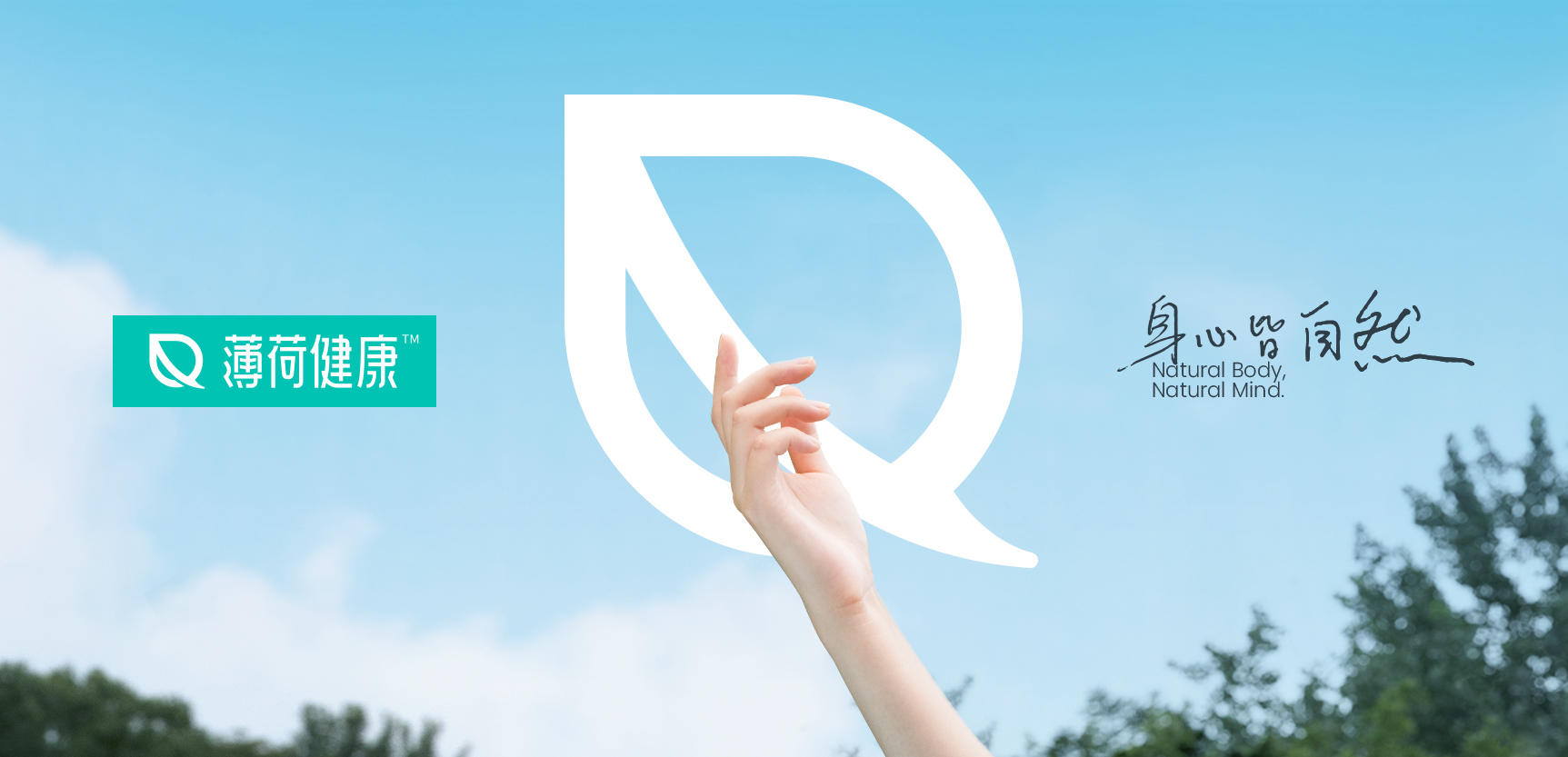 With a strong content production team, Boohee delivers original articles and professional reports attracting over ten million fans within its community. Moreover, Boohee has carried out extensive publicity through inviting celebrities, and KOL as brand ambassadors, spotlighting brand awareness in the past two years.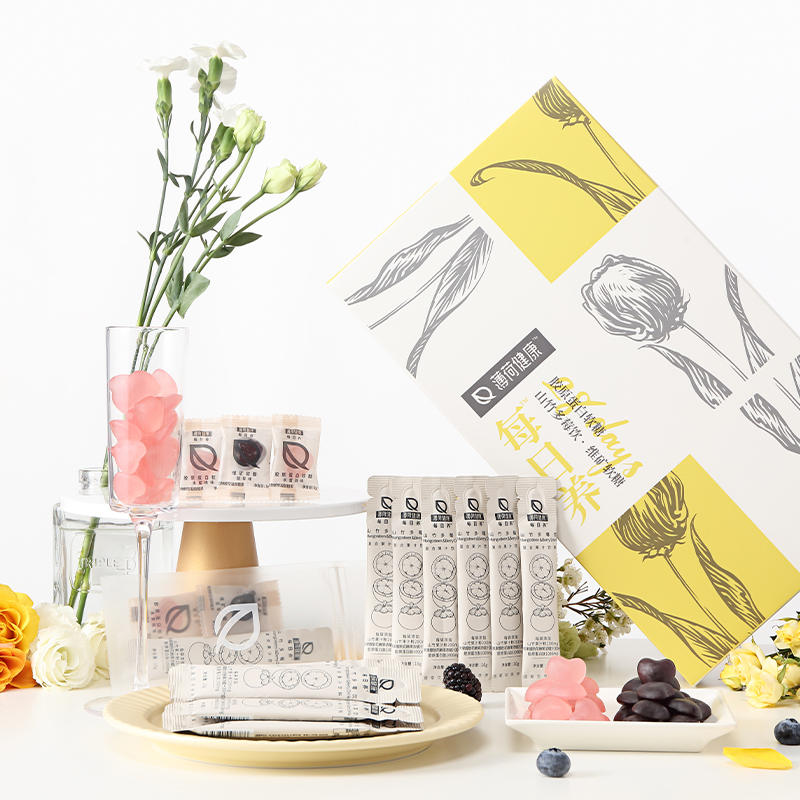 K3 Ventures expressed interest in cross-border marketing with traditional industries and product development in Southeast Asia, and would like to keep contact with Boohee in the future.
36Kr Global's cross-border innovation team, AIRP, will be organizing further sharing sessions with Singapore's Economic Development Board (EDB) and other large Singaporean companies. Stay tuned for more updates! Check out our other sessions here!
About 36Kr Global AIRP

Asia has surpassed other regions to become the largest economy in the world. As mentioned, each region has its advantages and characteristics. We have observed an increasing number of big corporates deploying their innovation strategies without geographic limitation and trying to find best-fit solutions across regional markets like China, SEA, India, and Japan. However, it is challenging for corporates to reach outside of the organization to scout for technology and collaboration partners.
AIRP (Asia's Innovation Resource Platform), a cross-border consulting team under 36Kr Global, has been committed to connecting large enterprises and start-ups in various regions, helping them realise innovation transformation and finding potential partners. Whether you are a large enterprise or a startup, if you are interested in being part of our network or have any enquiries about AIRP, reach us at [email protected]!