For those who speak English as a second language, pronouncing every single word correctly can be a challenge. Even if you have reading and writing fluency, unshackling your mother tongue's influence on your accent while speaking in English is no easy task. It takes years of practice to sounds like a native.
A little help can go a long way toward reaching that goal. That's why Vu Van built an app called ELSA, which stands for English Language Speech Assistant.
Originally from Vietnam, Van spent several years studying at Stanford University to pursue her MBA and master in education. Like many international students, her first year in America was challenging, as she was conscious about her spoken English, even though she was among the top students in her English classes at home.
"When I discovered this problem, there was no good solution for it. When it comes to speaking, people could either go to a speech therapist that costs them around USD 150 an hour, or they could go watch YouTube or Netflix, which is a one-way learning solution," Van told KrASIA in a recent interview.
English is a global professional language. A speaker must be clear for efficient communication at work as well as in daily life, Van believes. "A report suggests that people who speak English well with a clean accent earn 40% more than those who don't," she said.
Van recognized this as an opportunity. She and her partner, Xavier Anguera, who has a PhD in speech processing, decided to create a proprietary speech recognition technology in 2015. "We use deep learning and AI to detect people's pronunciation mistakes with 95%+ accuracy. ELSA listens to the way language learners pronounce words or sentences to pinpoint exact errors and provide real-time, accurate feedback on their mistakes, with specific suggestions on how to move their tongues and their lips in different positions so they can improve those pronunciation errors," she said.
In other words, ELSA providess AI-powered one-on-one instruction for English-language learners.
The startup is headquartered in San Francisco and has offices in Portugal, India, and Vietnam. So far, it has raised USD 12 million from investors in Silicon Valley and Asia, including Gradient Ventures, which is Google's AI-focused fund. According to Van, the app has more than 6.5 million users from 101 countries, with three million users in Vietnam alone.
ELSA's framework was trained using voice data of people speaking English with various accents, so it is capable of recognizing the speech patterns of non-native speakers, setting it apart from most other voice recognition technologies, Van said.
After downloading the app and stepping through the registration process, a user is given an assessment test to define her proficiency level. ELSA provides a score ranging from zero to 100, with most native speakers scoring 95 or above. The result helps ELSA personalize the user's learning paths, highlighting which sounds hit the mark, and which others need adjustments. The platform makes suggestions for specific lessons that match a user's proficiency.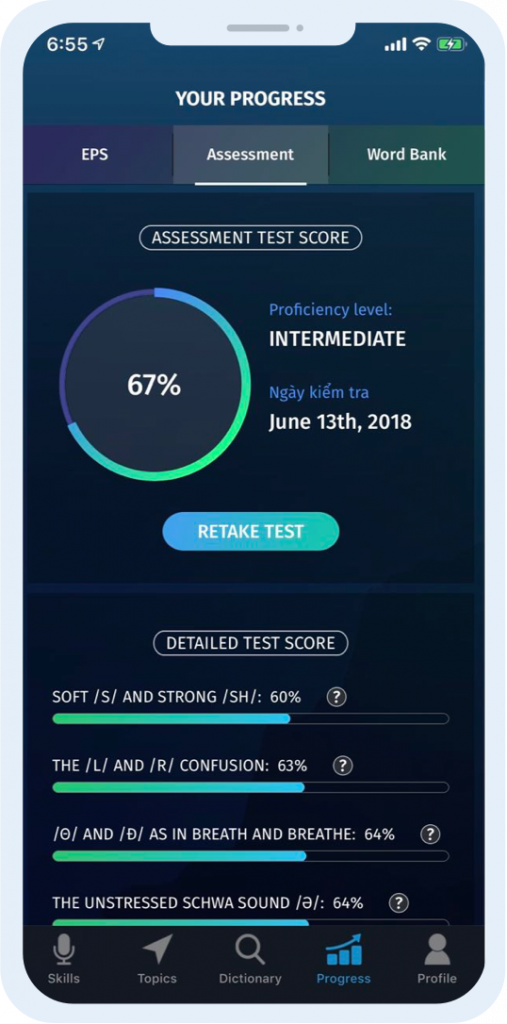 The company implements a freemium business model. In addition to free learning sessions, users can access premium features called ELSA Pro to unlock more intense lessons. The subscription costs USD 3–6 per month.
Van said that ELSA saw rapid growth in paid subscriptions in 2018, when the number of paid users increased by 3.5 times from the previous year.
However, that positive development came with many challenges. Van said that while most people are willing to pay high tuition fees for English classes, but expect learning apps to be free. "We'd love to make it free for everyone, but then we wouldn't have the resources in the long term to develop a world-class product to improve people's lives," she said. "The ELSA subscription is as affordable as possible. It's equal to paying for one cup of coffee each month to learn correct pronunciations with ELSA."
Partnering with schools and corporations
To meet demand and fulfill requests, ELSA now collaborates with a number of corporations in Vietnam, where the app helps employees improve their English speaking skills. It also runs joint programs with many language learning schools.
In November 2018, ELSA launched a campaign called "Vietnamese teachers teach good English." It consists of two main parts—sponsoring every English teacher in Vietnam with an ELSA Pro account, and introducing the Teacher Dashboard to all teachers and schools, allowing them to integrate ELSA into their curricula. That way, educators can monitor their students' performance on ELSA and provide tailored feedback, Van said.
"So far, we have received positive and amazing feedback from schools and teachers across the nation, saying this really empowers and enables them to help students improve their English," she added.
After raising Series A funding in February 2019, ELSA expanded across borders, hiring representatives in some of the biggest markets in Asia, like India, Indonesia, and Japan. The app was recently launched in Indonesia, where Van is optimistic about ELSA taking off. "Indonesia has 270 million people—the biggest population in Southeast Asia," she said. "Given that Indonesia is becoming the largest tech hub in the region as well, we believe that the demand for better English in the local workforce is inevitable."
Going forward, ELSA will continue to improve its product offerings and expand to more countries worldwide. The app recently launched a new plug-in called ELSA Instant, which allows users to log on and learn anytime, anywhere.
"As we expand to each country, our fundamental business model will remain the same: We will provide ELSA Speak as the mobile app, which everybody can download for free, and we'll also offer our ELSA product to schools and companies in these new markets," she said.
This article is part of KrASIA's "Startup Stories" series, where the writers of KrASIA speak with founders of tech companies in South and Southeast Asia.