Amidst the age of Industry 4.0, digital investment in the advanced manufacturing sector has surged in recent years, driving the swift adoption of cutting-edge technologies.
This surge has revealed a discernible correlation. According to Deloitte's "2023 Manufacturing Industry Outlook" report, manufacturing companies with a higher level of digital maturity typically demonstrate greater resilience. This was especially evident during the COVID-19 pandemic, when companies that expedited their digitalization efforts found themselves in a better position to swiftly adapt in times of crisis, therefore performing better than counterparts that were digitally less ready.
Being quick to respond to shifting developments in technology offers various indisputable benefits, including heightened supply chain visibility and increased adaptability to intricate challenges. Thus, the path ahead necessitates sustained investments in advanced manufacturing technologies, especially as more multinational companies shift their production to Southeast Asia.
Smart factories are the bedrock
Smart factories represent the culmination of these investments, where cutting-edge technologies converge to transform production processes. They are highly automated and interconnected facilities that leverage internet of things, artificial intelligence, robotics, additive manufacturing techniques, and real-time data analytics to optimize operations. These are also the most common technologies that global manufacturers plan to leverage to improve their operational efficiencies.
Smart factories prioritize efficiency, flexibility, and responsiveness, enabling adaptation to changing market demands. They allow for real-time monitoring, predictive maintenance, and seamless communication across all stages of manufacturing.
In Singapore, several startups offer technology and expertise that can aid manufacturers in developing smart factories. For example, Aruvii provides two types of solutions: the first is an AI-powered quality control and defect assessment solution for manufacturing industries, while the other is an IoT system for intelligent sensing in indoor and outdoor spaces, converting raw 3D data to real-time insights for smart manufacturing and robotics applications. Aleph Technologies offers a proprietary AI-engine that refines manufacturing operations in real time and adapts to changes without human intervention. It enables energy optimization, operational improvement, and predictive maintenance for enhanced efficiency and productivity. Eureka Robotics offers robots, software, and systems that can automate high accuracy and high agility tasks, applicable across a myriad of industries.
Most advanced manufacturing startups in Southeast Asia are based in Singapore, notably due to the Singapore government's strong support for Industry 4.0 developments and having a highly skilled labor force. However, in other Southeast Asian countries, the smart factory advancements are being led by not only the local governments, but also large companies.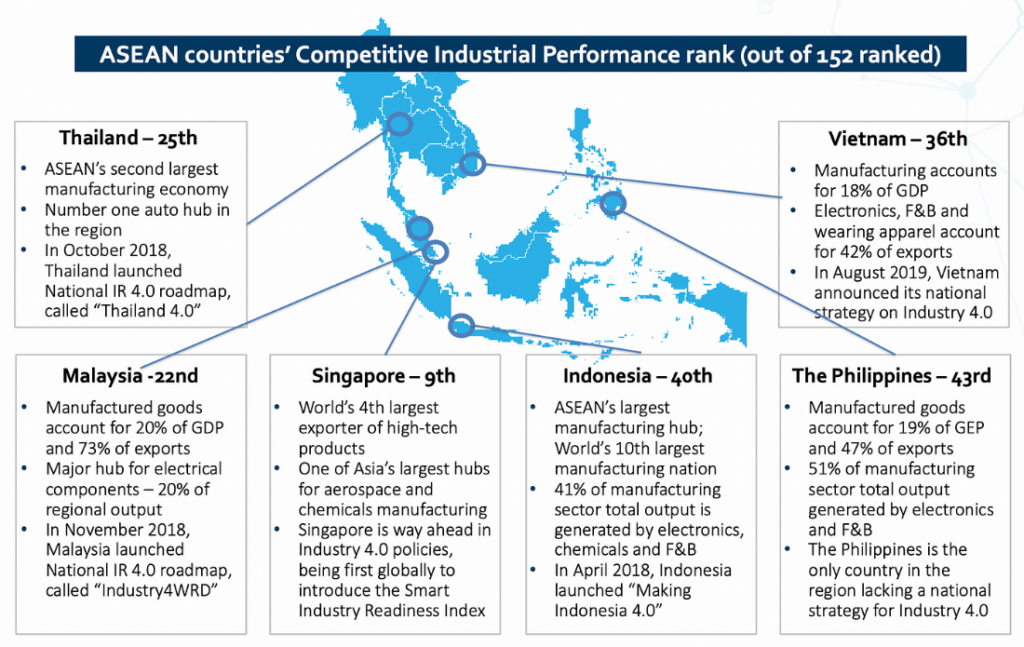 Thailand's manufacturing sector is beginning to embrace smart factories, mainly due to the influence of large multinational companies and conglomerates. The country is shifting its focus from labor-intensive factories to more sophisticated methods of production. Key shifts include the evolution of its traditional sectors, closer collaboration with component manufacturers, government-backed investment in emerging industries such as aviation maintenance and medical tourism, and investments in infrastructure improvements for smart factories. The government is also incentivizing small and medium enterprises with tax breaks to adopt more competitive manufacturing practices.
Thai construction and chemical conglomerate Siam Cement Group has announced plans to develop and commercialize smart factory technologies in partnership with LS Electric, a leading South Korean automation equipment maker. Japanese multinational electronics company Hitachi is also offering smart manufacturing technologies and smart factory services in Thailand.
Advanced supply chains
Another section of the manufacturing value chain that is being enhanced by technology is logistics.
Advanced supply chains utilize cutting-edge technologies and innovative strategies to optimize the movement of goods and information. They are characterized by real-time monitoring, predictive analytics, automation, and seamless integration across all stages, from sourcing to delivery. They enhance agility, reduce costs, minimize risks, and improve customer satisfaction by responding swiftly to market changes and demands.
In particular, companies operating in Southeast Asia have focused on integrating these technologies to provide customers real-time updates on their orders and deliveries. For example, Singapore-based logistics company Speedcargo automates cargo handling for air freights with AI-powered robotics. Its real-time cargo monitoring solution can maximize yield, increase productivity, and ensure regulatory compliance. Real-time delivery tracking has also become the norm for consumer-focused logistics companies, such as Singapore's Ninja Van and Indonesia's J&T Express.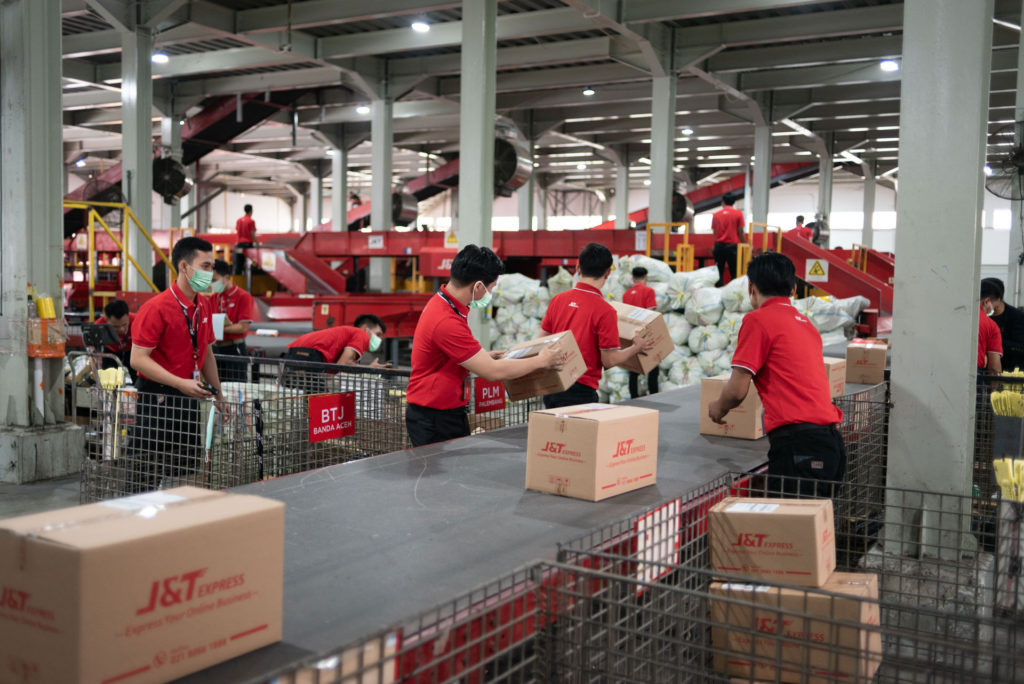 The next opportunity in this sector is cold chain logistics, particularly in Indonesia. Cold chain is the process and technology by which temperature-sensitive products are transported and stored using refrigerated packaging methods to protect the integrity of these shipments. The Indonesian cold chain logistics market was worth USD 4.97 billion in 2021 and is estimated to generate USD 12.59 billion by 2031.
Startups in Indonesia's cold-chain logistics sector are capitalizing on the rising demand, particularly from local micro, small, and medium enterprises in the food and beverage industry seeking to expand their reach. For example, Paxel is exploring cold chain fulfillment services, such as the use of refrigerated vehicles and temperature monitoring systems. Coldspace offers end-to-end transportation and storage solutions that include product tracking and analytics for customers. Other startups like Superkul and Fresh Factory are also adopting technology-driven approaches to ensure the integrity of temperature-sensitive products during transportation and storage. This includes the implementation of IoT sensors to track temperature conditions in real time, ensuring compliance with cold chain requirements.
While challenges remain in standardization, including the need to educate MSMEs on how to expand their businesses, rising fuel costs, and more, the vast potential in food delivery has kept these startups optimistic about their prospects in Indonesia's evolving cold chain landscape.
Sustainable manufacturing and supply chains
The same technologies being used to advance manufacturing and supply chains can also be utilized to accelerate their transition toward sustainability.
When smart factory operators enhance their machines and production lines, they are also making manufacturing operations more sustainable. Sensors can improve heating, cooling and lighting operations, which is pertinent in the logistics process for temperature-sensitive products. In the cold chain sector, sensors and IoT systems can ensure that warehouses and delivery vehicles are primed to maintain the necessary conditions.
Delivery fleet electrification and digitalization are also vital to creating a sustainable supply chain. Smart sensors on trucks can enable fleet management firms to detect modest degradations and remedy them before the situation worsens, potentially leading to heightened carbon emissions. Supply chain managers can use traffic and route optimization algorithms to determine the most ecologically friendly routes. IoT systems can be used to monitor the movement of raw materials, intermediate goods, and final products in real time, improving operational efficiency and reducing wastage.
There are a variety of approaches that manufacturers can use to make their operations green. However, creating a comprehensive carbon-neutral strategy is typically an arduous process for companies without the necessary expertise to implement one.
This is where these Singapore startups can come in to plug the gap. BBP's IoT and cloud-based heating, ventilation, and air conditioning management platform enhances cooling systems, reducing their energy consumption by up to 40%. The platform also provides predictive maintenance and fault detection solutions, and can extend the lifespan of chiller equipment. Arcstone offers a range of transparency and digital solutions to help manufacturers adopt Industry 4.0 technologies, creating a more sustainable supply chain and manufacturing ecosystem. Unravel Carbon is an AI-powered platform that helps organizations with carbon accounting and decarbonization strategies. It can produce comprehensive reports about an organization's carbon emissions, and craft appropriate and feasible decarbonization pathways.
Digital twins as the next frontier
Early adopters are even transcending the conventional boundaries of manufacturing. The aforementioned report by Deloitte offers an intriguing revelation: one in every five manufacturers is already actively exploring the development of a digital twin solution or metaverse platform to complement its products and services.
Specifically, they are considering the use of advanced technology to virtually recreate the entire factory floor. A digital twin is the virtual representation of a physical asset created using real-time data, sensors, and other information collected from the physical counterpart. It serves as a dynamic, digital replica that can simulate and mimic the behavior, characteristics, and performance of the physical entity it represents. This technology can be leveraged to receive real-time insights about the physical asset's performance, operations, and profitability.
Virtual factories created using digital twin technology could enable manufacturers to simulate changes to factories before implementing them physically, providing early insight into the potential outcomes of their investments. Industrial training can also be conducted remotely in virtual factories, where workers can be trained to operate potentially dangerous machines and complex systems in an immersive and safe environment. Singapore's Agency for Science, Technology and Research (A*STAR) has built an Advanced Remanufacturing and Technology Centre (ARTC) for manufacturers in Singapore to experiment with digital twin technology, including using augmented reality to improve machine maintenance processes and upgrading robots that human operators use to move hot or heavy objects.
As Southeast Asian manufacturers continue to advance their factories, operations, and supply chains, digital twins will likely be the next frontier for them to conquer.
About the authors: this article is co-authored by Terence Foo, Ryan Chan, Seah Gek Choo, Tan Shuo Yan, Teo Zhixin, and May Lee. Terence Foo is an executive director of Deloitte Consulting Southeast Asia, and leads the Supply Chain and Network Operations practice. Ryan Chan is a director in the same practice as Foo. Seah Gek Choo leads the Deloitte Southeast Asia Innovation team, a cross-function, cross-country unit dedicated to driving innovation as a long-term value creator across Deloitte's Southeast Asia operations. This article was co-written with Tan Shuo Yan, Teo Zhixin, and May Lee, members of the team.