The Lee Kuan Yew Global Business Plan Competition (LKYGBPC), a biennial startup competition organized by the Singapore Management University (SMU), concluded its 11th and latest edition on September 14. The week-long event culminated in the Mixer Night, where the competition's winners and finalists, along with corporates, government agencies, and youth and entrepreneurship communities gathered at CHIJMES in downtown Singapore to celebrate the spirit of innovation and entrepreneurship.
Kajima Innovation Award
Featuring Kajima Development as its platinum partner, the competition saw a plethora of innovative startups vying for various awards and prizes, including the coveted LKYGBPC Kajima Innovation Award. The award comes with a cash prize of SGD 100,000 (USD 73,200) and was instituted to recognize and support startups that demonstrate significant potential for social impact. Four startups were shortlisted to compete for the award by pitching their novel solutions during the event:
These four startups were selected as part of a broader pool of Revolutionary 50 (RVLT50) finalists to participate in the 11th LKYGBPC.
This year, the competition expanded RVLT50 to feature 55 teams, aiming for a more comprehensive representation of ideas and talents due to a record-breaking 1,000 submissions.
Among the four shortlisted startups, Active Surfaces emerged as the winner of the LKYGBPC Kajima Innovation Award, having presented a solution that the judges acknowledged as a potential gamechanger in the field of new and renewable energy.
About Active Surfaces
Active Surfaces is an American student-led outfit that aims to synergize solar technology with urban landscapes. Recognizing the importance of renewable energy integration without compromising urban development, the company has developed ultra-thin, lightweight, and durable solar panels (photovoltaics) as a promising solution.
Unlike conventional solar setups, Active Surfaces has designed solar technology in the form of flexible thin-film solar modules that can be rolled up like yoga mats and applied to surfaces previously deemed unsuitable for solar installations, particularly low load-bearing roofs. This technology demonstrates significant potential to reinvent how solar energy can be harnessed in densely populated cities such as Singapore, Tokyo, Seoul, as well as in other built environments where solar integration has become imperative for sustainable growth.
"We can't just keep taking green land, clearing it out, and putting up traditional solar panels. That's not sustainable in the long term. So, we envision this dual-use land concept [that Active Surfaces is working toward] as the next stage in advancing solar technology," said Richard Swartwout, co-founder and CTO of Active Surfaces.
Swartwout works alongside fellow co-founder Shiv Bhakta, who is a graduate student undergoing the Leaders for Global Operations dual-degree program at the Massachusetts Institute of Technology (MIT). Swartwout is an alumnus of MIT, having previously pursued a PhD in electrical engineering and computer science at the institution.
In addition to the LKYGBPC Kajima Innovation Award, Active Surfaces won this year's MIT 100K Entrepreneurship Competition and clinched first place at last year's Harvard Climate Symposium Startup Pitch competition. These accolades serve as testaments to the quality of the startup's technology and how it could eventually harness solar energy at scale, propelling the world toward a more sustainable and energy-efficient future, particularly in urban spaces and built environments.
In an interview with KrASIA, Swartwout expressed the startup's aspirations. "In the next few years, we're looking to scale up our technology efforts so that we can actually approach the built environment from a technological angle. We're really young, so all of our modules are quite small, and now we're building out the manufacturing [process] so that we can [implement our technology] in the real built environment," Swartwout said.
Bhakta also shared his positive experiences in the East Asian market thus far. "The East Asian environment has been very welcoming, the most educated, and probably the most accepting and interested in our technology moving forward. We've also seen a ton of corporate interest, which has been super validating for us because we want to ensure there is a strong market pull for our technology," Bhakta said.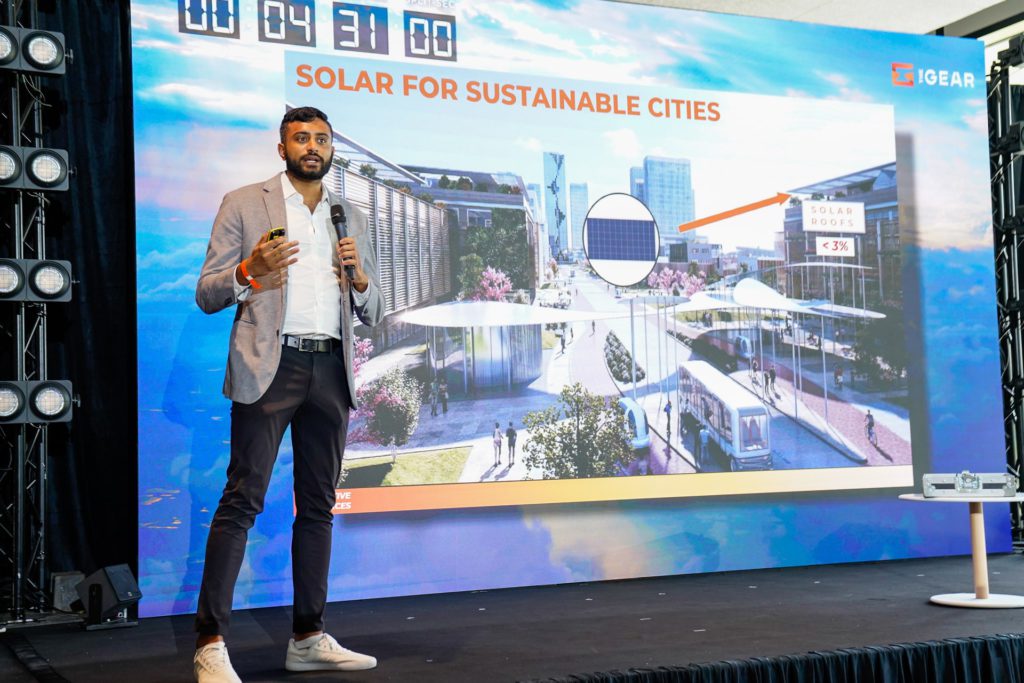 In addition to its sponsorship of the LKYGBPC Kajima Innovation Award, Kajima Development also inaugurated the Future City Festival during this year's LKYGBPC, convening thought leaders, trailblazers, and creators in the built environment ecosystem to explore ideas that have the potential to reshape industries and drive progress. This event coincided with the official launch of Kajima's first corporate accelerator programme hosted at The GEAR, Kajima's new regional headquarters, first overseas R&D center, and global innovation hub in Singapore.
The LKYGBPC, with its focus on empowering youth to foster innovative solutions for urban challenges, continues to be a beacon of support for startups worldwide. The recent competition not only showcased the potential of these startups but also underscored the significance of sustainable and impactful solutions for the cities of tomorrow.
This article was published in partnership with Kajima Development.