As Southeast Asia's economies grow, a growing number of people are setting up new businesses. In 2020, there were more than 71 million micro, small, and medium-sized enterprises in the region, based on data compiled by the Asian Development Bank. Many of these MSMEs still use labor-intensive manual processes for their day-to-day operations.
SaaS providers are changing that by building software that automates time-consuming processes, freeing up staff and business owners to focus on matters that deserve more of their attention. KrASIA spoke with Kevin Fitzgerald, Spenmo's chief revenue officer, to find out how his startup is staking its corner in the cloud accounting space.
The following interview was edited for brevity and clarity.
KrASIA (Kr): What's the story behind your move from Xero, a major firm, to Spenmo, a rising startup?
Kevin Fitzgerald (KF): I've been working for 21 years now. I started as an accountant, worked in audit, and worked for hedge funds. Then, I moved to Australia, where I recruited accountants for investment firms, accounting firms, and banks. After that, I joined Xero to sell accounting technology and build a business. I've come to Spenmo to help digitize accounts payable processes, which is part of the accounting remit. This workflow is second nature for me.
Staying still in a business has never been something I felt would keep me happy and energized, but I stayed at Xero for seven years, so the question became "what can I keep learning?" I just want to keep challenging myself.
Kr: What were your responsibilities at Xero?
KF: My time at Xero was divided into two parts. I helped scale its operations in Australia from 200,000 customers to 700,000 over two years. A big part of the job was helping the team understand how they could make customers happy, and developing the team so they could cope with growth and change.
I then worked on Xero's operations in Asia. When I started doing this in 2017, the company had around 10,000 subscribers, and now it has well over 100,000, which is something that I'm very proud of. This started as a situation where we just wanted to see what was possible, build out a business, and ultimately, this region had the fastest revenue growth for Xero globally.
Kr: What made you decide to take the plunge and leave Xero for Spenmo?
KF: I was approaching my four-year anniversary, and I started to think about where Xero was going. Was it expansion to new countries beyond Singapore? We didn't have payroll embedded in Xero in the region but we did have that feature in Australia, the UK, and New Zealand. I was trying to figure out what might get me excited.
I like building things and I started to wonder if I could do it again. During mid-2021, I started to wonder what's next and mapped out the options. There are some amazing businesses being built in Singapore, Malaysia, and Indonesia. I had met Mohandass [Kalaichelvan], the CEO of Spenmo, a few years ago because I was curious about why they wanted to integrate with Xero and what their workflow was. I saw in him a constant spark of positivity and determination. I understood what he was trying to do and the company's vision, and got to talk with the rest of Spenmo's leadership team. They were getting ready to hire their first chief revenue officer (CRO), and we made it happen.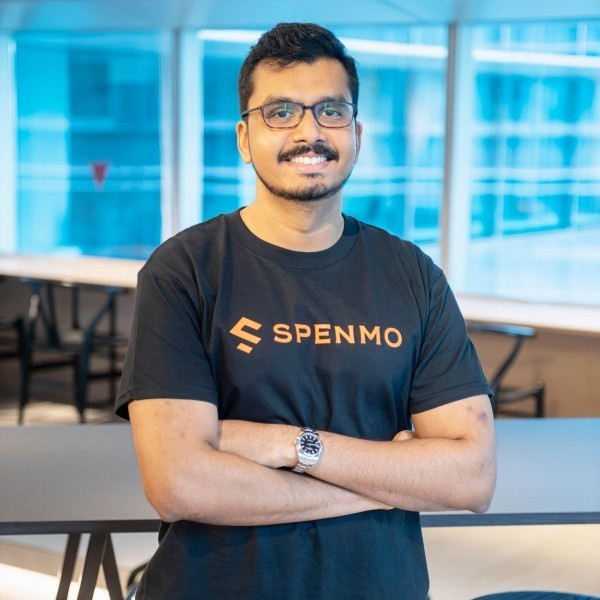 Kr: What were the characteristics in Spenmo's product that got you excited?
KF: The workflow of accounts payable is so critical because it brings you to a point where money is leaving the business. With Xero, a lot of it is measuring and analyzing what's happening in the business, and I felt like I didn't know enough about payables, including the financial services, infrastructure, and how it's done—I felt like I knew this at a superficial level.
Moving to Spenmo gave me a much deeper understanding of how it all works together. Through my discussions with Mohandass, I could see that Spenmo was targeting really slick payables. It's less about the moment in time when someone makes the payment, and a lot more about how to get there—the journey from the creation of the invoice to all the approvals and everything like that. That was exciting for me because it's an untouched market; literally no one else was working on this.
We are bringing enterprise-grade software that typically costs hundreds of thousands of dollars to SMEs at a good price.
Kr: What were some of the first things you did after joining Spenmo as CRO?
KF: I had the chance to explain the workflow from my perspective—what bookkeepers do, what accounting firms do, and what they all want. Mohandass had done so much research by spending a year speaking to SMEs, and he was fascinated that there were so many levels of approvals needed for an invoice for USD 1,000 or even USD 100. Oftentimes, bosses want to be in control of every dollar. There are many manual processes, and they are often messy. Some people do it on WhatsApp, some on Slack or email.
No one had really built the tool that solves the problem of an accounts payable person, bookkeeper, or junior accountant. I think you could say that no one had cared about it or understood it.
Kr: What are the opportunities for Spenmo in Southeast Asia?
KF: We see the potential opportunity as borderless. We're not trying to solve a problem country by country. The workflow for an accounts payable person in Singapore, Malaysia, the Philippines, Japan, or South Korea is the same. It involves receiving paperwork, getting approval from the right people, then accounting software is involved, then there's the payment. Generally, it's one or two people in a business who do that, or an SME might outsource it to an accounting firm.
The challenge is explaining to people that there is now software that can do this. We need to educate the market to create a category. When I first came to Singapore, people weren't familiar with cloud accounting. But I think if you ask most SMEs now, they would know what Xero is and how to use it. For Spenmo, we'll have to spend a lot of time on awareness campaigns, education, demos, and even bigger events.
Kr: What are some of the challenges that come with this massive opportunity?
KF: In Southeast Asia, you can drive 30 kilometers and you might be in another country. The culture, expectations, and distribution channels are all different, and software is sold in different ways in different places. Many people come in and think they can "build something for Asia," but that's the quickest way to failure.
We'll have to make good choices about which markets we go to. We'll look at things like the quality of the banking infrastructure; availability of APIs with bank's payments, rails, and networks; and the level of current digitization in SMEs.
We know from experience that if a company already uses accounting software, then they're more likely to adopt Spenmo.
Kr: How do you see the competitive landscape for Spenmo in Southeast Asia?
KF: We see ourselves as a bridge between banks and accounting software. Accounting software adoption has been scaling quickly across the region, which means there is a leader in each country. I'd say it's Xero in Singapore. In Indonesia, I'd say it's Mekari Jurnal. In Thailand, it's FlowAccount. We have to build relationships with those businesses and build APIs, and then do the same with banks as well to execute payments.
In terms of the competitive landscape, there are a couple of players in our space. They might have started out with different prerogatives, like trying to be a neobank first and then pivoting. Like anything that's new, everyone is still small, which means the opportunity is still large.
Kr: Does Spenmo have to keep up with new developments in fintech, such as "buy now, pay later" and open finance?
KF: We have to explain how we differentiate ourselves from those developments. What we focus on is solving the workflow problem.
A lot of products are trying to vie for the attention of SMEs, which means they have many choices. But that also means there is rarely stickiness with the customer because they are shopping for the best rates for making payments.
Spenmo starts there and works backwards. We see ourselves as a workflow solution that ensures the best payables experience, not the cheapest payables option out there.
Kr: Can you provide some examples of how Spenmo makes visible improvements in the payables process?
KF: We record all our sales calls, and I try to watch at least one a day. The number of people who want solutions for employee reimbursement is incredible. It's such a pain point—and for such an immaterial amount of money that's leaving the business. It's petty cash. But if you look at the number of people who need reimbursement from a Grab receipt or a bill for lunch with a client, it's usually three people. That means it's a manual process to approve USD 40 for three staff members. There's a lot of human capital that goes into such a small transaction.
Spenmo can take care of that. Take a photo of the receipt using your phone, upload it to Spenmo, ask the manager to approve, and it's done. It can be paid immediately. The employee doesn't have to wait until the end of the month. The common practice of being reimbursed alongside payroll is not a good deal for the employee.
Another example is the smart card. Many small businesses have one corporate credit card, and the boss holds it, so people need to ask for it when they need a credit card to pay for expenses. Spenmo lets businesses create a virtual card—or a physical card if the customer needs one—and allocate it to an employee with a defined credit limit. For example, if you have a budget of USD 200 a month for client entertainment, then once you hit that limit, you can't use it anymore. But you can also ping your manager to ask for a higher credit limit.
Another feature that classic credit cards can't do is our merchant lock function. If you have a marketing team that is spending money on ads on Facebook or Google, then they can have a card that only works for spending with these vendors.
These virtual cards provide peace of mind to bosses of SMEs or senior accountants. While their staff are spending money on their behalf, they still have total control over it—and more control than they had before. Based on our records, 95% of the people who hear about these features during our sales calls are wowed by them.
Kr: Spenmo's Series A investment is all wrapped up. What are the company's plans for the next few months?
KF: A big part of that funding will go toward product and engineering. We want to build a world-class user experience and delight people. There's still plenty of work to do—we're only two and a half years old.
We might need different features in our product for certain countries. For example, some countries need more levels of approval—we've seen some SMEs ask for seven levels.
We need to build a brand, and more importantly, cultivate trust in the brand because people will be moving money through our platform. We need to work on what our brand stands for. We have several long-term goals but want to focus on executing and making sure we deliver what our customers need.