This article was originally published on Oasis.
Anoop Sagoo joined Accenture right after graduating from university 27 years ago. At the time, the firm was still a consulting unit under accounting firm Arthur Andersen.
In 2011, Sagoo took the opportunity and moved to Singapore to amplify Accenture's reputation in Asia. "Ten years on, it's the best decision our family ever made," he told Oasis. "Speaking for myself, coming to Asia is almost like having a new job. A different set of people, a change of environment within the company," he said.
Today, Sagoo is the COO for Accenture's operations in emerging markets. He oversees a diverse set of operations in 18 countries, including Latin America, Asia, the Middle East, and Africa. Recently, Sagoo shared his journey in Asia and key takeaways from coaching youth rugby every Sunday morning.
This interview has been edited and consolidated for clarity and brevity.

Oasis (OS):  You've been with Accenture for more than two decades. What's your motivation for staying on with them?
Anoop Sagoo (AS): First, if you're working in a large MNC, the idea is to get a diverse experience from it. I've had the opportunity to try many different things in my 27 years with Accenture.
Secondly, Accenture places a strong emphasis on effective teamwork. We have an outstanding team here in Singapore; the members are all personal friends of mine, and there's a tremendous amount of personal trust between us. I like working here because I enjoy working with them.
Lastly, I believe we're in a time when technology will transform the way the world works. And I think it's an incredibly exciting time for anyone in and around the technology sector. A part of that transformation is to help people extract the power of that technology and apply it to their businesses. That's what Accenture does, and I'm glad to be here for it.
OS: How was it like to be one of the first people to establish Accenture's foothold in Asia?
AS: When I came to Southeast Asia in 2011, we started by building our reputation, knowledge, and understanding of the Asian markets for the first two years. One of the challenges we had, in the beginning, was an inadequate connection to local communities.
I took an approach here by being "glocal." It means local first, then globally relevant, not the other way around. To that end, I spent most of my time getting the teams on the ground to learn about the various aspects of the services we could provide to the regional clients. I've also learned how to deal with family-owned businesses here, which we encounter more often in this region than others.
OS: Local talents are usually hired by MNCs to undertake the task of bridging the gap between local and global markets. As a foreigner, how did you come to assume this role at Accenture?
AS: This is a good observation, and I think the individual's character ultimately informs their suitability for the job. I love to build things, and I consider myself good at creating something out of nothing. My strong commercial acumen and business knowledge, combined with a wealth of experience working in almost every region in the world during my lengthy service at Accenture, have given me credibility and a reputation inside the company. So if you take my skill set and compare them with the requirements of my present position, you would find a solid alignment between both lists.
Additionally, I've learned to become a good mentor by coaching rugby.
OS: Tell us more about your love of coaching rugby.
AS: I'm quite an outdoorsy person. When I moved to Singapore in 2012, I wanted to have a solid anchor to spend more time with my children, so I started volunteering as a rugby coach at Tanglin Rugby Club, coaching boys and girls. Ever since my son stopped playing a few years ago, I have focused my attention on girls' touch rugby, and I'm now a coach for the U14 age group.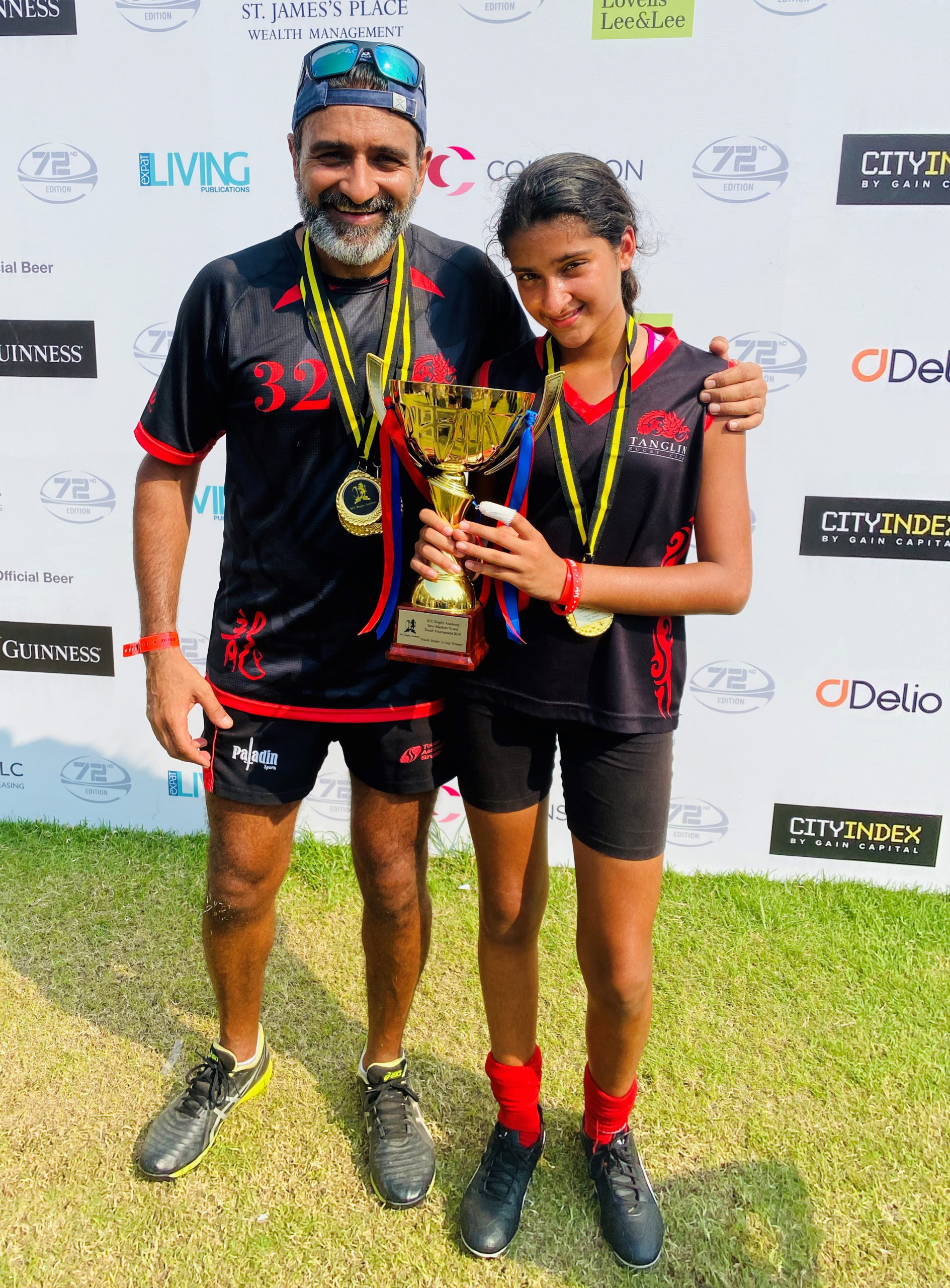 OS: How has coaching girls' rugby benefitted you aside from getting to spend quality time with your daughter? 
AS: Coaching has been an enriching experience as it has taught me many life lessons and allowed me to watch the kids—some of whom I have coached for many years—grow and mature.
It's also an incredible stress reliever. On most Sunday mornings, I'm out on the rugby pitch. No matter how much stress I might have had that week, it is forgotten as soon as I get out onto the muddy pitch and start running around with a bunch of children.
Being a coach has also taught me patience. When you have a bunch of six-year-olds, even getting them to run in a straight line together is a miracle, let alone letting them handle a ball or perform other moves. Then you get to the eight- or nine-year-olds, and the next challenge to deal with is teaching them about physical contact and how to do it safely, especially with the boys.
OS: Is there a correlation between coaching rugby and leading teams in the corporate workplace?
AS: Teaching children, particularly young children, requires a level of simplicity in explanations. That gives you a teaching skill: breaking things down into straightforward, teachable steps. It is also a technique I use daily at work.
Coaching rugby has also helped me to become even more adaptable. Just like how nobody is equally good at sports, you have to understand the differences among people and utilize them accordingly. The coaching experience has taught me to communicate more effectively and be more in tune with the needs of those around me.
---
Oasis, the brainchild of KrASIA, aims to provide a haven for human-centered stories on Asia's leaders. Click here to read similar stories.