Founded by Singaporean billionaire R. K. Kishin, virtual F&B brand TiffinLabs is expanding to 1,000 cloud kitchens worldwide. The kitchens can serve over 15 million households in its delivery zones.
TiffinLab's four co-founders—R. K. Kishin, Shaun Smithson, Sam Ahmed, and Phuminant Tantiprasongchai (Nant)—all left their leading positions in the hospitality, retail, and F&B industries to create the virtual brand in 2019.
Kishin is the founder and CEO of the real estate company RB Capital, and has a current net worth of S$2.6 billion, according to Forbes.
Shaun was the Head of Shared Kitchens APAC for Foodpanda, Sam led marketing and e-commerce in Starbucks and Kraft, while Nant was the head of strategy for Grab Thailand.
"All four of us were passionate about food, and we saw an opportunity (in the F&B space)," says Nant.
Michelin-starred cuisine
Nant describes TiffinLabs as an end-to-end food tech company built for food delivery.
Unlike traditional brick-and-mortar restaurants, TiffinLabs doesn't have a physical storefront. Instead, the brand manages a chain of virtual restaurants which exist as commercial kitchens.
Working together with Michelin-starred chefs like Milind Sovani, TiffinLabs delivers "high-quality home-dining experiences at scale."
By adopting underutilized commercial kitchens instead of expensive brick-and-mortar stores, TiffinLabs adapts to consumer trends to produce authentic food at scale.
This includes everything from funky modern Chinese concept ("Madam Wong's"), gourmet Southern fried chicken ("Southern Soul"), Korean fried chicken ("Huraideu"), and a Fries concept ("PotatoLab") listed on TiffinLab's website.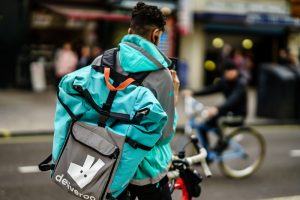 Cloud kitchens avoid the worst of COVID-19
"TiffinLabs was born out of our love affair with food and a shared vision to create the perfect home dining experience of the future," says Nant.
TiffinLabs plans to roll out its global expansion in the fourth quarter of 2020.
The foodtech company has acquired over 1,000 under-utilized commercial kitchens that are waiting to be activated in Asia Pacific, Europe, and America.
Each "smart" kitchen is equipped with a proprietary operation system operated by three to four staff.
One kitchen can serve eight virtual restaurants from a 16 square metre kitchen—that's about the size of the modest meeting room Nant and I were sitting in at RB Capital.
TiffinLabs decides the optimal brands, cuisines, and menus for each target market by utilizing data analytics, machine learning, and artificial intelligence.
The brand then partners with distributors to deliver food to consumers. While this may mean working with Grab, Foodpanda or Deliveroo in Singapore, it may be Uber, DoorDash, or Gojek in other markets.
Unlike brick-and-mortar restaurants, TiffinLabs optimizes its business end-to-end for delivery. Retail, rental, and labor costs are lethal for local F&B establishments which lack footfall under COVID-19 conditions.
42% of restaurants surveyed by Chope offered delivery for the first time during the circuit breaker. However, F&B sales still fell by 53% in April.

It's difficult to pivot from a traditional F&B model to a delivery-only model, Nant explains.
"Traditional restaurants can't switch from a Mexican to a Chinese concept, but TiffinLabs has the flexibility and speed to adapt to changing trends," Nant explains.
"As long as food safety, quality, consistency and value are assured, consumers will be satisfied."
The cloud kitchen trend is gaining steam
The founders of TiffinLabs are capitalizing on a billion-dollar opportunity. The cloud kitchen market size is expected to reach USD 1 trillion by 2030 according to a report by Euromonitor.
"Virtual F&B brands already existed before 2020 but the COVID-19 crisis accelerated the digitization of F&B."
TiffinLabs had planned to expand to 1,000 new locations prior to COVID-19.
"This pandemic, while unfortunate, has also accelerated and cemented changes in consumer-behaviour when it comes to food delivery globally," says Nant.
52% of global consumers are comfortable ordering from a delivery only restaurant with no brick-and-mortar presence, Nant explained, referring to a Euromonitor statistic.
"It's not just millennials ordering online. Baby boomers and Gen X are calling in too."
Nant cites a Boston Consultant Group study that stated more than two-thirds of new customers are in their 40s and 50s.
"Brick-and-mortar restaurants will remain. But what we're doing is expanding the consumers ability to choose what, when and how they eat"
Bringing a new cloud kitchen model to the table
TiffinLabs isn't like other cloud kitchens. Unlike "virtual landlords" like CloudKitchens or Kitchen United, TiffinLabs focuses on food.
Most cloud kitchens buy or lease a commercial kitchen and sublets it to restaurant operators. TiffinLabs uses a data to analyze what people are eating in each delivery zone, and creates cuisine to fill the market gap.
This is why Nant doesn't see delivery and rental-based cloud kitchens like Foodpanda or Deliveroo as its competitors.
However, the cloud kitchen space remains highly competitive. TiffinLabs will be racing to capture market share as new players such as Cookhouse in Malaysia and Central Restaurants Group in Thailand enter the fray.
According to a press release, TiffinLab's first smart kitchens will be operational in American cities San Francisco, Chicago, Los Angeles, Houston, and Austin starting in Q4 2020.
"Over the past few months, we've seen successes with some of our brands and are considering immersive popups to showcase the long-term potential of this new experience," Nant shares.
While Nant declined to comment on the details of TiffinLab's ambitious global expansions, he shares that the brand will be opening a research and development facility in Singapore soon.
"It's super exciting to be participating in a frontier industry."
Cloud kitchen: the next age of F&B?
It's too early to tell whether the cloud kitchen concept will catch on, but TiffinLabs has hedged their bets. They may be on the winning side of F&B history.
Malls are becoming vacant as retail owners pull out. F&B owners are exploring alternatives and many are flocking to delivery in droves.
Market research firm dataSpring reported that the online food delivery market in Asia accelerated by 10 years due to the COVID-19 pandemic.
The winds are definitely blowing in cloud kitchens' favour. High retail costs, and the demand for food delivery are slowly, but surely, moving even food online.
Featured Image Credit: TiffinLabs via Vulcan Post.
This article was originally published by Vulcan Post.