Clicking into Vintagewknd's online clothing store is like transporting oneself back to the late 1990s or early 2000s. Their collections feature outfits inspired by pop culture classics like Archie Comics, Barbie, even Winnie the Pooh.
The nostalgic trends of yesteryear are curated with the savvy eye of a contemporary fashionista—think Emily in Paris-inspired looks and cottagecore outfits. From custom-made corsets to flouncy floral-print skirts, Vintagewknd is determined to make vintage accessible to everyone.
"While other brands cater almost exclusively to niche audience interests—such as hypewear, the 70s-80s classic vintage styles—we've always been focused on making our clothing a sustainable mass-market alternative to fast fashion," says Eileen Tan, Vintagewknd's co-founder. "We wanted to create an appreciation for vintage styles in modern fashion."

Eileen and her co-founder and partner Eden Tay were just 23 when they first launched Vintagewknd as a side hustle in 2015. The brand started with a seed investment of just SGD 2,000 (USD 1,484). "At that point of time I had just graduated from university and Eden was just starting on his degree," recounted Eileen. "Starting out, Eden and I worked on Vintagewknd as a side gig, sort of a small passion project on Carousell. We did everything on our own."
Between 2016 to 2018, the duo held full-time jobs. Aside from running Vintagewknd part-time, Eileen was working full-time at an oil and gas firm and Eden was completing his university degree. In December 2018, the two of them made the leap and launched Vintagewknd as a full-time project.
To date, Vintagewknd has re-homed over 36,000 vintage and reworked items. A social media-based brand, the e-store has 28,000 followers on Instagram, with over 30,000 webstore visits per month. "It was quite a natural process for us to think of themed collections," Eileen explains. "Since we're all 90s/00s kids in the team, we're definitely not short on ideas and pop-culture references."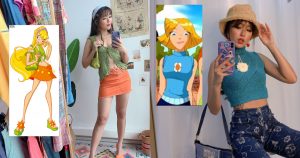 Vintagewknd is a treasure trove of pieces inspired by era-defining kids' shows. Kim Possible has a dedicated section of knits, polos and sweatpants built around the crime-fighting teenager's aesthetics. Fairy-obsessed adults can find reprieve amidst the brand's crop tops, short skirts and color-blocked jeans so often seen on the popular animation, Winx Club.
"Those referencing childhood tv shows/cartoons really resonate with our audience. It's also fun for us to revisit our childhood or teenage obsessions!"
Right now, anything popular on Tiktok and Instagram are creating the defining trends of 2020, says Eileen. Social media drives trends "hard and fast," and new trends come up every week. 1990s and Y2K street styles, along with vintage revivals via the cottagecore aesthetic, have been trending for a while. Think scarves as tops, bell-bottomed jeans, and peasant-style blouses.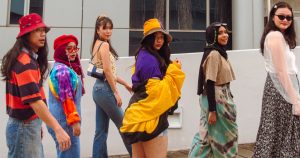 "Social media is by far the most effective way of reaching as many people as possible on a daily basis," says Eileen. "It also allows our customers to form communities that revolve around our brand, via a Telegram community group or IG lives."
Despite the fast-fashion aesthetic of Vintagewknd, the brand has remained remarkably loyal to its mission of accessible sustainable fashion. Eden and Eileen travel a "couple times a year" to source for items and liaise with overseas contacts. That includes building a network of individuals to process and pre-sort vintage items directly from fabric and garment waste collection factories, largely from Japan, US, Hong Kong and Europe.
The barrier for entry for vintage wear is low, says Eileen. "We're aware of the many small stores that do thrift flips and sell on social media, and some do quite well too!" Thrifted brands have become all the rage as a rising generation of eco-conscious shoppers turn to second-hand clothes instead of fast-fashion brands to get their style fix.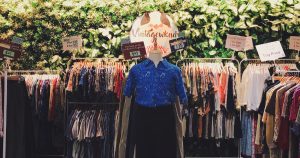 Proliferating across Telegram channels, Instagram dashboards, and even Pinterest boards, local vintage stores have been known to source and sell clothing that can cost as low as SGD 2 (USD 1.48) to over SGD 600 (USD 445) a piece. Branded, limited-edition items from brands like adidas, Nike and other pop-culture brands have circulated the Internet, pulling in consumers whose niche tastes are rapidly becoming part of the mainstream.
"Success to us before is vastly different to what success means to us now," Eileen says. "I would say the climb gets harder as we continue to scale up and refine our processes."
Vintagewknd, a predominantly online store, shares relationships with their customers that are entirely virtual. "Our brand tone is casual and we believe in creating community," she says. "We also focus more on creating content that also allows the customer to experience our items virtually."
Despite the virtual focus, Vintagewknd has made its rounds in the physical space. The brand has participated in ARTBOX, Geylang Bazaar, mall events, and monthly in-house sales with the next event due this November. Vintagewknd may also launch a "travelling" store in the future, popping up at events and malls around the island.
However, its founders remain "unconvinced" of the viability of a physical permanent store. "But we're definitely not ruling it out," says Eileen. "We definitely think the thrift and vintage fashion industry will grow. We would like to be a gateway for consumers to enjoy current fashion without causing harm to the environment."
This article was originally published by Vulcan Post.