Imagine this: you are an entrepreneur leading a small garment store or boutique. For your next production order, you can simply access an online portal, input the design elements of your new collection, along with the colors, sizes, and quantities, and have personalized items like coats and jackets delivered to you in just ten days. This is what Alibaba offers to merchants with its new smart production manufacturing platform Xunxi, or Rhino.
The e-commerce juggernaut opened its first Xunxi factory as early as 2017 to test its capabilities in new manufacturing, a concept included in Jack Ma's "Five New" strategy, presented in 2016. However, Xunxi was only unveiled officially in September 2020 after three years of trial runs.
Rhino Smart Manufacturing's factory is a fully digitized facility leveraging intelligent manufacturing and automation. Raw materials are all coded and assigned with a unique ID, along with a QR code. Cutting, sewing, and printing machines are all connected to Xunxi's digital systems, on which the entire production process is planned, managed, and tracked.
For example, a fabric-cutting machine can determine how to fully utilize an entire sheet of cloth, enabled by the system's artificial intelligence. Automated guided vehicles, pick-and-place robotic arms, and conveyor belts are used to transport materials to workers around the plant.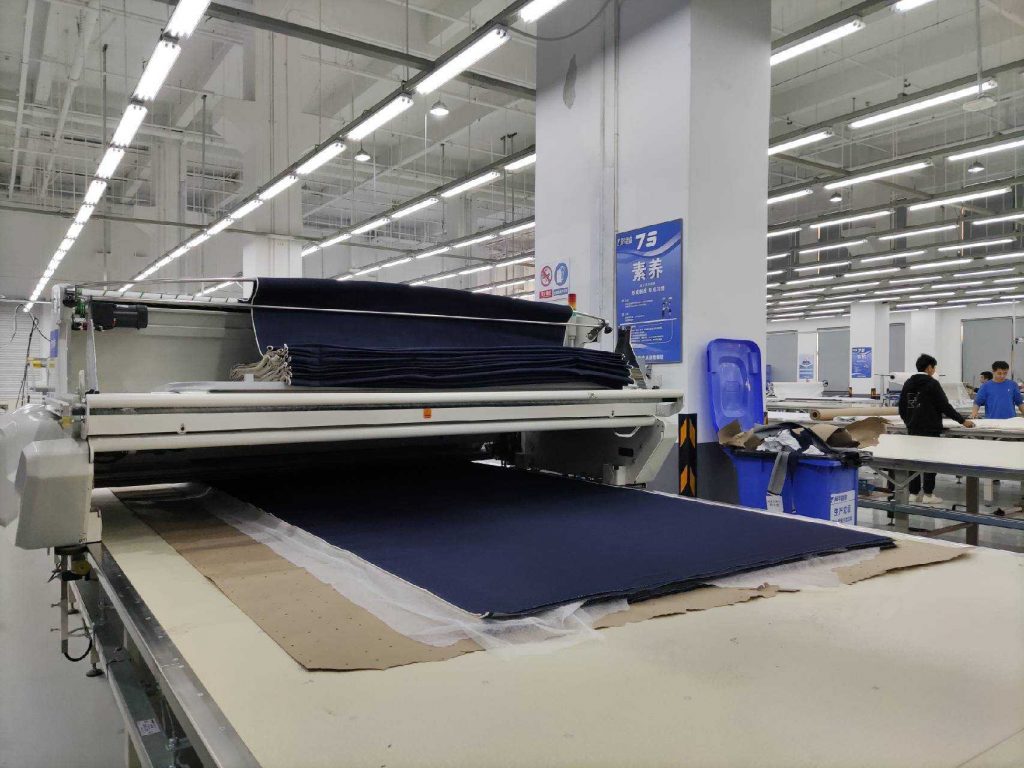 Targeting the fast-paced clothing industry
Xunxi has served about 200 merchants in China's clothing sector so far, and plans to work with over 10,000 retailers all over the world, said Gao Xiang, chief technology officer of Xunxi. However, he did not offer a specific timeline for this goal.
According to Gao, China's apparel market is currently worth RMB 3 trillion (USD 457.5 billion), but clothing's short product life cycle leads to hundreds of billions in sunk costs due to unsold inventory. He explained that data-driven, on-demand manufacturing can reduce waste in the garment industry, adding that one out of every four pieces of clothing bought in China is purchased from Alibaba's platforms, such as Taobao and Tmall. This means the company has sufficient data to predict sales trends and guide production.
While Alibaba's marketplaces cover business-to-business (B2B), business-to-customer (B2C), and customer-to-customer (C2C) channels, some might question whether Xunxi might give Alibaba the capability of developing its own clothing brand and put the firm in direct competition with its garment clients.

However, Xunxi's CEO Alain Wu explained that Alibaba will not develop Xunxi as a B2C brand. "We just want to build Xunxi as a smart supply chain provider for small and medium-sized companies, which allows them to decide how much to produce based on market demands," he explained to KrASIA during a visit to the factory.
Xunxi has already opened two plants in Hangzhou and another in Suzhou, Anhui province, with different digital systems. The first Hangzhou plant was set up with the aim to develop a digital system to optimize production processes for different types of apparel, such as jeans and coats, while the second facility streamlines logistics operations between different factories in the city. The plant in Suzhou is testing a controlling system for production involving raw materials located in different provinces.
"We cannot empower a complicated traditional sector, with a history of over 100 years, without actually being in it," Wu said.
Giving small merchants access to fast-fashion speed
Alibaba has reduced the need for apparel merchants to hold inventory by 30%, shortened the delivery time by 75%, and even cut water consumption by 50%, according to the World Economic Forum, which recognized Xunxi as a "lighthouse" factory, or a globally advanced production facility that may redefine the standards for apparel manufacturing.
The plant allows merchants to order as few as 100 pieces of one item, while it is able to fulfill production orders in seven days and deliver finalized products within an additional three days —that's a mere ten-day lead time from when a merchant confirms their order.
In comparison, existing clothing manufacturers ask for a minimum of 5,000 units on average and sometimes take months to fulfill an order.

Xunxi's speed puts the smart retailing arm in line with fast fashion companies such as Japanese casual wear retailer Uniqlo, which compressed its design-to-deliver supply chain down to just 13 days by 2017, and Spanish company Zara, which has managed to produce and ship garments within three weeks. 
However, the business model of Uniqlo is different from Xunxi's, according to Wu, who served the Japanese company for 16 years in senior positions. Uniqlo produces a large number of standardized products, while Xunxi serves retailers on Taobao, Tmall, and cross-border e-commerce platform Kaola to produce a wide variety of personalized goods, he explained.
Wu added that production efficiency at a large scale is normally high, while at a small scale it is generally low, which is why Xunxi has a comparative advantage. "Xunxi has actually beaten our expectations in terms of efficiency improvement for small-batch production," he said.
While Alibaba's smart manufacturing division currently focuses on the garment industry due to its large addressable market, Wu revealed that the model could be expanded to include items such as footwear, bags, and suitcases, addressing a market with a current combined value of RMB 2–3 trillion (USD 304–457.5 billion).