On September 28, NUS Enterprise celebrated the 10th anniversary of the Philip Yeo Initiative (PYI), an endeavor aimed at nurturing the next generation of leaders dedicated to making a positive impact on society. Over the past decade, the PYI has supported 37 fellows and associates whose accomplishments reflect the initiative's commitment to fostering positive change. The occasion also coincided with the announcement of a new program set to launch in 2024, the Discoverer Programme, which aims to cultivate future leaders with a passion for creating societal impact.
Established in 2013, the PYI is a grassroots movement inspired by the leadership and mentoring style of Philip Yeo. Its primary mission is to empower and inspire passionate individuals to address critical societal issues. The initiative comprises two programs:
The Philip Yeo Innovation Fellows Programme: This program provides individuals with their own innovative projects or ideas with financial support, mentorship from Philip Yeo and his proteges, and access to networking opportunities with industry leaders.
The Philip Yeo Grant: This grant was introduced to support students participating in the NUS Overseas Colleges program. It is designed to help defray the living expenses of these students and offer them the ability to gain entrepreneurial experiences across over 20 global hotspots.
PYI associates start their journey with up to SGD 20,000 (USD 14,500) in funding, along with mentorship and networking support. After a year, they can apply to become PYI fellows, receiving additional funding of up to SGD 20,000 (USD 14,500), mentorship, and networking support.
Individuals making a difference
A total of 37 individuals have received support from the Philip Yeo Innovation Fellows Programme and over 150 students have benefited from the Philip Yeo Grant, exemplifying the initiative's ethos. Amongst these individuals include:
Vishnu Saran, who founded Invigilo Technologies in 2020, a company that develops artificial intelligence-based video analytics solutions to enhance workplace safety. Invigilo's technology has been incorporated into the tender specifications for construction projects in Singapore, helping developers and organizations understand the importance of workplace safety.
Suzanna Tang, who co-founded Urban Origins in 2021 to promote food sustainability. Initially focused on connecting consumers with local farmers and producers, the company has since pivoted to a B2B model, driving sustainability and wellness within corporations.
Samantha Thian, who founded Seastainable in 2017 with the goal of reducing single-use plastics consumption in Singapore. Under Thian's charge, the initiative evolved into a social and environment consultancy, raising funds to support marine conservation projects in the ASEAN region.
The impact created by PYI associates and fellows extends beyond their individual projects, raising awareness and addressing critical social issues, from workplace safety to food sustainability, environmental conservation, and beyond.
Chen Tsuhan, deputy president for innovation and enterprise at the National University of Singapore, expressed his pride in the achievements of PYI fellows and associates, acknowledging the initiative's role in empowering changemakers.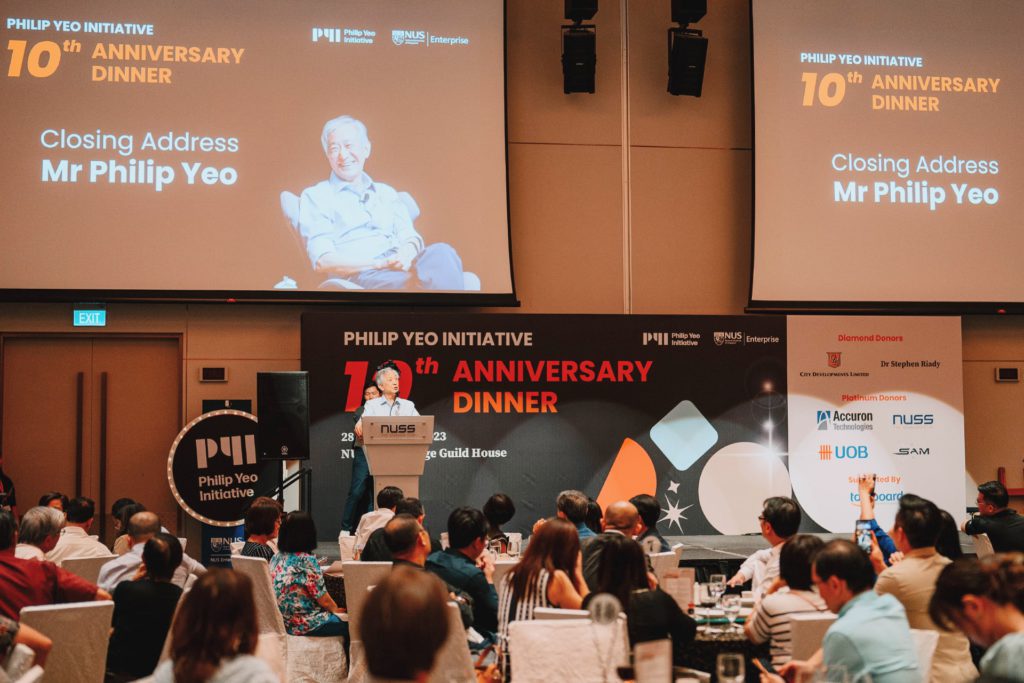 The Discoverer Programme
In 2024, PYI will introduce the Discoverer Programme, aimed at nurturing future leaders committed to creating positive societal impact. This program will provide students with hands-on experience at enterprises focused on addressing urgent and critical global issues. Undergraduate and postgraduate students from various institutes of higher learning (IHLs) in Singapore will have the opportunity to work closely with non-governmental organizations and impact-driven enterprises.
The Discoverer Programme represents a natural expansion of the PYI, designed to empower future changemakers with the guidance and mentorship they need to address global challenges.