Increasingly, Southeast Asia is attracting eyeballs: home to over 600 million people, eight unicorns, and 66 exits with an additional 121 forecasted to happen this year, it is poised to become one of the most important tech startup ecosystems in the world. And investors, entrepreneurs and community leaders, are bullish on this market, which has changed drastically over the past few years.
In an effort to record and report to the ecosystem stakeholders of the status quo and future trends of the region, Monk's Hill Ventures, joined hands with tech conference Slush Singapore, co-published a 'State of Southeast Asian Tech Report 2018' on Monday.
In this report, they collected responses from more than 100 interviewees, all players in the region's tech startup ecosystem, and followed market data to better understand present circumstances and what will happen in the future. The full report is available here.
Capital flow
Most of the deals are flowing into only a few markets. In that aspect, Singapore still holds the crown with US$8.4 billion for 888 deals made between 2013 and 2018. That includes US$2 billion in one fundraising round with Singapore-headquartered O2O company Grab securing the investment from its Chinese counterpart Didi Chuxing and Softbank. Jakarta, on the other hand, saw 228 deals cut for US$1.6 billion during the same period.
Sector-wise, investors are still betting big on e-commerce and logistics across the region, with around 75% of all funding raised last year going toward those two areas. One example is the Indonesian e-commerce leader Tokopedia, which secured US$1.1 billion in investment from Chinese giant Alibaba.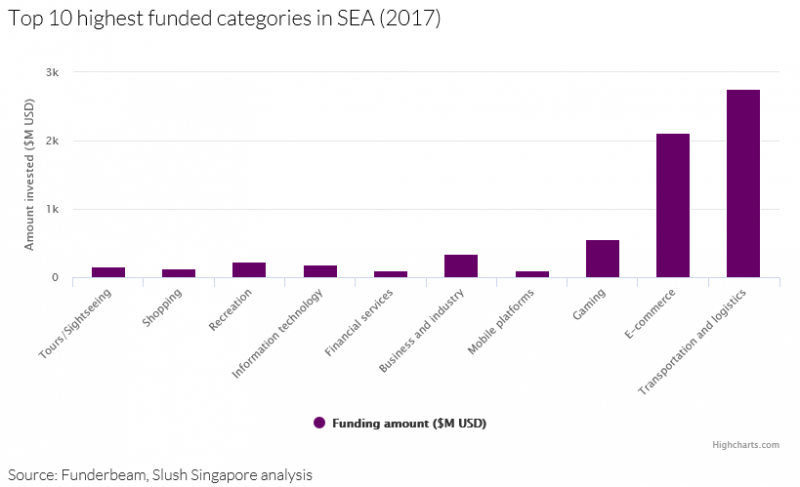 Talent
Entrepreneurs in Southeast Asia are finding it challenging to hire software engineers, followed by those with data science and product management skillsets, according to the report. Since the tech industry is still one that is relatively nascent, both globally and regionally, it will certainly take time before demand matches supply.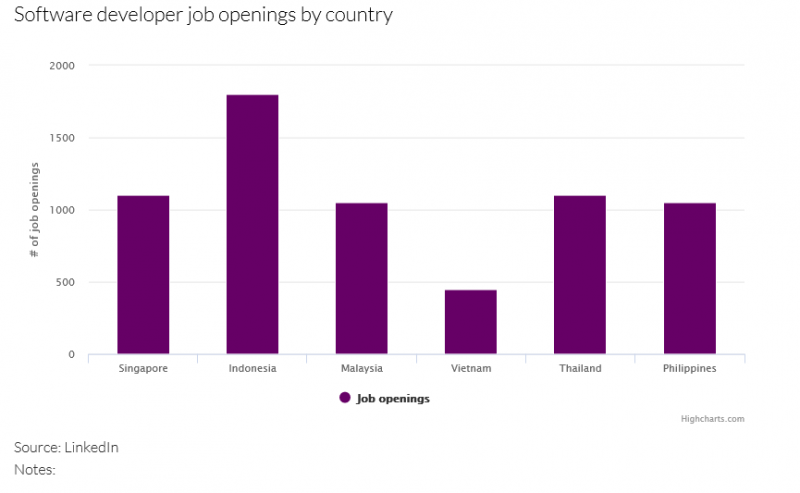 The report added that while Indonesia has seen the highest demand for coders through job listings, software engineers might be most attracted to Singapore, given higher remuneration and a wider base for those looking to work for a multinational firm, instead of a startup. Most American tech giants, from Facebook to Google to Netflix, have an office in Singapore.
Singaporean companies might also be casting their nets overseas to markets like Indonesia or Vietnam, where the pay for an average front-end programmer is three times less than a local hire.
Sea Turtles
The report stated that people believe entrepreneurs from Southeast Asia who were born or raised here but studied abroad, including in more developed or matured startup hubs, will have a key role to play in the startup ecosystem locally or regionally. These 'returnees' were dubbed 'sea turtles' in the study.
More than 80% of respondents see returnees with international experience having an edge over those who have not studied or worked abroad. Benefits can come in the form of global business connections or the exposure to different schools of thought.
Umar Munshi, Co-founder of Ethis Ventures and Ethis Crowd, was quoted in the report stating going overseas can help founders with building networks and learning about how things work elsewhere, but it is not mandatory; successful tech founders in Southeast Asia do not necessarily need to be sea turtles in order to achieve their goals. "I believe that local-bred founders will catch up and co-lead tech in Southeast Asia," he said.
The future for Southeast Asia
The report predicts that crypto will continue to grow in Southeast Asia, with Singapore taking the lead on ICOs and where deals will be cut. However, various governments may start to roll out regulations to ensure safety in the midst of fraud and scams. Venture capital firms in Singapore are also starting to look at crypto as a space to focus on; active investor Golden Gate Ventures, for instance, announced the launch of its US$10 million crypto-focused fund this year.
The region has also seen an increase in attention from Chinese giants like Alibaba, Tencent and JD, making it a proxy battleground for these firms that might be finding China too crowded a market to continue competing in.
Editor: Ben Jiang