Last week, Ant Financial-backed Paytm opened India's largest-ever IPO of USD 2.47 billion (INR 183 billion). The Noida-based company saw a slow start to the share bidding. Its issue was booked a mere 18% on day one before slowly rising to 48% on day two—despite anchor investors subscribing 10x in the anchor round that helped Paytm raise almost half of its IPO target. However, demand from investors picked up eventually. By the end of the three-day IPO that concluded on November 10, Paytm had received bids for a total of 91.4 million shares against the 48.3 million shares available.
Overall the IPO was oversubscribed 1.89 times, with the quota reserved for retail investors and qualified institutional buyers being booked 1.66x and 2.79x, respectively. Although non-institutional buyers (individual investors, NRIs, companies, trusts, etc., who bid for more than INR 200,000) didn't show much enthusiasm as the portion reserved for them was subscribed only 27%.
Reacting to the muted response at the beginning from individual retail investors—who showed strong demand for Zomato and Nykaa IPOs over the last few months—the company said Paytm's large issue meant that its retail size is much larger in absolute value than that of Zomato and Nykaa's IPOs combined. "With IPOs whose size is as large as Paytm's, subscriptions cannot be viewed in the same way as recent internet IPOs," the company said a statement.
Paytm founder and CEO Vijay Shekhar Sharma incorporated Paytm in 2009 as a digital payments platform offering bill payments and mobile top-ups. Over the last decade, the company has grown into a sprawling empire comprising payment services for consumers and merchants, ticket and event bookings, games, insurance, financial and wealth management products, stock trading, and commerce.
In its red herring prospectus (RHP), the company said it derives revenue primarily from fees earned from merchants for payments, commerce and cloud, and financial services. Ahead of the fintech major's public market debut on November 18, which is expected to be the largest IPO in Indian corporate history with a USD 20 billion valuation, KrASIA looked at how Paytm has diversified its business in a bid to pave the way to profitability.
Payment services
Payments are the central pillar on which Paytm has built its business empire. The company has a full suite of payment services for both consumers and merchants, enabling them to make and receive payments. Paytm kicked off operations in 2010 with pre-paid mobile top-up, direct-to-home television subscription payment, and internet data card recharges as the first payment use cases. In 2014, it created a mobile wallet and added more payment use cases, such as money transfers. Paytm became a household name in India post the demonetization of two banknotes— which made 86% of the currency in circulation worthless—in 2016 by the government.
However, India's real-time payment mechanism Unified Payments Interface (UPI) gained steam in 2017, making Paytm's mobile wallet obsolete. Paytm, in turn, shifted its focus to UPI transactions to woo customers. Currently, Paytm enables consumers to pay bills, transfer money, and make in-store payments through payment instruments like Paytm wallet, Paytm postpaid (a buy now pay later, or BNPL, service), debit cards, and credit cards. It provides over two dozen use cases around utility payments, including electricity, cooking gas, water, mobile and broadband, and credit card payments, which, when combined together, are one of the biggest revenue generators for the company. For the quarter ended June 2021, the revenue from payments services to consumers stood at INR 3 billion, or 33% of the total INR 8.9 billion operating revenue.
On the merchant side, aside from enabling them to receive payments in-store through QR codes and online via Paytm payment gateway infrastructure and Paytm wallet, the company provides them Paytm Soundbox, an IoT enabled payment acceptance device, POS devices, and Paytm Business Payments, a platform solution that helps merchants make payments for all business use cases, including for vendors, employees, and customers. The payment services to merchants contributed over 37% or INR 3.3 billion to the revenue from operations in Q2 2021.
Commerce
After payments, Paytm naturally moved into commerce in 2015, starting with movie tickets, flights, trains, and bus bookings, and event ticketing. It briefly dabbled in hotel bookings but eventually moved out of the space, which was dominated by online travel agents like MakeMyTrip.
The same year, the company also forayed into e-commerce to compete with Amazon and Flipkart. However, after the business failed to take off amid heightened competition, Sharma created a new entity Paytm E-Commerce Private Limited (PEPL) in August 2016 and spun off its e-commerce marketplace operations into a separate business under brand Paytm Mall six months later. He then listed the services of PEPL on Paytm's main app and a separate e-commerce app Paytm Mall, launched in early 2017.
Notably, Sharma is a majority shareholder in PEPL, whereas Paytm's parent company One97 Communications holds no equity stake in it. As per local media reports, Paytm's move to spin off its e-commerce business was aimed at paving way for its backer Alibaba's entry into the Indian e-commerce market. Soon after the restructuring, Paytm Mall raised USD 200 million from Alibaba.
To fuel its super app ambitions, over the next few years, Paytm opened up its platform for 3rd parties to list their mini-apps to provide services across content, food delivery, e-commerce, ride-hailing, and gaming, among others. As of June 30, 2021, Paytm had over 455 mini-apps on its platform, with a visitor base of 8.7 million monthly active users.
To monetize its user base further, Paytm rolled out premium subscription-based rewards and loyalty program Paytm First in 2019, under which users get to access exclusive benefits including OTT video, audio content, and cashback offers for a fixed subscription fee.
Revenue from commerce—travel ticketing, entertainment ticketing, Paytm First subscription, and listing and marketing services provided to 3rd party commerce merchants, among others—made up 36% and 21% of the operating revenue in FY 2019 and FY 2020, respectively, but fell to 8.7% in FY 2021. In the indication that Paytm's commerce operations haven't yet fully recovered from the impact of COVID-19, its commerce revenue's contribution to overall revenue from operations further dropped to 6% in the first quarter of FY 2022.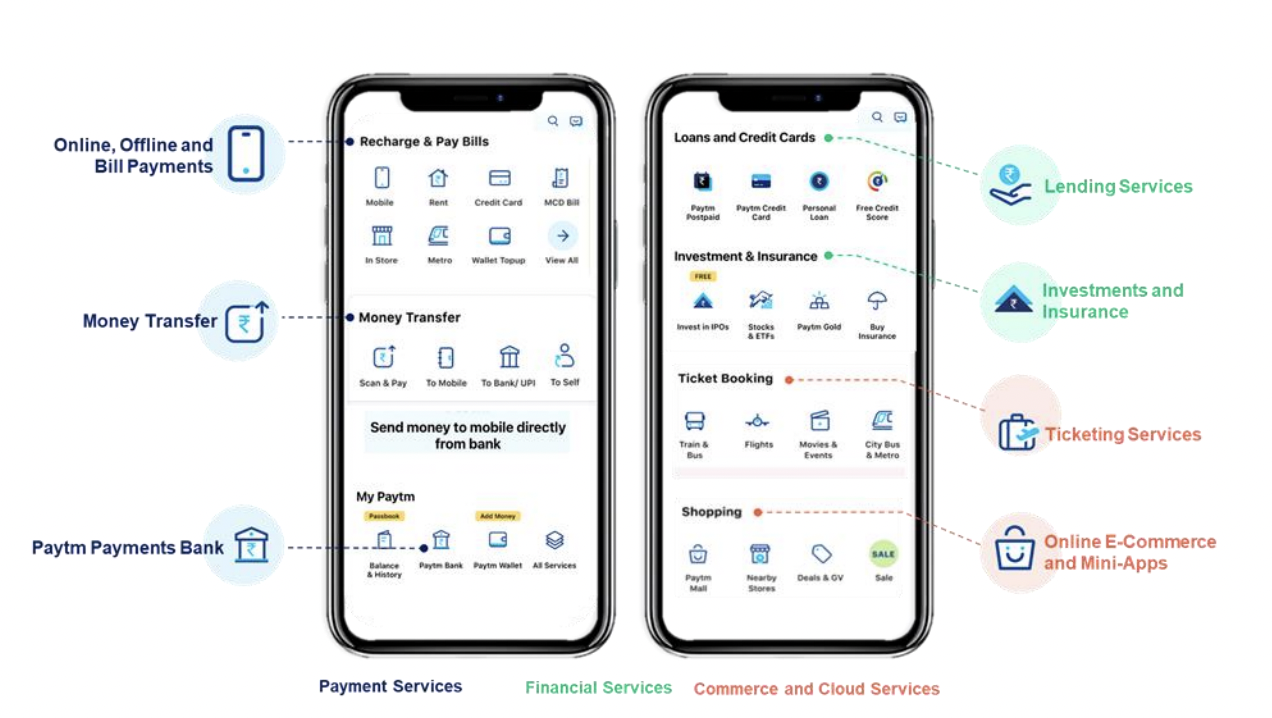 Financial services and wealth tech
The company's financial services offerings include mobile banking services, lending, insurance, and wealth management offered through partner financial institutions and Paytm's payments bank, incorporated in 2017 in which Paytm owns a 49% equity stake. A payments bank is an authorized banking entity that can accept deposits but cannot issue loans or credit cards. As of June 30, 2021, Paytm's payments banks had 65 million savings accounts and over INR 58 billion deposits (including savings accounts, current accounts, fixed deposits with partner banks, and balances in wallets).
Consumer and merchant lending through financial institution partners is one of the most crucial services for Paytm, being a potential cash cow. Paytm launched several financial products, including Paytm Postpaid and personal loans, last year and disbursed 1.4 million and 2.8 million loans in Q2 and Q3 of 2021. Paytm also has been focusing on its insurance business since 2018, when it set up two new insurance companies—Paytm Life Insurance and Paytm General Insurance. In July 2020, Paytm acquired a 12-year-old general insurance company, Raheja QBE, through Paytm Insuretech, a six-year-old entity in which Sharma owns a stake of 51%, while Paytm owns the remaining 49%. As of June 30, 2021, Paytm had 11.4 million unique insurance customers and sold 31.6 million cumulative insurance products.
To venture into the wealth tech space, Paytm launched a new business arm, Paytm Money, in 2018. With its Paytm Money app, the company offers mutual funds, stock trading, and investment in gold. As per its RHP, as of June 2021, the company achieved a combined value of INR 69 billion for investments in mutual funds, gold, and stockbroking.
Software and cloud services
Often under the radar, Paytm's software and cloud business is another way the company is milking its 21.8 million registered merchant base. Paytm provides merchants software and cloud services primarily through the Paytm for Business app and Paytm AI Cloud, its AI cloud computing platform—both of which it launched in 2018. Through the Paytm for Business app, Paytm lets its merchant partners manage billing, settlements, reconciliation, ledger, vendors, customer promotions, catalogs, and inventory. Along with tracking payments, the app enables them to generate a Paytm QR code for the business. As of June 2021, it had six million active installs.
On the other hand, with its cloud offerings, the company helps merchants improve customer engagement, manage customer lifecycles, streamline operations, open online storefronts to directly communicate with their customers, build payment systems, and unlock customer insights, among other things. Furthermore, Paytm also provides a suite of software and cloud services to enterprises, telecom companies, and digital and fintech platforms. In the three months ended June 2021, Paytm's software, cloud, and data center expenses stood at INR 1 billion, while revenue from cloud services stood at INR 1.4 billion.
Paytm Games
After incorporating a separate entity to expand into the gaming sector in 2017, it took Paytm a year to eventually launch its gaming platform Gamepind. It rebranded it to Paytm First Games (PFG) in early 2019 to keep its existing users engaged on the platform. Aside from offering casual games such as ludo, chess, and snooker that did help Paytm First Games get users, the company entered the fantasy sports segment in 2020 and hired Sachin Tendulkar, an acclaimed Indian cricketer, as the brand ambassador. As of June 30, 2021, PFG operates a multi-gaming platform with flagships like skill-based real money games for fantasy sports and rummy, and has a registered base of 28 million users. With revenue of INR 66 million in Q2 of 2021, Paytm's gaming subsidiary accounted for 0.7% of the company's total revenue from operations, up from INR 9 million or 0.3% of total operating revenue in the corresponding quarter last year.
Note: Paytm debuted on November 18 with a market cap of about USD 14 billion, a USD 6 billion drop from the USD 20 billion valuation it reached after its IPO last week.