There aren't many multi-trillion dollar sectors that often get overlooked. Everyone knows the potential of on-demand delivery, autonomous driving, and 5G, to name a few, but many across the world could be surprised to discover the true size of the halal products industry.
This is a sector that has mostly grown up in the Middle East, Southeast Asia, and Africa. In light of its growth potential, however, the halal products industry has expanded globally. According to a report by International Market Analysis Research and Consulting (IMARC) Group, the global halal economy is projected to reach USD 2.6 trillion by 2023.
In particular, halal-focused startups are becoming hot products for entrepreneurs and investors alike. Similar to secular startups, they often seek to tackle incumbent competitors head-on, by offering better products or services in an industry that is ripe for disruption.
However, what sets halal-focused startups apart is that such products and services are modeled in accordance with Islamic Sharia law. Sharia, which literally means "the way", is Islamic religious law that governs religious rituals and day-to-day life in Islam.
Such products hold appeal for the global population of 2 billion Muslims, who may place a higher premium on products that respect the fundamental tenets of their faith, and take into account the nuances of their lifestyle.
In no order of merit, here are 10 halal-centric startups that are worth watching closely in 2020.

1. WhatsHalal
Category: Food
Background: Founded in Singapore in 2017, its latest funding was an undisclosed seed round in February 2020 that gave the firm a valuation of USD 3.2 million.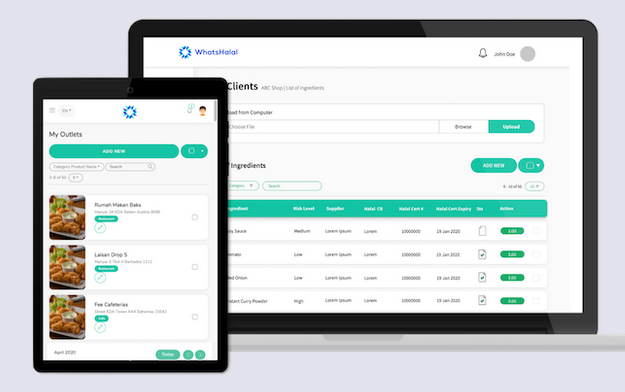 WhatsHalal builds and maintains data infrastructure to provide assurance in the halal food and beverage industry. With global expenditure expected to hit USD 1.9 billion by 2024 and the advent of increasingly onerous regulations by national regulators on halal operations, F&B businesses can find it challenging to obtain halal certification.
To streamline this procedure, WhatsHalal offers a traceability platform called WhatsHalal's Assurance and Traceability Management System (ATeMS). This helps companies with understanding and automating the process of obtaining halal certifications, while also assisting day-to-day document management capabilities.
The company claims that ATeMS can bring up to 50% of total cost savings to businesses while reducing the time taken to prepare certification by up to 66%.
In February 2020, WhatsHalal raised a seed round of funding from FundedHere, a crowdfunding platform approved by the Monetary Authority of Singapore.
2. Wahed
Category: Fintech (roboadvisory)
Background: Founded in New York in 2015, with its latest USD 25 million venture round in June 2020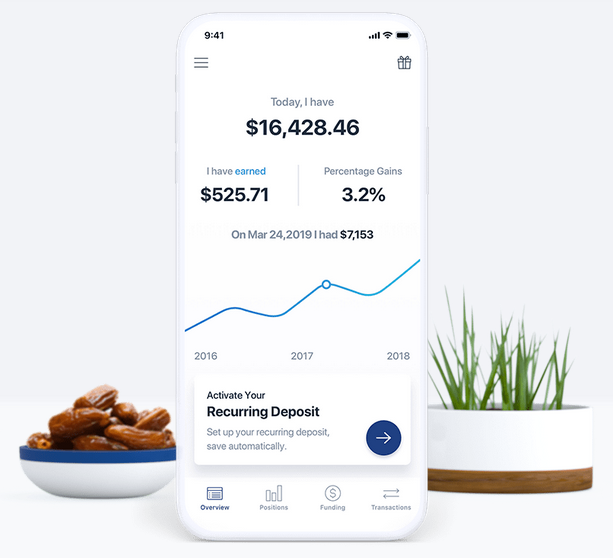 Wahed ("one" in Arabic) describes itself as the world's first automated Islamic investment platform. Its investments are screened by its sharia board to ensure that its fund is structured in accordance with Islamic principles before being automated through algorithm-based investments.
Previously, Wahed was only available in the US and UK, but as of May 2019, it announced that it was going global, providing access to over 130 countries across regions such as Nigeria, India, and the MENA region.
In October 2019, Wahed went on to make inroads into Southeast Asia, launching in Malaysia after obtaining the country's first Islamic Digital Investment Manager License from the Malaysian Securities Commission.
In June 2020, it further obtained USD 25 million in funding from Saudi Arabia's Aramco, bringing its total funding to USD 40 million.
The company announced that it plans to use this new capital to build up its subsidiary in Saudi Arabia.
3. Alami
Category: Fintech (P2P lending)
Background: Founded in Indonesia in 2017, with an undisclosed seed round in November 2019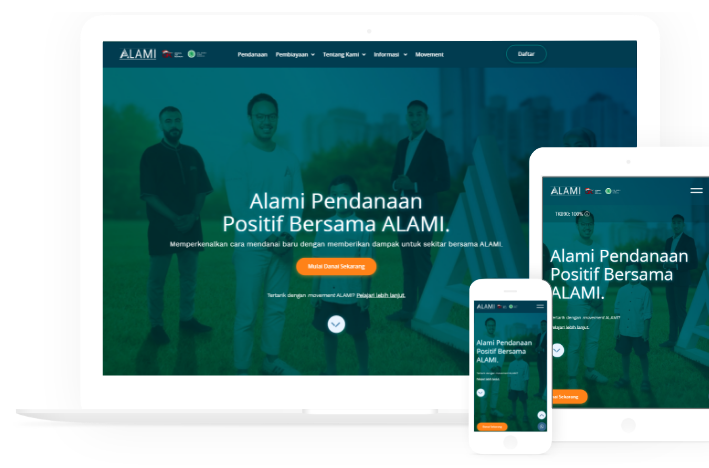 Alami (Indonesian for "natural") provides a sharia-compliant P2P service to match small and medium-sized enterprises (MSMEs) with funders.
All its transactions are made in accordance with sharia law under Majelis Ulama Indonesia's (MUI), supervision. MUI is Indonesia's top Muslim clerical body, with one important function being the provision of halal-certification for products.
The company also claims that it provides competitive ujrah, at an average of 16 to 18% per annum for lenders as well. In Islamic finance, ujrah refers to fixed fees, especially the ones charged for services.
However, testimonials from its funders and recipients suggest that its main draw lies not only in its stable funding portfolio but also the ability of lenders to contribute to the growth of Micro, Small, and Medium Enterprises (MSMEs) in Indonesia.
In November 2019, Alami announced an undisclosed seed funding round led by Golden Gate Ventures. The funding round was conducted through a sharia-based scheme, with the company describing itself as the first in Southeast Asia to raise venture capital through this method.
4. Evermos

Category: Commerce
Background: Founded in Indonesia in 2018, with a USD 8.3 million Series A round in December 2019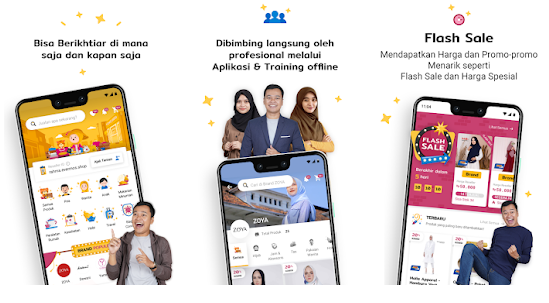 Evermos is a social commerce startup that connects consumers to resellers and brands offering halal and sharia-compliant goods.
According to the company's co-founder and head of partnerships, Ilham Taufiq, the company sees Evermos not just as a business platform but as an economic driver for the Muslim community.
In view of this, the company has hinted at other untapped areas that could potentially be addressed in the future, such as social goods, ZISWAF, halal travel, and sharia fintech.
In December 2019, Evermos successfully raised USD 8.3 million from seasoned investors such as Alpha JWC Ventures, Shunwei Capital, and Jungle Ventures in an oversubscribed Series A round.
The firm intends to use these funds to establish its presence in the digital Islamic economy, establish more collaborations with brands and organizations, and further grow its online reseller network.
5. SalamWeb

Category: Search engine
Background: Founded in Dubai in 2017, with funding undisclosed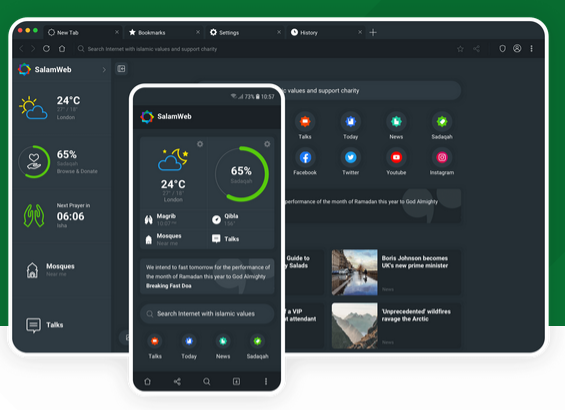 SalaamWeb is a web browser that is compliant with Islamic values and offers Muslims worldwide a safe and "ethically-sensitive" online experience.  It is offered over both mobile and browser.
The browser comes with a suite of features, such as a clock showing prayer timings based on the user's geographical location, and a compass that indicates the directions that Muslims must face when praying. The company also uses "SalamTags" to flag content, with users being able to control and customize websites.
The browser was first launched in Malaysia and has been endorsed as being sharia-compliant by Malaysia-headquartered Ammanie Advisors.
As of May 2019, the company plans to invest about USD 100 million to expand into e-commerce and financial technology, in the hope that SalamWeb will eventually become an "Islamic Google or Facebook."
SalamWeb's funding remains undisclosed but it has mentioned previously that its main objective is not to turn a profit but to provide a positive everyday internet browsing experience.
6. Ammana

Category: Fintech (P2P lending)
Background: Founded in Indonesia in 2017, with funding undisclosed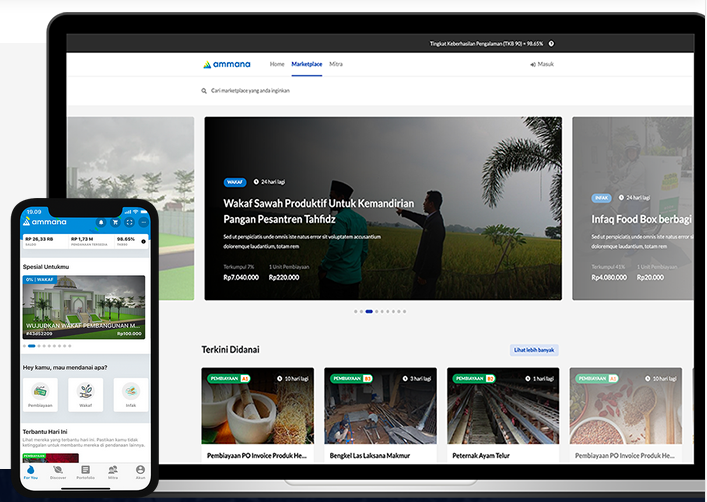 Ammana is a P2P and crowdfunding platform that was officially registered by the OJK (Indonesia Financial Authority) in December 2017. It counts Bank BNI Syariah and its parent, Bank Negara Indonesia (IDX : BBNI), among its strategic partners.
The company positions itself as a social impact initiative as well, which helps MSMEs to build their business. In June 2020, it was also granted access to the government's civil registry data to expedite data verification as well as to prevent fraud and accelerate financial inclusion.
As of February 2020, Ammana has indicated that it is keen to enter international markets, such as Malaysia, Brunei, and Dubai, to simultaneously access international funding and provide financing for its customers.
According to CEO Lutfi Adhiansya Mufti, the company is applying to be a member of the international Islamic finance standards body the Accounting and Auditing Organisation for Islamic Financial Institutions (AAOIFI) in an attempt to increase its international visibility.
7. Ethis
Category: Fintech (property crowdfunding) 

Background: Founded in Singapore in 2014, with funding undisclosed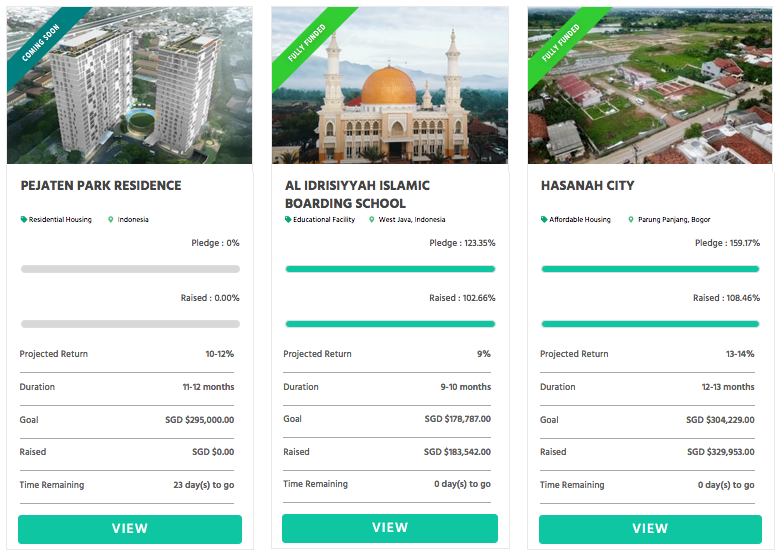 Ethis describes itself as the world's first property Islamic crowdfunding platform, with a global community of 21,000 members across 59 countries.
It enables funders from any country to invest in social housing development projects in Indonesia. As of 2020, it claims to have built over 9200 houses and made over 1400 investments.
In 2019, it expanded into crowdfunding for charity campaigns through the launch of its Global Sadaqah platform, which has since formed partnerships with Islamic banking players. Such campaigns range from sponsoring Qurbani (which is a portion of meat given charitably) for the poor to building waqfs (or Muslim charity endowments) in Nigeria.
Over the past six years, Ethis has garnered a slew of awards, such as the Best SME Development in 2016  at the Global Islamic Finance Awards, and the Best Islamic Peer-to-peer Finance Platform at the World Islamic Fintech Awards in 2018.
8. Waqara
Category: Travel
Background: Founded in Indonesia in September 2019, with funding undisclosed.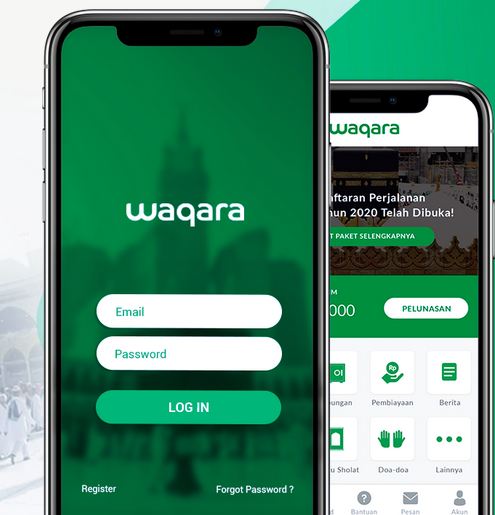 Launched in late 2019 by the former Indonesian ambassador to the United States, Dino Patti Djalal, Waqara is a mobile application for the Umrah marketplace. Umrah is a minor pilgrimage undertaken by Muslims to Mecca. Unlike the Hajj, which has specific dates according to the Islamic lunar calendar, Umrah can be taken at any time of the year.
Dino was concerned about reoccurring fraud involving Umrah travel agencies and said that such a pioneering marketplace would help to "guarantee a safe pilgrimage" to Mecca. The Waqara app would allow users to book an Umrah package from its existing 25 travel agents throughout Indonesia.
Some of Waqara's innovative features include the Umrah marketplace, order tracking system, various payment options, and marketplace financing with a number of partner banks such as BNI Syariah and Bank Mandiri.
Due to the COVID-19 crisis, travel demand may be cut short in 2020 and some of Waqara's plans might have to be put on the back burner for now. In the meantime, however, its untested ability to survive this crisis that arrived so soon after its inception will be a true test of grit.
9. Muzmatch
Category: Dating
Background: Founded in London in 2014, with a USD 7 million Series A round in July 2019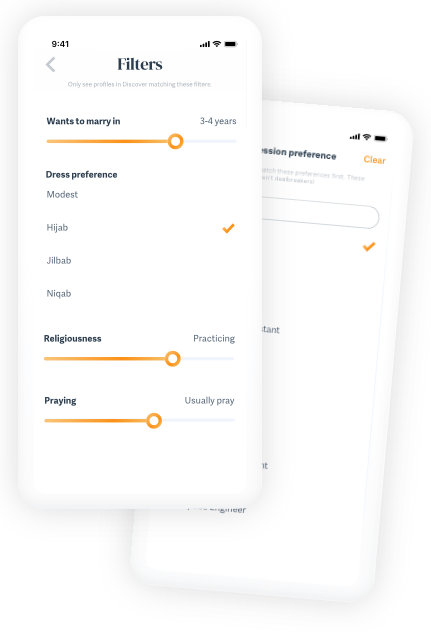 Muzmatch describes itself as the world's first global matchmaking app for Muslims. It aims to find marriage partners for Muslims around the world.
As of July 2020, it hit 3 million members, triple the number of users it had in January 2019 at 1 million.
Similar to other dating apps, it uses an algorithm to show users potential matches considering factors based on information provided in their profiles.  However, it also offers community—sensitive options to differentiate itself from other platforms.
For instance, users can blur their photos or use a nickname. Muzmatch also caters to the needs of some users by providing a chaperone feature allowing a friend or relative to be present in the chat, based on Islamic principles.
Despite its lighthearted interface, with slogans such as "You Had Me At Halal" and "Halal, is it me you're looking for?", the app also emphasizes that the app expects users to "keep things halal."
Previously, co-founder Shahzad Younas explained that the app is not a yes-or-no photo-based app.  Rather, it aims for a userbase of serious people looking for marriage and relationships who are willing to invest time and energy into the process.
To this end, it seems to have worked—as of July 2020, the company claims to have facilitated 60,000 weddings since its inception.
10. HelloGold
Category: Fintech (trading)

Background: Founded in Malaysia in 2015, HelloGold closed an undisclosed Series A in April 2018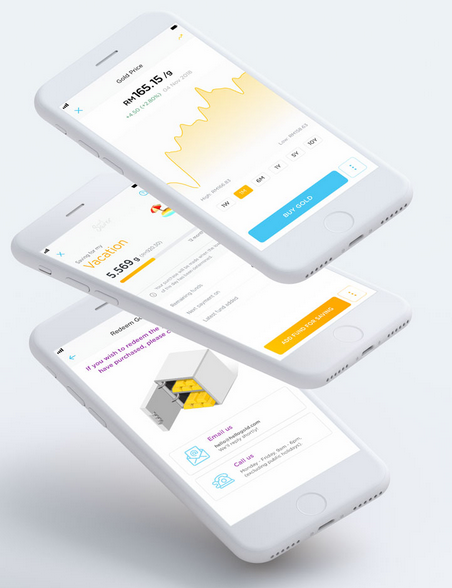 HelloGold was established in 2015 as the world's first sharia-compliant mobile application. As a gold-trading app, its business is not intrinsically Islamic, but it has entered the Islamic digital economy sphere by engaging Amanie Advisors to certify the app halal.
As of May 2019, it claims to have over 150 000 downloads, 80, 000 customers, with an estimated MYR 6.5 million  (USD 1.5 million) transacted on the app.
In its push to go global, HelloGold has expanded outside Malaysia and launched in Thailand.
In the long-term, it has also hinted at interest in entering the African continent through partnerships with the digital financial inclusion group Baobab, which operates 1140 services points in Africa.
Conclusion
While their areas of focus and pace of development may differ, what sets these startups apart is their commitment to providing quality halal-focused products and services to their core customer base. Their next moves in the year ahead will certainly be something to keep a look out for.
KrASIA's writer Khamila Mulia contributed to this article.