The onset of COVID-19 in India last year has directly impacted the country's USD 280 billion insurance sector as more and more people have come forward to purchase life and health insurance. While a handful of large corporations dominates the sector, technology companies seek to disrupt the industry by making the insurance buying and settlement process quick and hassle-free.
Earlier this year, Digit Insurance, a Bengaluru-based insurtech startup, doubled its valuation to USD 3.5 billion within six months with USD 200 million in funding from Sequoia Capital India and IIFL Alternate Asset Managers. Amazon-backed Acko General Insurance is reportedly on its way to becoming a unicorn company as it seeks to raise USD 200 million. Since last year, Indian technology companies have been rushing to enter the insurance sector. Fintech giant Paytm acquired insurance firm Raheja QBE for USD 76 million in July 2020. Moreover, Sachin Bansal, co-founder of e-commerce major Flipkart, invested a large chunk of his wealth in Navi Technologies, a fintech company that provides insurance as well as lending services.
Total funding in the Indian insurtech sector increased by more than 25x from a mere USD 11 million in 2016 to USD 287 million in 2020. According to Ashish Fafadia, a partner at Blume Ventures and the investment lead at insurtech startup Turtlemint, investor interest in the segment is being driven by the growing penetration of digital insurance products and huge growth opportunities.
"The next 20 years look incredibly favorable and positive. We will definitely see companies that have a clear digital strategy do well," said Fafadia. As insurance penetration increases, the online insurance space will see more unicorns in the next few years, he added.
Overhauling the approach
Before the advent of insurtech, the process of buying insurance and claiming settlements was an ordeal in India, and people tended to avoid buying a plan until they could not ignore it. Typically, purchasing insurance in the country required multiple visits to the insurance provider's office or dealing with sales agents to complete lengthy paperwork and fully understand the details. The terms and conditions were cluttered with jargon, resulting in customers agreeing to buy insurance policies they didn't need.
As cumbersome as this sounds, the procedure of claiming settlements was worse. In the case of a life insurance claim, one had to visit the specific branch where the policy was issued, submit several documents, and wait for months for the claim to be settled. While the process has become much simpler and faster in metro cities because of digitization, the hassle continues to exist in smaller cities.

These are the reasons why the majority of India's 1.38 billion population remains uninsured. In the financial year 2019-20, insurance penetration in India stood at 3.76%, while the global average was 3.35% for life and 3.88% for non-life insurance.
However, tech startups that have jumped into the fray—either as a marketplace or a direct insurance provider—claim to make things smoother. Insurtech companies allow people to purchase a policy with the click of a few buttons and claim to take less than two or three days to reimburse the bills.
"Until five years ago, even if somebody was aware and wanted to buy insurance, I can't imagine that they could do so quickly and efficiently," said Fafadia.
With its burgeoning middle-class population and increasing mobile and internet penetration, India has become the second-largest insurtech market in the Asia Pacific region and one of the fastest-growing markets in the world. The country has around 66 insurtech companies.
In the first half of FY 2020-21, health insurance premiums occupied the top spot in the non-life insurance segment for the first time in India, according to the General Industry Council.
"When the world was hit with the novel coronavirus, the fear of hospital bills and losing an earning family member to the virus hit the roof. And so did the need to get health protection," Vivek Chaturvedi, chief marketing officer of Digit Insurance said.
A survey conducted by insurance provider Max Bupa last year said there has been a significant shift in the consumer mindset regarding the importance of health insurance coverage. The survey found that 71% of respondents considered health insurance necessary after the pandemic hit the country, compared to just 10% interested in getting insurance before the pandemic.
Digit Insurance, which became India's first unicorn this year, grew by 44% in terms of premiums earned in FY 2020-21. The startup earned a premium of USD 186 million (INR 13.6 billion) between April and December last year. Plum, on the other hand, grew 90% month-over-month in terms of premiums booked during the second wave of the COVID-19 pandemic this year, compared to a 30% growth in the preceding months, Abhishek Poddar, co-founder of Plum, told KrASIA.
Solving insurance pains for corporates
The ease of access to insurance has increased by leaps and bounds as nearly half of India's population has access to the internet. People prefer to buy health insurance from insurtech companies instead of legacy firms, as the former has made the process simpler and faster. For instance, Plum Insurance, which helps companies purchase health insurance for their employees, has launched a WhatsApp-enabled claims system—an industry-first initiative.
Companies had to face a long and opaque purchase process that took over two months from negotiating pricing to getting the policy, said Poddar.
"This is the case for companies with hundreds of employees. A startup, as well as small and medium-sized enterprises, has no hope of making a smooth purchase because traditional brokerage firms focus on large businesses," he said. According to him, employees have to deal with their HR to claim the hospital bill. "Poor user experiences are common pain points for all companies dealing with health insurance."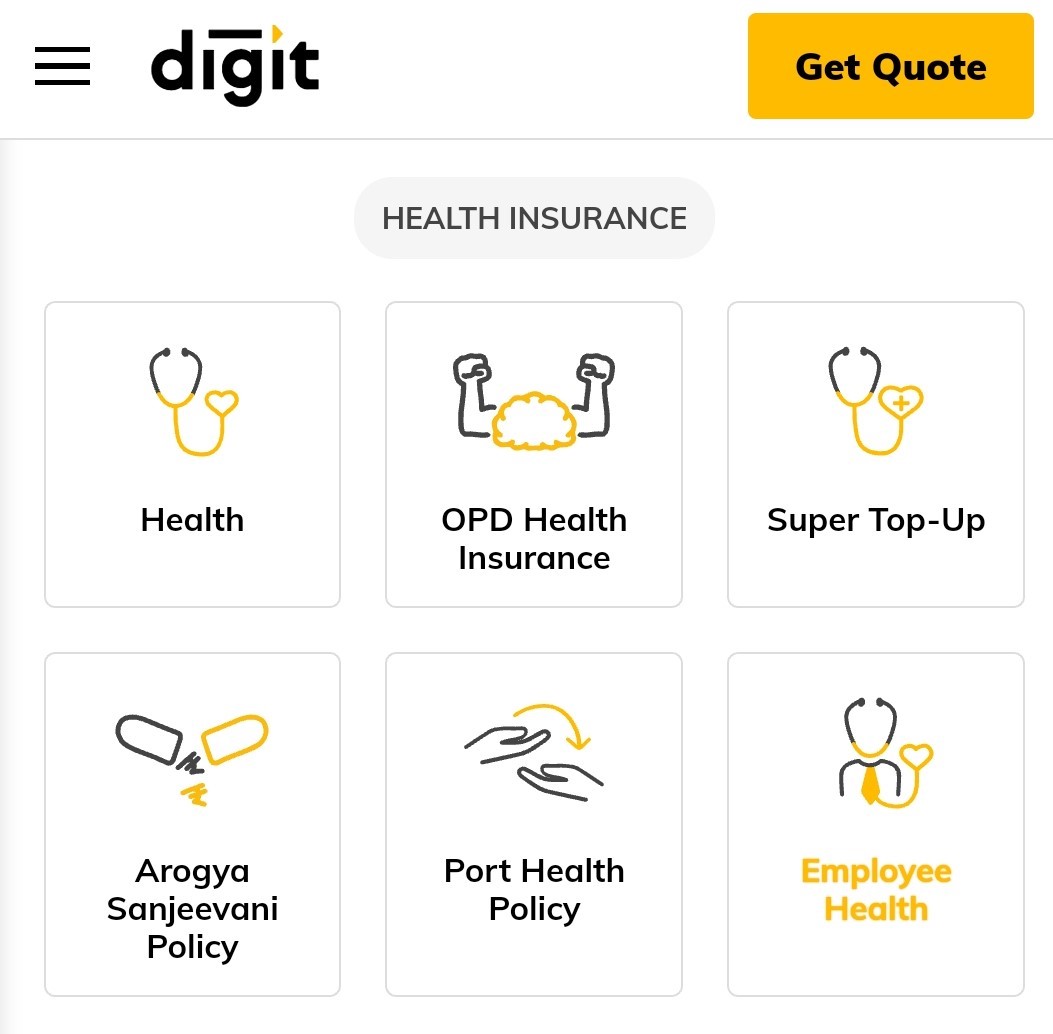 Standard pricing, as well as fewer health coverage options, have also stunted the growth of the industry. Previously, insurance policies had fixed premiums with no scope for customization. But digital insurance startups employ technology and data to provide personalized plans and costs.
Digit uses big data, bots, and artificial intelligence to find a relevant policy for its users. It also uses AI to interpret terms and conditions in a layman's way so that customers understand the different expenses the policy they are buying covers.
Chaturvedi from Digit said, "The industry factors in about four to five key indicators to determine the premium while we look at more than 12 key indicators, making a million pricing possibilities."
In addition to customized pricing, insurtech startups are focused on providing new insurance products to cater to emerging needs. For instance, insurance coverage for flight delays, trip cancelations, and amendments became available only a few years ago.
"We offer customizable products to make it more relevant to our customers instead of imposing a one-size-fits-all product. We have a 90-minute flight delay cover instead of the industry's six hours standard offering," said Chaturvedi.
Plum works with leading insurers to forge new underwriting rules and fraud detection algorithms, Poddar said. "This allows our platform to come up with real-time customizations to meet the needs of any company. So, a team with young employees can get a suitable low coverage plan at a relatively low price. An older team can get higher coverage with relevant add-ons, like maternity and parental coverage," he explained.
What lies ahead
Fafadia believes the future of insurance will not be led by digital platforms alone, but rather a hybrid structure where digital as well as conventional insurance players with digital strategies will work together to lead the show.
"From providing convenient online consultations to easy enrollment and claim procedures, insurtech will make health insurance simple and convenient for users. Processes across customer onboarding, customer servicing, claims, and renewals will see a massive overhaul in terms of efficiency," said Poddar.

And as more and more companies streamline processes, efficiency will increase, and costs will reduce. "Access to data will drive sharper underwriting and pricing mechanisms. For instance, data from wearable products like Fitbit can give companies information about employees' lifestyles. This can be used to lower premiums, mitigate risk, and even prevent losses," Poddar said.
The intent of insurtech firms, according to Chaturvedi, is to simplify the process of buying, so much so that it becomes like any other e-commerce product which can be bought right from a laptop or mobile phone.
Correction: An earlier version of the story misstated that insurance penetration in India is lower than the global average. We have updated the article to correct that.